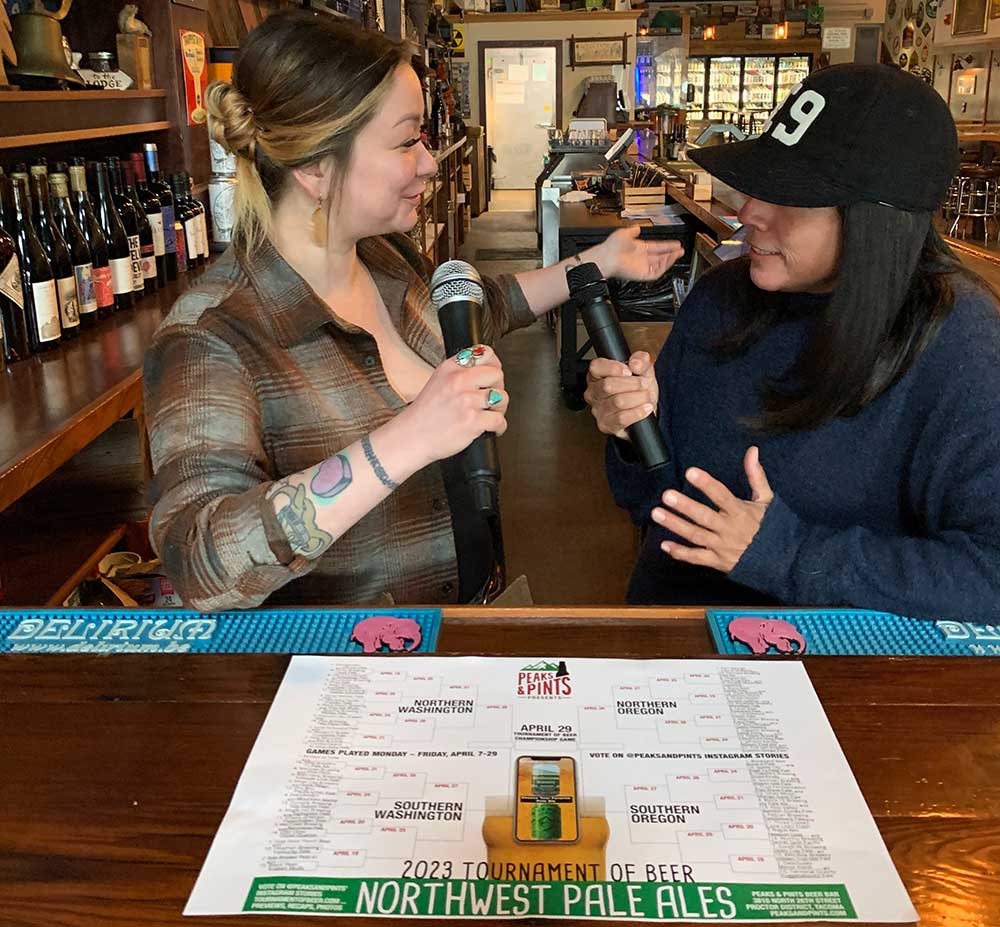 Peaks and Pints Tournament of Beer: Northwest Pale Ales April 12
AMBER HAMILTON: Ladies and gentlemen. Welcome to the Peaks & Pints Tournament of Beer: Northwest Pale Ales. I'm Peaks bartender Amber Hamilton. Sixty-four Northwest brewed pale ales were selected and seeded by readers throughout early March for the Tournament, which is now four days into the competition. With me is fellow bartender, Trish Ortega.
TRISH ORTEGA: Thanks Amber! And thanks for bringing in those tasty Ding-Dong-like cupcakes from Lux Coffee.
HAMILTON: So delicious, right?
ORTEGA: Indeed. You know what else is delicious — this year's Tournament of Beer. Brackets don refrigerators, break rooms, restaurant hallways and birdcages. Birthday parties have been moved to breweries. Everyone is discussing caramel malts and Cascade hops. It's crazy delicious.
Tuesday, April 11, First Round Northwest Pale Ales Games Results
Game 1, Southern Washington
Trap Door Porch Beer (#7 seed) vs Heathen Vantucky Pale (#10 seed)
HAMILTON: Trap Door Brewing's Porch Beer Pale won big over Heathen Brewing's Vantucky Pale. If I had to guess the reason, it would have to be the fact that we're talking about a trap door. A trap door is a hinged door that sits flush on the floor. I think there is something a bit creepy and sinister about trap doors and the name suggests this is an entrance for captured things where they remain trapped. I don't think Heathen's Vantucky Pale could get past that thought.
ORTEGA: With 75 percent of the vote, Porch Beer moves into the Second Round.
Game 2, Southern Washington
Bale Breaker Field 41 (#2 seed) vs. Black Fleet Kraken Skulls (#15 seed)
ORTEGA: As you read in yesterday's pre-game coverage, Bale Breaker Brewing owners launched the brewery on three acres, Field 41, in their family's longtime hop farm. Yes, this sixth largest brewery in the state sits in the middle of a hop farm, which could probably win a Tournament of Hip-Hop, if you know what I mean.
HAMILTON: Haha so fresh! Bale Breaker's Field 41 moves into the Second Round with a whopping 86 percent of the vote to take on the Trap Door.
Game 3, Northern Oregon
Fort George City of Dreams (#1 seed) vs. Ferment Pale Ale (#16 seed)
HAMILTON: I'm sensing a trend developing with yesterday's First Round games. Fort George Brewery's City of Dreams pale ale won big over Hood River's shiny Ferment brewery and their tasty pale ale.
ORTEGA: While Fort George sits in a relatively small city their dreams of being a major brewery with a huge workforce and bigger presence came true and it shows in their 76 percent win over Ferment's Pale Ale. I'm not worried for Ferment. I mean they are in Hood River.
Game 4: Northern Oregon
Hopworks Tree Frog Organic Pale (#8 seed) vs. Double Mountain Vaporizer Pale (#9 seed)
HAMILTON: Speaking of Hood River, Double Mountain Brewery completes the quadfecta — is that a word? — vaporizing the Tree Frog with 78 percent of the vote.
ORTEGA: All four winners of this round came out strong at the opening buzzer and never looked back.
Let's weed through the hops. The following are advancing to the Second Round:
Trap Door Porch Beer
Bale Breaker Field 41
Fort George City of Dreams
Double Mountain Vaporizer
HAMILTON: Let's dive into today's First Round action featuring four pale ale battles. Please vote for one beer per game on Peaks & Pints' Instagram Stories. Voting for today's battles ends at midnight. We'll announce the winners tomorrow morning around 10 a.m., but today's games are live on Peaks & Pints' Instagram Stories.
ORTEGA: Ladies and gentlemen, please join in the singing of our national anthem.
HAMILTON: Thank you DJ Kurenai-Suiro! OK, let's get to voting!
Wednesday, April 12, First Round Northwest Pale Ales Games
GAME 1, NORTHERN WASHINGTON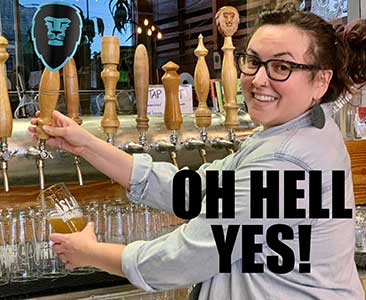 Player: Dawn Patrol (#5 seed)
Team: Aslan Brewing, Bellingham
Stats: 5.5% ABV, 18 IBU
ORTEGA: Jack Lamb and his future partners, Frank Trosset and Pat Haynes, started their pilot brewing effort in the basement of a parent's house, and soon moved to a garage. With the help of Frank's brother, Boe, who would later also join the business as a fourth owner, the team built their brewpub with their own hands in eight intense months in 2013 and 2014. In May 2014, when they opened for business as Aslan Brewing Co., one of the Northwest's first organic breweries, all four of the freshly minted owners were younger than 30 years old.
HAMILTON: Their Dawn Patrol Pale, a beer that's been in Peaks & Pint's cooler since the day we opened on Nov. 1, 2016, is mild yet complex in its delivery. The hop presence is noticed by subtle flavors of pineapples that meld beautifully with the slightly spicy and minty character derived from the use of rye malt.
Player: Seattle Sunshine Hazy Pale (#12 seed)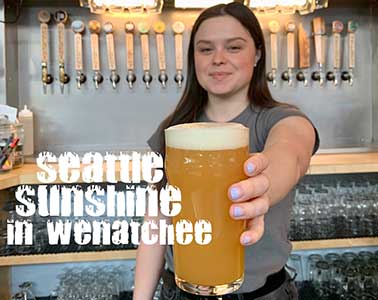 Team: Hellbent Brewing, Seattle
Stats: 5.7% ABV, 34 IBU
ORTEGA: May 30, 2015, Hellbent Brewing Company opened in Seattle's Lake City neighborhood. Peaks & Pint's love affair with Hellbent began that day when our Pappi Swarner soaked in sunrays and IBUs from a couch in the brewery's back parking lot. Good times.
HAMILTON: This Seattle Sounder's Emerald City Supporters beer is a hazy pale ale that's light in color and malty with soft bready notes. It's really all about the hops and contains no bittering additions. The first hops that touch the wort — Mosaic, Citra, and Simcoe — are added in the whirlpool, forming citrus, tropical, and stone fruit hop flavors. Then Hellbent kicks the hop party up a notch by dry hopping at the end of fermentation with Azacca, Citra, Amarillo, Mosaic, and Simcoe, which creates a sublime hop burst of citrus and tropical fruit aromas that will blow your boots off.
VOTE ON PEAKS & PINTS' INSTAGRAM STORIES >>>>>>>>>>>>>>>>>>>>>>>>>>>>>>>>>>>>>>>>>>>>>>>>>>>>>>>>
GAME 2, NORTHERN WASHINGTON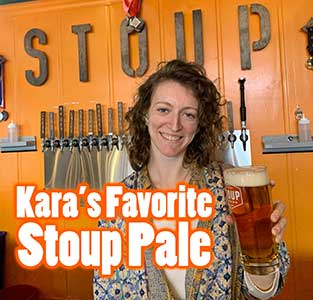 Player: Mosaic Pale (#4 seed)
Team: Stoup Brewing, Seattle
Stats: 5.3% ABV, 39 IBU
ORTEGA: We've told the Stoup story a thousand times, but it bears repeating. Scientist Brad Benson and foodie Lara Zahaba opened Stoup Brewing in Seattle's Ballard neighborhood in 2013. Washington state's first female Cicerone, Robyn Schumacher, became Stoup's third partner, assisting Benson in the brewing room. Benson graduated from Gonzaga University with a B.S. in Chemistry and has been crafting beer for more than 27 years.
HAMILTON: It's highly drinkable, hop forward pale ale with a classic American pale ale malt bill. Heavy handed Mosaic dry hopping gives this beer a nose packed full of citrus and mango. Expect an up-front aroma, balanced bittering, and a moderate body.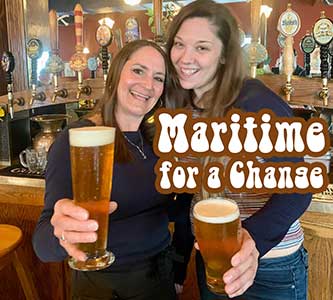 Player: Islander Pale (#13 seed)
Team: Maritime Pacific Brewing, Seattle
Stats: 5% ABV, 45 IBU
HAMILTON: George and Jane Hancock Maritime Pacific Brewing opened in 1990, making it the oldest brewery in Seattle's Ballard neighborhood. The brewery sold 400 barrels that year. In 2010, they packed up the goods and sailed down the street to a location just west of 15th Avenue. Today, their Jolly Roger Taproom — a brewpub meets pirates' lair, complete with a treasure map painted on the floor — is a beloved fixture in the neighborhood, and the 40-barrel brewhouse produces around 8,000 barrels per year for its taproom and distribution.
ORTEGA: Light blond in color with a gentle malt flavor and subtle hop character, Maritime's Islander Pale is a blend of malted barley, wheat, and a combination of Yakima and Czech Republic hops. It's well-balanced and lovely hop finish.
VOTE ON PEAKS & PINTS' INSTAGRAM STORIES >>>>>>>>>>>>>>>>>>>>>>>>>>>>>>>>>>>>>>>>>>>>>>>
GAME 3, SOUTHERN OREGON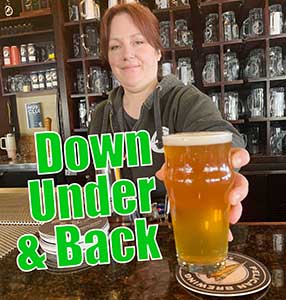 Player: Paddleback Pale (#6 seed)
Team: Pelican Brewing, Seattle
Stats: 5.7% ABV, 40 IBU
ORTEGA: In 1996, Jeff Schons and Mary Jones founded English-focused Pelican Brewing Company in Pacific City — Oregon's only oceanfront brewpub. Celebrating its 25th year, founding brewmaster Darron Welch and Pelican have won more than 300 awards including the 2014 World Beer Cup Champion Small Brewing Company and Brewmaster of the Year.
HAMILTON: This liquid sunshine delivers bright, zesty aromas reminiscent of gooseberries, passionfruit, and white peach from hand-selected Galaxy hops from Australia, and Nelson Sauvin hops from New Zealand. It's a complex but balanced bright and refreshing pale with flavors of Sauvignon Blanc grapes for post-surf stories, kayak adventures, or kicking back on pelican's amazing patio in Pacific City, Oregon.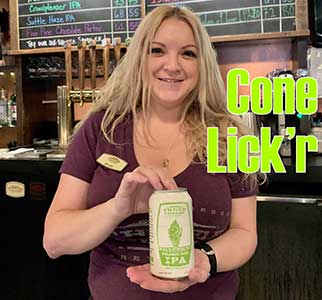 Player: Cone Lick'r Fresh Hop Pale Ale (#11 seed)
Team: Three Creeks Brewing, Sisters
Stats: 5.1% ABV
HAMILTON: Did Pappi Swarner ever tell you his story when he left the 2014 Bend Brewfest on his way to meet his family in Pacific City, Oregon when he saw Three Creeks Brewing in Sisters, Oregon brewery from the corner of his eye. The U.S. 20 Highway slowed going the through the small town — a good excuse to take a break. Three Creeks' delicious Vaquero Imperial IPA broke him. He rolled into Pacific City three hours late. Wade Underwood and his partners founded Three Creeks in July 2008. Underwood brewed on a 10-barrel system in his brewpub, cranking out beers including Stonefly Session Pale, Knotty Blonde, and the award-winning Fivepine Chocolate Porter, which grabbed another medal, gold, at the 2020 Great American Beer Festival.
ORTEGA: That's fine and dandy but can you believe there's a fresh hop pale in the Tournament? What happens if it wins the whole dang thing at the end of this month?
VOTE ON PEAKS & PINTS' INSTAGRAM STORIES >>>>>>>>>>>>>>>>>>>>>>>>>>>>>>>>>>>>>>>>>>>>>>>
GAME 4, SOUTHERN OREGON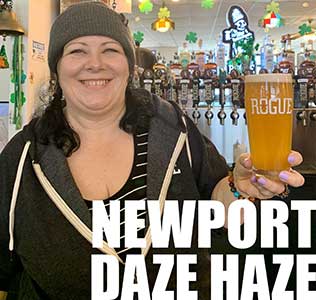 Player: Newport Daze (#3 seed)
Team: Rogue Ales, Newport
Stats: 5.5% ABV, 35 IBU
ORTEGA: I think it's so cool that in addition to Christina Canto and all the Rogue Ales past and present brewers who graduated from the Oregon State University Fermentation Science program, the brewery also awards scholarships to the program in the name of their founder Jack Joyce who passed in 2014. The Jack Joyce Scholarship Award was created in 2014 by Columbia Distributing and Rogue Ales in honor of visionary Jack Joyce for his legacy in the Oregon community and his founding of Rogue Brewery in 1988. Jack's vision, creativity and innovation led Rogue to take daring risks that have created one of the most successful breweries and distillers in the nation. Each year students enrolled in Oregon State University's Fermentation Science program can apply for scholarship funds.
HAMILTON: That is cool. Newport Daze, Rogue's lighter counterpart to their Newport Nights double IPA, is a hazy pale ale that gives off aromas of pineapple and stone fruit, while featuring tangerine and peach with a slightly sweet and refreshing finish.
Player: Secret Spot Pacific Pale (#14 seed)
Team: Worthy Brewing, Bend
Stats: 4.9% ABV, 33 IBU
HAMILTON: Founded in 2012 by Roger Worthington and located in Bend, Oregon, Worthy Brewing brews a full portfolio of craft beers and operates two full-time Pubs — its original location on the east side of Bend and Taps and Tacos downtown Bend. An advocate for the environment, a promoter of science education, a cycling and music enthusiast and a serious beer drinker – Worthington's passions are the backbone of Worthy. Worthy's Guiding Mantras are "Earth First. Beer Second." and "Drink Up. Dream On.," which are embodied through Worthy's culture, beers, pubs, and brand essence.
ORTEGA: Delicious and drinkable, this neo-classic pale is brewed with Amarillo, Cascade, Crystal, Meridian, Simcoe, Strata, and Sterling hops for grapefruit and graham cracker aromas with bright stone fruit and gentle mango.
VOTE ON PEAKS & PINTS' INSTAGRAM STORIES >>>>>>>>>>>>>>>>>>>>>>>>>>>>>>>>>>>>>>>>>>>>>>>
Thursday, April 13 Tournament of Northwest Pale Ales action
Game 1: E9 Brewing Don of Time (number one seed) vs. RAM Brewing 71 Pale Ale (16th seed)
Game 2: Narrows Brewing First Pitch (eighth seed) vs. Matchless Eastside Club Pale (ninth seed)
Game 3: Level Beer Pixelated Pale (sixth seed) vs. Laurelwood Piston Pale (11th seed)
Game 4: Migration Patio Pale (third seed) vs. StormBreaker Safety Meeting (14th seed)
LINK: Tournament of Beers: Northwest Pale Ales explained
LINK: Hot Damn! Yes, I want to subscribe to 6-Pack of Things To Do newsletter and be hip to local happenings!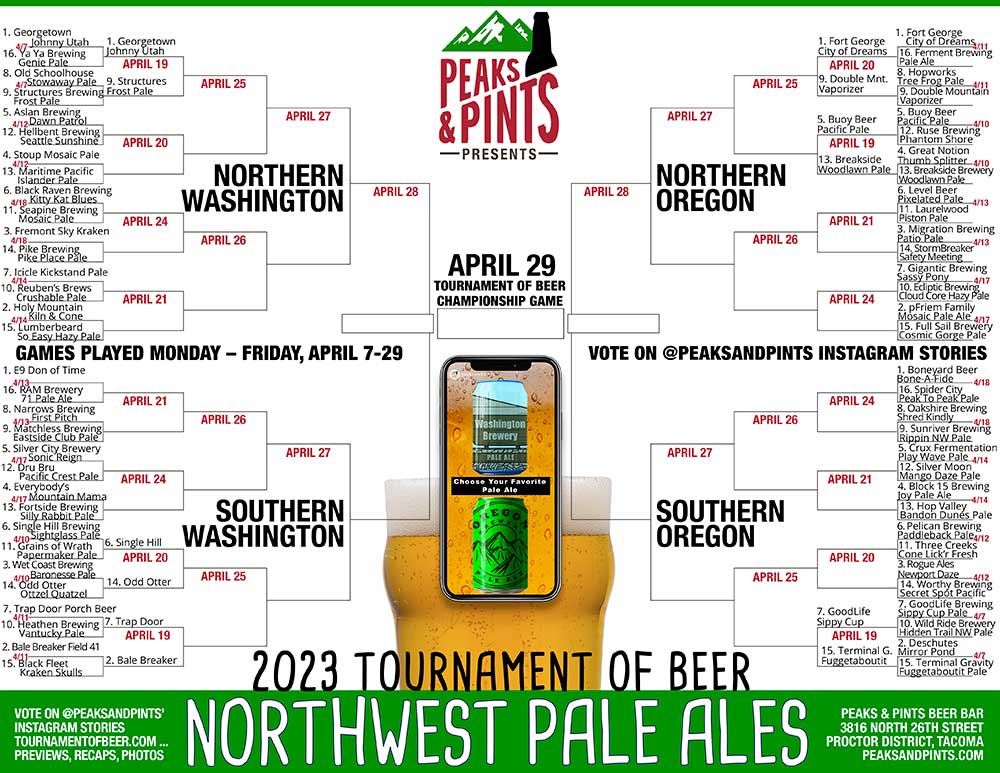 ---