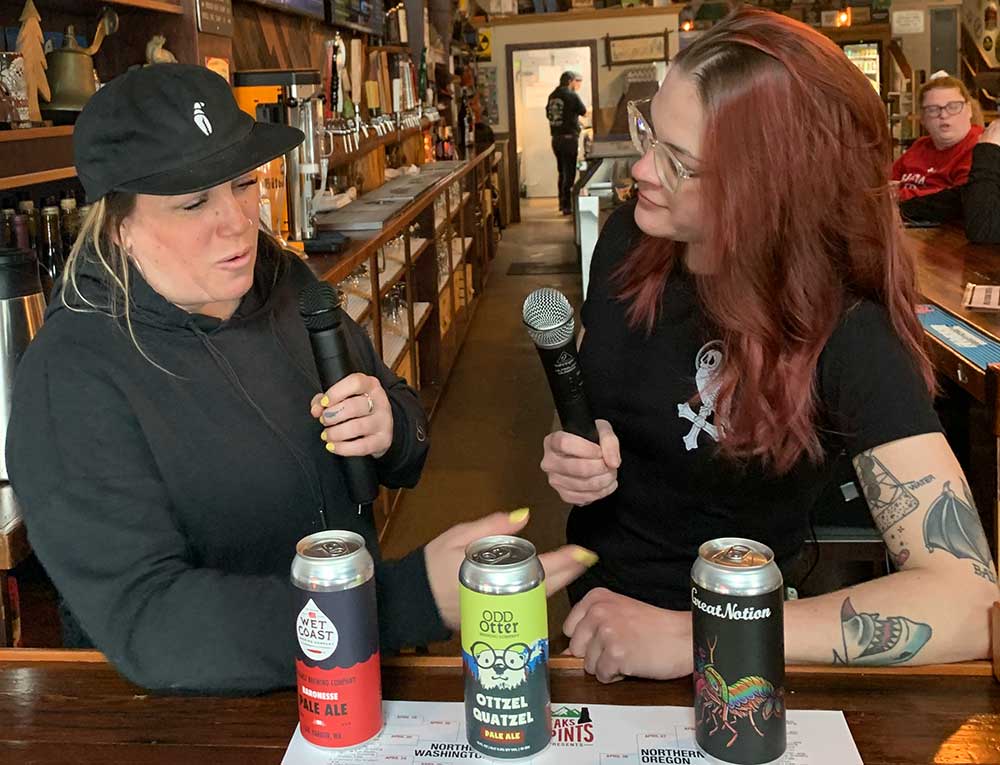 Peaks and Pints Tournament of Beer: Northwest Pale Ales April 11
NICOLE ALLEN: Welcome back to the 2023 Peaks & Pints Tournament of Beer: Northwest Pale Ales. I'm Peaks bartender Nicole Allen and most of you look at lunch as an excuse to escape the desk for an hour (or two), unwind with friends and talk smack about everyone else at the office. But to many South Sounders, lunch is the most important meal of the day. This is when deals are well done, potential employees are informally grilled, and the dirtiest dirt is dished from the backroom to the boardroom. Don't you agree, Amy?
AMY KIRK: Indeed. The lower ABV, easy-drinking pale ales are the star of most lunches, as well as this year's Tournament of Beer. I'm Peaks bartender Amy Kirk and we have the results from yesterday's games and a preview of today's matches. Be sure to vote on the four games on our Instagram Stories.
Monday, April 10, First Round Northwest Lagers Games Results
Game 1, Southern Washington
Single Hill Sightglass Hazy Pale (#6 seed) vs Grains of Wrath Papermaker Pale (#11 seed)
ALLEN: Single Hill Brewing turned out the troops to propel their Sightglass Hazy Pale into the next round of the Tournament, despite Grains of wrath's exceptional pale ale. What Grains of Wrath doesn't have is a "Brewery Hype Officer" by the name of Andrew Pytel. You've seen the photo of Pytel our Pappi Swarner snapped when he was at Single Hill last month. Of course he is a Hype Officer.
KIRK: He must have a permanent parking spot at Single Hill. Seems like an Employee of the Month type. With 59 percent of the vote, Sightglass Hazy Pale moves on to the Second Round.
Game 2, Southern Washington
Wet Coast Baronesse Pale (#3 seed) vs. Odd Otter Ottzel Quatzel (#14 seed)
KIRK: OK, spell check doesn't like Wet Coast Baronesse Pale nor Odd Otter Ottzel Quatzel. Spell check messes with both pale ales every time the typings begin. If it was up to spell check, yesterday's game would have been West Coast Baroness Pale vs. Odd Otter Hotel Quetzal.
ALLEN: Haha so true. However, if it was up to the Tournament of Beer voting world, they would vote for Odd Otter Hotel Quetzal. Through head-jerking and vocalizations — typical otter communications — Odd Otter worked the crowd and never gave up the lead. When the final buzzer sounded, Ottzel Quatzel swam away with 53 percent of the vote and a date with Single Hill Sightglass Hazy Pale in the Second Round.
Game 3, Northern Oregon
Buoy Beer Pacific Pale (#5 seed) vs. Ruse Phantom Shore (#12 seed)
KIRK: "B" is for Buoy, beer, and busy. In the last couple of years, they have seen their brewery roof collapse into the Columbia River, set up a pop-up pub to continue serving the public while repairs continued, and started their own distribution company, River Barrel Distribution. No one would fault them for ignoring the Tournament of Beer. That didn't happen.
ALLEN: Indeed, Amy. Buoy grabbed hard hats from the construction company repairing their brewery, fastened the straps, and went after Ruse Brewing's Phantom Shore hard. Maybe the Ruse pale's name, Phantom Shore, hit too close to home. Who knows what made the Astoria brewery dig so deep. Buoy Pacific Pale floated away with 60 percent of the votes and a spot in the Second Round.
Game 4: Northern Oregon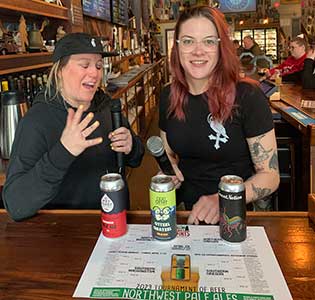 Great Notion Thumb Splitter (#4 seed) vs. Breakside Woodlawn Pale (#13 seed)
KIRK: Hey Nicole. Did you check out the results from last week's Oregon Beer Awards? Man, that looked like a fun time. Since Great Notion and Breakside brewery did well gathering a handful of medals before this game — that and the fact that they have multiple locations — it's safe to say they playing field was even going into this game.
ALLEN: From 12:01 a.m. until midnight, Breakside's Woodlawn maintained a mid-50s percent lead. In fact, they were confident enough to take a break from pounding the hops to mow their Woodlawn. Breakside put the thumb on Great Notion's Thumb Splitter with 55 percent of the vote and moves into the Second Round to face Buoy's Pacific Pale.
KIRK: Let's weed through the hops. The following are advancing to the Second Round:
Single Hill Sightglass Hazy Pale
Odd Otter Ottzel Quatzel
Buoy Pacific Pale
Breakside Woodlawn Pale
Let's dive into today's First Round action featuring four pale ale battles. Please vote for one beer per game on Peaks & Pints' Instagram Stories. Voting for today's battles ends at midnight. Peaks bartenders Trish and Amber will announce the winners tomorrow morning around 10 a.m., but today's games are live on Peaks & Pints' Instagram Stories.
ALLEN: Ladies and gentlemen, please join in the singing of our national anthem.
KIRK: Thank you Mary Ours! OK, let's get to voting!
Tuesday, April 11, First Round Northwest Pale Ales Games
GAME 1, SOUTHERN WASHINGTON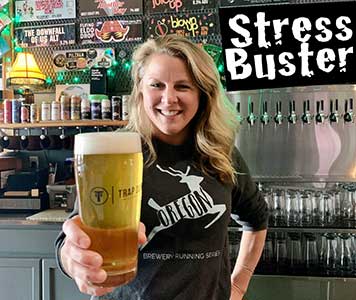 Player: Porch Beer (#7 seed)
Team: Trap Door Brewing, Vancouver
Stats: 5.3% ABV
ALLEN: Trap Door Brewing has seen some trap doors since opening their downtown Vancouver brewery and taproom in 2015. A couple head brewer changes, a couple distribution partner changes and, last year, a second location in Washougal. Owners Bryan Shull and Michael Parsons opened the new brewery and family-friendly taproom in the same building that once housed Amnesia Brewing and Logsdon Farmhouse Ales. The new spot should quintuple their brewing capacity over the next five years.
KIRK: I'm a Porch drinker meaning I find comfort drinking Trap Door's Porch Beer on porches. I love to rock back and forth while sipping the easy drinking pale ale with notes of citrus and stone fruit complimented but a subtle hint of pine.
Player: Vantucky Pale (#10 seed)
Team: Heathen Brewing, Vancouver
Stats: 5.8% ABV, 43 IBU
KIRK: In 2012, Sunny Parsons founded Heathen Brewing in a converted barn near his home in outer Vancouver. With "Progressive Ales for the Promiscuous Palate" as the mission statement, Parsons and co-owner and head brewer Rodney Stryker made small batches with local ingredients basically in the backwoods before opening their Feral Public House, a 2,000-square-foot restaurant and taproom in downtown Vancouver in 2015. Then, in October 2016, Heathen acquired a 20-acre vineyard in Brush Prairie. It opened the following April. The brewery has been voted in our Tournament of Beer almost every year.
ALLEN: Yes, their Vantucky Pale is a classic Northwest pale with Cascade and Mosaic hops. That works, indeed. But their competitor and neighbor Trap Door Brewing might be a little nervous. Heathen had their Feral Public House's floor-to-ceiling windows and front doors smashed by people protesting the "Spring Fling Drag Brunch," which Heathen Brewing hosted March 26. Heathen might still have some appropriate built-up frustration still that they could channel into their Vantucky Pale's performance today.
VOTE ON PEAKS & PINTS' INSTAGRAM STORIES >>>>>>>>>>>>>>>>>>>>>>>>>>>>>>>>>>>>>>>>>>>>>>>
GAME 2, SOUTHERN WASHINGTON
Player: Field 41 Pale Ale (#2 seed)
Team: Bale Breaker Brewing, Yakima
Stats: 5.2% ABV, 40 IBU
ALLEN: Hops have long defined life at B.T. Loftus Ranches in the Yakima Valley. Back in 1932, Kevin Smith and Meghann Quinn's great-grandparents founded the family hop farm that's now run by their older brother, Patrick. Meghann and her husband, Kevin Quinn, and younger brother were keen homebrewers. Wouldn't it be natural to start a brewery on the farm? In 2013, the trio took down three acres of the farm's Field 41 and built Bale Breaker, which is surrounded by fields of hops. Bale Breaker has grown to become the sixth largest independent craft brewery in Washington.
KIRK: Don't be fooled by the powerful hop aroma of Field 41 Pale Ale. This perfectly sessionable, but generously dry-hopped pale ale drinks easy with a smooth bitterness and is obviously named for the hop field that is home to Bale Breaker. Light and refreshing, it's the perfect beer for a day on the river or afternoon on the slopes — and I would know.
Player: Kraken Skulls PNW Pale Ale (#15 seed)
Team: Black Fleet Brewing, Tacoma
Stats: 5.4% ABV, 38 IBU
KIRK: In the summer of 2018, Kyle Maxwell and Caitlyn Byce opened Black Fleet Brewing, a 10,000-square-foot, two-story brewery equipped with a 10-barrel system in Tacoma's Historic Brewery District. They named it Black Fleet after Jeanne de Clisson, the Lioness of Brittany, who turned pirate after her husband was accused of treason and beheaded by the French. In turn, she sold her remaining belongings, bought a trio of ships, painted the hulls black, and dyed the sails crimson, creating the Black Fleet. Tacoma had a similar tough woman back in the day — Thea Foss. She started with a single rowboat, which she painted green and yellow. In 1904, her company had fleets of up to 200 ships, a shipyard, 10 boat launches and more.
ALLEN: Brewed with the Seattle Kraken hockey team, Kraken Skulls PNW Pale Ale is a single hop beer with Cascade hop's floral and slightly citrus flavors.
VOTE ON PEAKS & PINTS' INSTAGRAM STORIES >>>>>>>>>>>>>>>>>>>>>>>>>>>>>>>>>>>>>>>>>>>>>>>
GAME 3, NORTHERN OREGON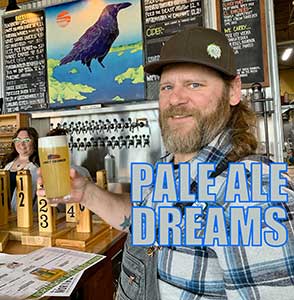 Player: City of Dreams (#1 seed)
Team: Fort George Brewery, Astoria
Stats: 5.5% ABV, 40 IBU
ALLEN: It's true. Peaks & Pints has gushed over Fort George Brewery many times for many reasons. Fort George Sales Executive Hoyt Smith called on us a year before we opened, brought his two turntables and microphone one night, and played guitar and sang another night. We've held many beer release parties for the Astoria brewery. And, of course, Fort George brewed our delicious house beer this year, Blue Mouse IPA. At this point you know the whole tornado origin story, the rapid expansions, the 3-Way IPA hugs, and on and on. Amy, tell us about their number one seeded pale. …
KIRK: For the amount of love Fort George gushes over its hometown of Astoria it would seem they brewed this delicious pale for the city. This year-round pale tastes like the bastard love child of their Suicide Squeeze IPA. There's a mango and tropical quality on the nose that translates to the taste, with a touch of grapefruit. It's not bitter. It's creamy. It's delicious.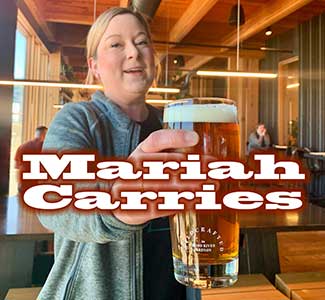 Player: Pale Ale (#16 seed)
Team: Ferment Brewing, Hood River
Stats: 4.8% ABV, 43 IBU
ALLEN: I've been to Ferment Brewing in Hood River several times. It's gorgeous. Brewer Dan and foodie Jennifer Peterson opened it with British entrepreneur Robert Gilham in 2018 after Dan earned a degree in microbiology and molecular genetics from the University of Vermont, spent two years at Full Sail Brewing followed by a year as head brewer at pFriem Family Brewers.
KIRK: Their Pale Ale is inspired by the brewing traditions of Burton-on-Trent — the spiritual home of America's favorite beer style, India Pale Ale — at the turn of the 19th century. Heirloom malted barley and hop varieties come together with a specially sourced English ale yeast to produce a result that is crisp and refreshing, featuring a complex depth of character with notes of tea, marmalade, and a hint of rose.
VOTE ON PEAKS & PINTS' INSTAGRAM STORIES >>>>>>>>>>>>>>>>>>>>>>>>>>>>>>>>>>>>>>>>>>>>>>>
GAME 4, NORTHERN OREGON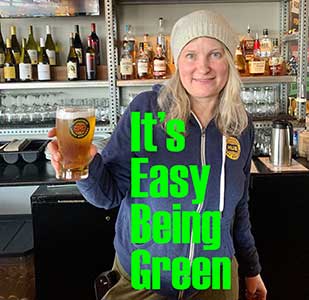 Player: Tree Frog Organic Pale Ale (#8 seed)
Team: Hopworks Urban Brewery, Portland
Stats: 5.4% ABV, 40 IBU
ALLEN: Christian Ettinger spent time at Eugene City Brewery, graduated from Intensive Brewing and Science and Engineering courses with the American Brewers Guild, and was awarded the World Beer Cup Champion Brewmaster while brewing at Laurelwood Pub and Brewery in Portland before he and his wife, Brandie, opened Hopworks Urban Brewery in 2007. While the Ettingers are obviously proud of their beers and multiple locations, but they might be even more proud of B Corporation certification, Salmon-Safe Certification, and their other endeavors to preserve the planet and build community.
KIRK: They should be proud of their easy-drinking Tree Frog Organic Pale Ale brewed with Fuggle, Centennial, Amarillo, and Simcoe hops for juicy and floral aromas.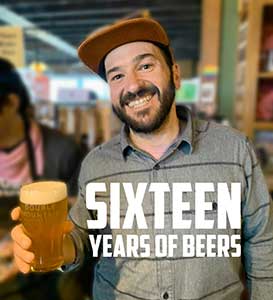 Player: Vaporizer Pale (#9 seed)
Team: Double Mountain Brewery & Cidery, Hood River
Stats: 6% ABV, 55 IBU
ALLEN: Founded on St. Patrick's Day 2007, Double Mountain has a clear mission: "Make great beer for craft beer fans." Ever since then owner Matt Swihart (when not playing banjo in the GreenNeck Daredevils band) has worked hard to meet this mission, focusing on uncompromising beer quality, with ingredients such as 2-row pilsner malts from British Columbia, Belgian yeast strains, fruit from Hood River orchards, and Northwest hops. Famed for both their hoppy and sour fruit beers such as IRA, Vaporizer and Devil's Kriek as well as their brewpub in downtown Hood River's awesome pizza, family friendly atmosphere and live music, Double Mountain has become a top Oregon destination.
KIRK: Their OG Vaporizer Pale is brewed with 100 percent Gambrinus Pilsner, their sweet and supple house malt from Gambrinus Malting in British Columbia and Challenger hops grown on a single farm in the Yakima Valley. Double Mountain dry hops Vaporizer to pump up the hoppy goodness. It's an appetizingly dry, clean, and pure-tasting take on a hoppy pale ale.
VOTE ON PEAKS & PINTS' INSTAGRAM STORIES >>>>>>>>>>>>>>>>>>>>>>>>>>>>>>>>>>>>>>>>>>>>>>>
Wednesday, April 12 Tournament of Northwest Pale Ales action
Game 1: Stoup Mosaic Pale (12th seed) vs. Maritime Pacific Islander Pale (13th seed)
Game 2: Aslan Dawn Patrol (fifth seed) vs. Hellbent Seattle Sunshine (12th seed)
Game 3: Pelican Paddleback Pale (sixth seed) vs. Three Creeks Cone Lick'r (11th seed)
Game 4: Rogue Newport Daze (third seed) vs. Worthy Secret Spot Pale (14th seed)
LINK: Tournament of Beers: Northwest Pale Ales explained
LINK: Hot Damn! Yes, I want to subscribe to 6-Pack of Things To Do newsletter and be hip to local happenings!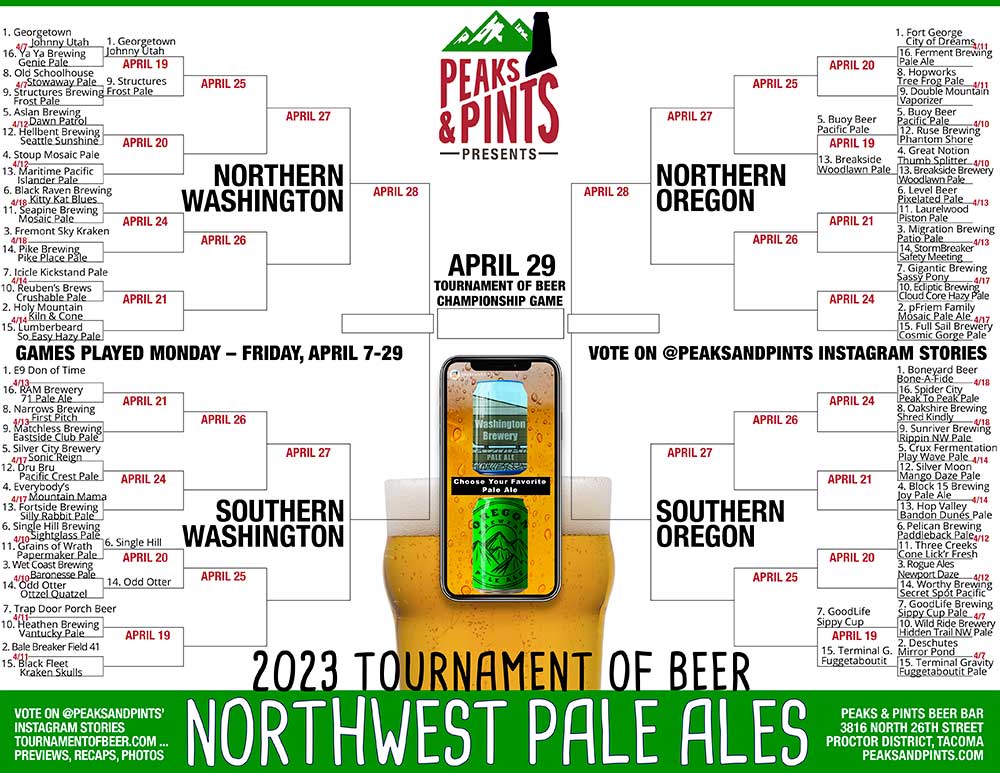 ---