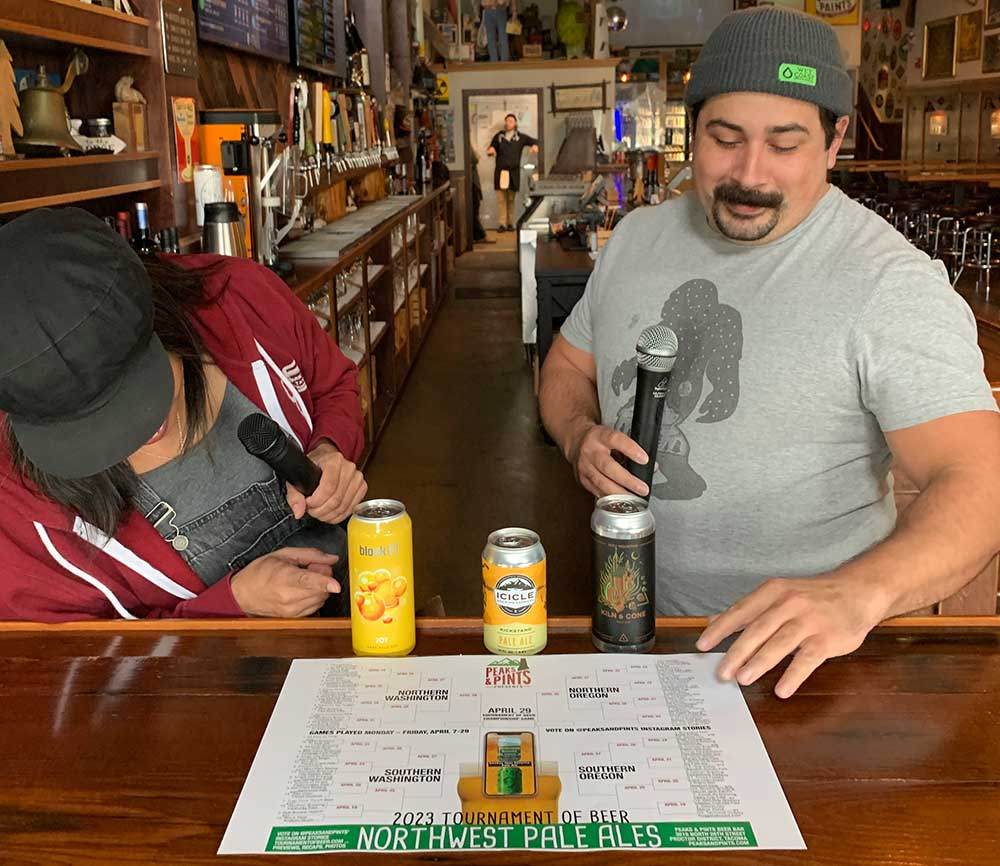 Peaks and Pints Tournament of Beer: Northwest Pale Ales April 15
PHAEDRA MILLER: Welcome Peaks and Pints Tournament of Beer: Northwest Pale Ales April 15! I'm Peaks & Pints bartender Phaedra Miller. The subject of pale ales is, like the subject of burgers, vexed and fraught with controversy. What constitutes a great pale ale? Who makes the best pale in the Pacific Northwest? Everyone seems to have his or her own favorite, and everyone's an expert. In March, we polled the public asking what are the top 64 pale ales brewed in Washington and Oregon? You chimed in. Friday, April 7, we launched the Tournament of Beers: Northwest Pales Ales, pitting 64 pale ales against each other Monday-Friday, similar to the NCAA Basketball Tournament, only with more Cascade hops. Where are we at Brandon?
BRANDON CRESPIN: We're deep into the First Round, with a break in the action today and tomorrow. So, let's recap yesterday's winners and drink pale ales all weekend!
MILLER: Word!
Friday, April 14, First Round Northwest Pale Ales Games Results
Game 1, Northern Washington
Icicle Brewing Kickstand Pale (#7 seed) vs. Reuben's Brews Crushable Pale (#10 seed)
CRESPIN: Reuben's Brews' Crushable Pale has a new meaning. It crushes other pales. Leavenworth's beloved and delicious Icicle Brewing Kickstand Pale didn't have time to put the Kickstand down. Crushable Pale jumped out to a huge lead by 8 a.m. and never stopped crushing. The juicy, lush, tropical fruit forward hazy pale maintains a low 70s percent lead all day until the final buzzer. With 73 percent of the vote, Crushable pale enters the Second Round with crushing as the plan.
Game 2, Northern Washington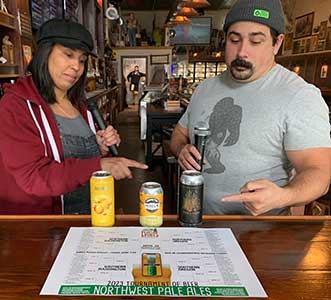 Holy Mountain Kiln & Cone (#2 seed) vs. Lumberbeard So Easy Hazy Pale (#15 seed)
MILLER: If you thought the low 70s percent vote win is impressive, holy moley, wait to hear about Holy Mountain's day. The Seattle brewery loves the 80s, at least according to the votes. The Kiln & Cone secured an 82 percent vote lead by 8 a.m. that reached 84 percent at noon.
CRESPIN: This is the first year Spokane has a real presence. And, that Lumberbeard hazy is tasty. But, I mean, Holy Mountain Kiln & Cone.
MILLER: Lumberbeard did add a little Lumberbangs to their game and it worked. So Easy gained a few percentage points at the 6 p.m. check-in. But Friday Night Lights was all about Kiln & Cone. Holy Mountain's pale enters the Second Round with 77 percent of the vote. The Reuben's Crushable and Holy Mountain Kiln & Cone will be an early taste of what the Championship Game could be like. Someone call the Ballard Bridge operator to let them know raising the bridge April 21 is a horrible idea.
Game 3, Southern Washington
Crux Fermentation Project Play Wave Pale (#5 seed) vs. Silver Moon Mango Daze Pale (#12 seed)
CRESPIN: Hey Phaedra! Does Pappi Swarner know Crux Play Wave Pale isn't available this spring because they just beat the solid Silver Moon Mango Daze by 77 percent of the vote.
MILLER: I'm sure he knows. It's was the public's decision, and I'm sure most people didn't know it wasn't available now. If Crux keeps winning, it will be an awkward Final Four and Championship Game. If they win, they'll still receive a permanent handle through summer — without the Play Wave. I'm fine if they keep the Pilz on through the first day of autumn.
Game 4, Southern Washington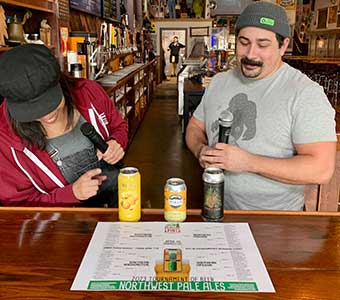 Block 15 Joy (#4 seed) vs. Hop Valley Bandon Dunes Pale (#13 seed)
CRESPIN: Fore!
MILLER: Brandon!
CRESPIN: Well, the Hop Valley pale brewed for the Bandon Dunes Golf Resort spent too much time in the sand traps. Block 15 Joy had all the joy yesterday grabbing 78 percent of the votes.
MILLER: The Crux Play Wave versus Block 15 Joy will be a thrilling Second Round game.
CRESPIN: Let's weed through the hops. The following are advancing to the Second Round:
Reuben's Crushable Pale
Holy Mountain Kiln & Cone
Crux Play Wave Pale
Block 15 Joy
MILLER: See everyone back here very very early Monday morning for more Tournament of Beer: Northwest Pale Ales First Round action. Cheers!
Monday, April 17 Tournament of Northwest Pale Ales action …
Game 1: Silver City Sonic Reign (fifth seed) vs. Dru Bru Pacific Crest Pale (12th seed)
Game 2: Everybody's Mountain Mama (fourth seed) vs. Fortside Silly Rabbit Pale (13th seed)
Game 3: Gigantic Sassy Pony (seventh seed) vs. Ecliptic Cloud Core Hazy Pale (10th seed)
Game 4: pFriem Mosaic Pale (second seed) vs. Full Sail Cosmic Gorge Pale (15th seed)
LINK: Tournament of Beers: Northwest Pale Ales explained
LINK: Hot Damn! Yes, I want to subscribe to 6-Pack of Things To Do newsletter and be hip to local happenings!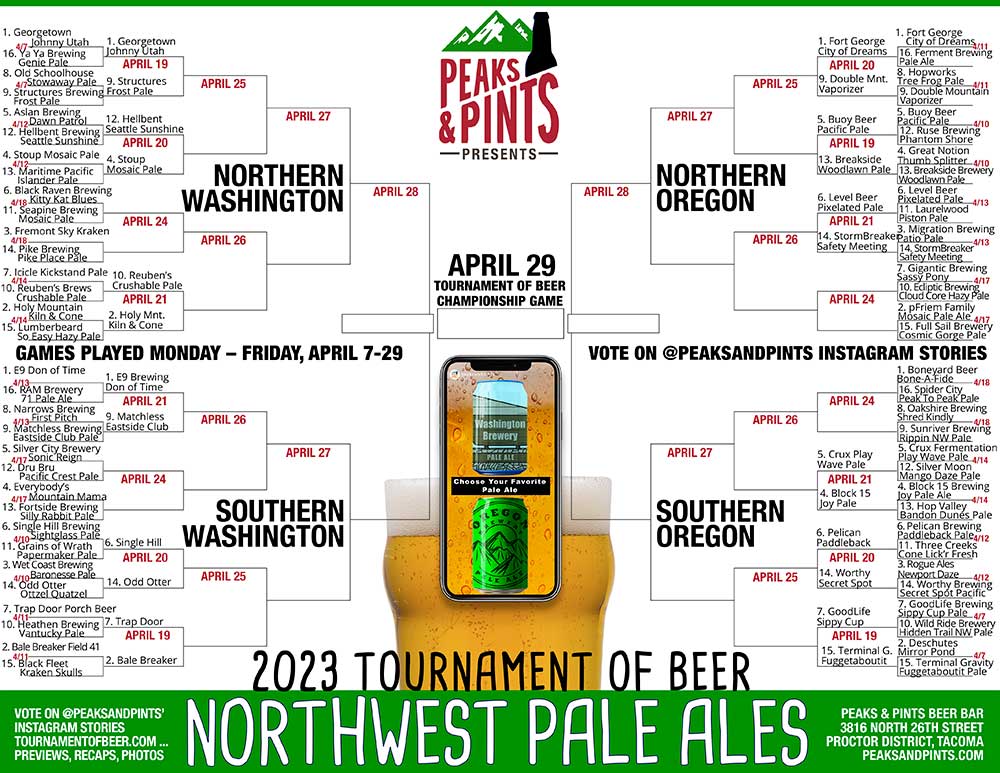 ---