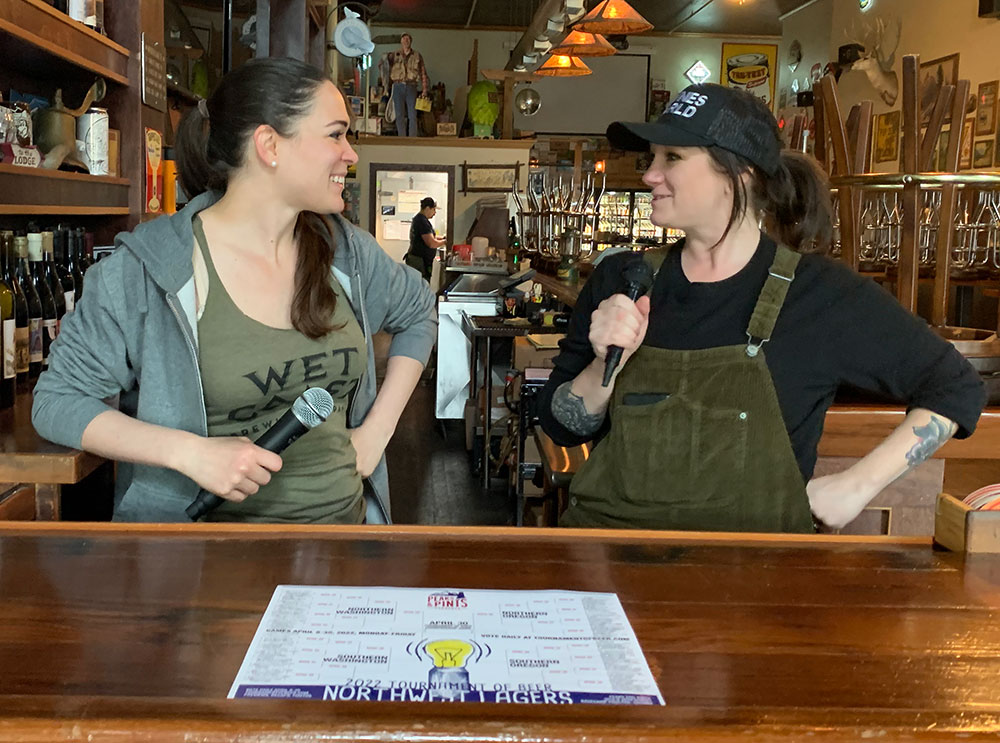 Peaks and Pints Tournament of Beer: Northwest Lagers April 20
BRITTNEY CROWDER: Now it's getting exciting! The Saccharomyces pastorianus yeast are starting to really feast, and the Pilsner malt bags are piling up so high you could build St. Bartholomew's Cathedral. OK, so that's a silly analogy. Point is: This is serious! Hello folks, I'm Brittney Crowder and with me is Claire Brinich.
CLAIRE BRINICH: Howdy! Howdy! Today the Tournament of Beer: Northwest Lagers officially kicks off its Second Round, meaning 32 pale and light lagers brewed in Washington and Oregon remain, and the competition is as hot as ever. What Northwest lager will be crowned Saturday, April 30? The path to lager greatness begins today. If you feel like voting rather than reading and voting, then VOTE NOW.
CROWDER: We'll give a recap of yesterday's last First Round battles, and then take a look at today's Tournament of Beer action. Tuck the kids in, pour your Peaks & Pints Campfire Crowler into your Spaten Brewery keepsake mug if you know what's good for you and get to a voting.
Tuesday, April 19, First Round Northwest Lagers Games Results
GAME 1, NORTHERN WASHINGTON REGION
Stoup Brewing Stoupporro Super Premium Japanese Lager vs. Maritime Pacific Brewing Old Seattle Lager
BRINICH: When first discussing the Tournament of Beer Northwest Lagers during the time when 10 lords were a-freaking-leaping, we pondered if Stoup's Stoupporror would be nominated as it's been about a year since it was in a stoup. But, the brewery has a big following, and the name is clever. Stoup quickly comes to the lips of many when discussing the best breweries, and obviously the Peaks & Pints Pals chose wisely when they nominated Stoupporro into the Tournament as it gathered 56 percent of the votes yesterday.
CROWDER: That's a close game! Maritime Pacific and Old Seattle Lager, a brewery and a beer that have gained respect over the years. Hold your head high Old Seattle. Cheers!
GAME 2, NORTHERN WASHINGTON REGION
Kulshan Brewing Premium Lager vs. Dru Bru Cle Elum Classic
BRINICH: Bellingham has 29 times more people than Cle Elum, therefore, it's interesting Kulshan beat Dru Bru by only 55 percent of the vote.
CROWDER: Both breweries have multiple locations, strong merch, and delicious lagers. Population had to be a factor — even if you add the 332 people who live at Snoqualmie Pass, the location of Dru Bru's OG brewery. Kulshan's Premium Lager moves into the Second Round.
GAME 3, SOUTHERN OREGON REGION
Block 15 Brewing Sol Fresco vs. Grain Station Brew Works Haystack Gold
BRINICH: Block 15's Mexican lager "Sol Fresco" means "fresh sun" in English. Haystack Gold, we believe, is the term used to describe eating a tall stack of flapjacks on a haystack in a pasture (we're still fact-checking). Merge the two names and you have a lovely morning. Merge the two beers on a court and you have a fierce battle. It wasn't a blowout. Grain Station's loyal customers figured out the Internet and voted until the cows came home.
CROWDER: It would have been an upset of monumental proportion had number 16 seed Haystack Gold somehow managed to defeat Sol Fresco — the fourth largest nomination count to enter the Tournament behind Heidelberg, pFriem Mexican lager, and Chuckanut's Asian Lager. But, alas, it was never meant to be. Sol Fresco kept a steady lead all day to the final seconds yesterday securing 60 percent of the votes.
GAME 4, SOUTHERN OREGON REGION
Terminal Gravity Brewing Landmark Lager vs. Yachats Brewing See See Lager
BRINICH: In the battle of the boonies, Terminal Gravity Landmark Lager cruised to victory and securing roughly 65 percent of the vote by the time things were said and done. Luckily for all of us, Yachats doesn't need this Tournament to get by … it sits next to a dramatic shoreline and mountainous environment — the epitome of Oregon's coastal beauty. Terminal Gravity reaches terminal gravity moves on to Second Round to take on Block 15's "fresh sun" April 25.
CROWDER: Let's wade through the chilled wort. The following are advancing to the Second Round:
>>> Stoup Stoupporro Super Premium Japanese Lager
>>> Kulshan Premium Lager
>>> Block 15 Sol Fresco
>>> Terminal Gravity Landmark Lager
BRINICH: It's time for Second Round action! Please vote for one beer per game. Please only vote once. Voting for today's four games ends at 11:45 p.m. Please join in the singing of our national anthem.
BRINICH: Thank you Canadians! OK, let's get to voting!
Wednesday, April 20, Second Round Northwest Lagers Games
GAME 1, NORTHERN WASHINGTON REGION
Chuckanut Brewery Asian Style Lager (#1 seed) vs. Wander Brewing Wander Lightly (#9 seed)
BRINICH: Tipping off the Second Round of the Peaks and Pints Tournament of Beer: Northwest Lagers we have what could be called a rematch of the 2021 Olympics Women's Softball game between Japan and the United States. Wander Brewing hopes their American light lager will have great pitching (yeast) and defense as Team USA did, but better offense as the US women lost to Japan 2-0. Chuckanut's Asian Style Lager plans to go for the Gold.
CROWDER: Actually, I'd like these two breweries decide this game over a game of softball. Alas, the votes will decide.
SCROLL DOWN TO VOTE >>>>>>>>>>>>>>>>>>>>>>>>>>>>>>>>>>>>>>>>>>>>>>>>>>>>>>>>>>>>>>
GAME 2: SOUTHERN WASHINGTON REGION
Silver City Brewery Ziggy Zoggy Party Beer (#7 seed) vs. Everybody's Brewing Local Logger (#2 seed)
BRINICH: Ignoring the history, talent, taste, and marketing behind these two popular breweries, it comes down a battle of fun names.
CROWDER: I wouldn't put it past these two breweries to put down the brewer paddles, call it a tie, and throw a raging Logger Party! …
SCROLL DOWN TO VOTE >>>>>>>>>>>>>>>>>>>>>>>>>>>>>>>>>>>>>>>>>>>>>>>>>>>>>>>>>>>>>>
GAME 3, NORTHERN OREGON REGION
pFriem Family Brewers Mexican Lager (#1 seed) vs. Level Beer Sweep the Leg (#9 seed)
BRINICH: Level Beer's Sweep the Leg Japanese rice lager has been beaten, dumped, coerced into kissing a girl, dressed up as a shower, and now forced to fight to the death in the Tournament of Beer. It swept Von Ebert's Clubhaus Lager in the First Round. Backed by its three Portland locations and a bunch of pinball machines, Sweep the Leg doesn't plan on rolling right or rolling left but rather it plans to roll straight down the middle.
CROWDER: Josh Pfriem can catch a fly with chopsticks. Enough said.
SCROLL DOWN TO VOTE >>>>>>>>>>>>>>>>>>>>>>>>>>>>>>>>>>>>>>>>>>>>>>>>>>>>>>>>>>>>>>
GAME 4, SOUTHERN OREGON REGION
Wild Ride Brewing Cole's Lager (#10 seed) vs. Santiam Brewing JFK Domestic Lager (#15 seed)
BRINICH: Santiam Brewing, still basking in the glow of a First Round Rogue Ales beatdown, will need to stay focused as their JFK Domestic Lager faces Wild Ride's Cole's Lager. Wild Ride will need to dispatch the entire Central Oregon, even the folks in the vacation homes drinking Opus One reds while soaking in hot tubs.
CROWDER: Remember, ask not what your lager can do for you, but what you can do for your lager.
VOTE BELOW (CLICK "DONE" AFTER VOTING) >>>>>>>>>>>>>>>>>>>>>>>>>>>>>>>>>>>>>>>>>>>>>

Thursday, April 21 Peaks and Pints Tournament of Beer: Northwest Lagers
Game 1: Burke-Gilman Brewing Vitamin R (#12 seed) vs. Reuben's Brews Southsun (#4 seed)
Game 2: Wet Coast Brewing Coasta Mejor Mexican Golden Lager (#6 seed) vs. Grains of Wrath Dive Bar Lager (#3 seed)
Game 3: Ruse Brewing Shifting Dreams (#5 seed) vs. Baerlic Brewing Dad Beer! (#4 seed)
Game 4: Worthy Tenmile Dry-Hopped Lager (#11 seed) vs. Oakshire Brewing Beer Hall (#3 seed)
LINK: Tournament of Beers: Northwest Lagers explained
LINK: Hot Damn! Yes, I want to subscribe to 6-Pack of Things To Do newsletter and be hip to local happenings!
LINK: Past Tournament of Beer competitions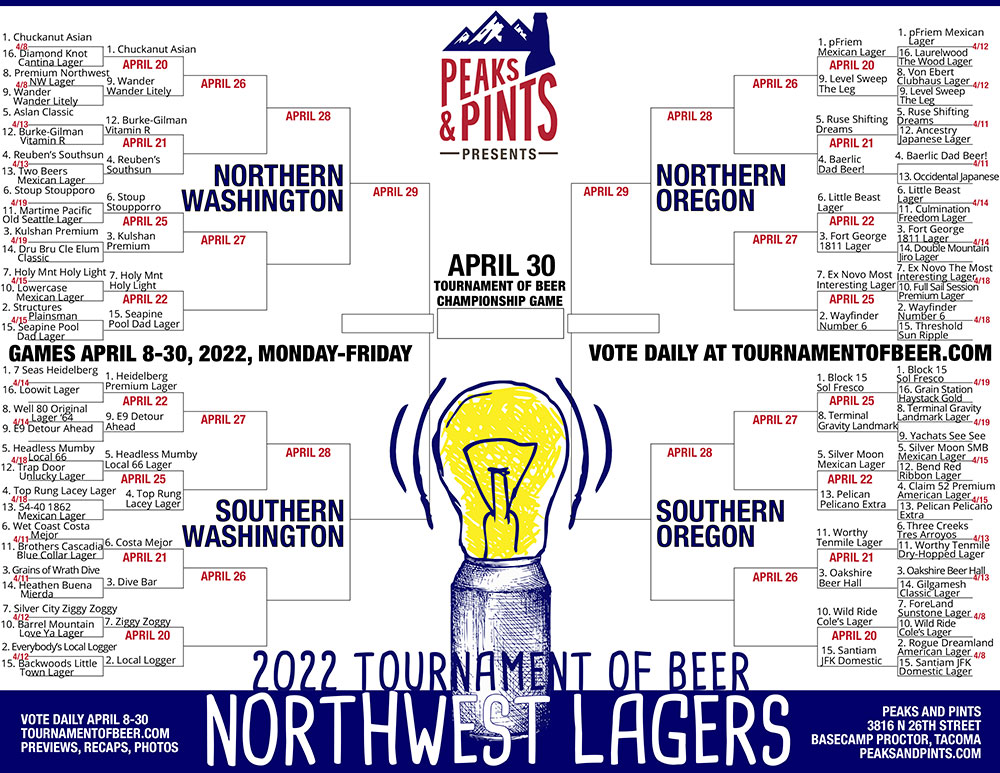 ---