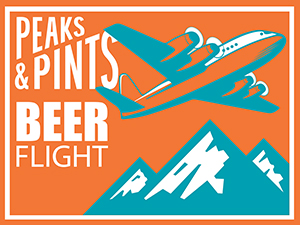 There's no shortage of things you can do to celebrate 4/20, like, say, visiting numerous dispensaries and buying copious amounts of deeply discounted cannabis and cannabis products, and then, you know, consuming them, perhaps in a Mrs. Butterworth's bong or Cheech & Chong joint. Then, you'll get the munchies because cannabis consumption activates certain receptors in our brains, directing hunger-fighting neurons to switch sides and stimulate our appetites. The most generic strains of weed can lube up an appetite, especially for anyone who doesn't toke very often, but there is a rare class of cannabis out there digging endless pits of hunger in our stomachs. You could go to 7-11 and load up on Twinkies, Cheese Puffs, Doritos, and Easy Mac. Or, you could sate your munchies with decadent beer. Plan ahead; stop by Peaks & Pints for our to-go flight of munchies beer — a flight we're calling Peaks and Pints Pilot Program: Beer Munchies On The Fly.
Peaks and Pints Pilot Program: Beer Munchies On The Fly
450 North Tropical Sponge Cake
5.3% ABV
450 North Brewing Company is a small craft brewery situated on the Simmons family farm in Columbus, Indiana. Since 2012 the Simmons have been crafting some of the finest beers in the country, including pioneering the smoothie sour craze. They add extremely large amounts of unfermented fruit puree to kettle sours. By leaving the fruit unfermented, they make sours that look, smell, and drink like a fruit smoothie from a juice café, but with alcohol. After that is achieved, there is a never-ending list of adjuncts and spices that can be added to create whatever flavor they want. Their Tropical Sponge Cake XL is conditioned on kiwi, mango, apricot, passionfruit, banana, cake mix, lactose, vanilla cream, and toasted coconut.
E9 Brewing Add It Up
9.5% ABV
Tonya Cornett first discovered beer in the mid-'90s in Colorado and began homebrewing. After working multiple brewery jobs and deciding that beer was something she was serious about she traveled to Germany to attend the World Brewing Academy. She moved to Bend in 2002 and assumed the brewmaster position at Bend Brewing Company bringing home a heap of medals to Central Oregon. In 2012 Cornett joined the 10 Barrel Brewing team as their Brewmaster of Research and Development and has been cranking out stacks of award-winning recipes under her TinyHaus label. Recently, Cornett drove to E9 Brewing to collaborate on Add It Up, a dark, rich, delectable pastry stout brewed with dark malts, cacao nibs, Madagascar vanilla beans, and hazelnuts.
Avery Vanilla Bean Stout
10.8% ABV, 29 IBU
It's back! After a long absence Avery Brewing's bourbon barrel-aged blend of an imperial stout and a regular American stout flexes its decadent vanilla addition once again, offering a big nose of warm, sticky vanilla, toasted coconut and a flit of whiskey. Double dose of vanilla derived from both fresh bourbon barrels and the trio of Tongan, Ugandan, and Mexican whole vanilla beans is complemented by the essences of chocolate, caramel, and molasses to round out this luxurious silky stout.
Hubbard's Cave Accident in Hubbard's Cave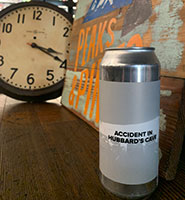 12% ABV
In 2013, on the near west side of Chicago (near Hubbard's Cave), with the quest of making fine Belgian and French inspired ales for all beer lovers, Jerry Nelson launched Une Annee. Nelson has since expanded his Une Annee offerings to include fruited and unfruited American wild ales. Nelson's Hubbard's Cave brand was developed as an alternative to their Belgian and French style ales, primarily imperial stouts and signature Fresh IIPAs. His Accident in Hubbard's Cave in an imperial stout with notes of chocolate, coffee, vanilla, brown sugar, caramel, and light roasted malts.
Deschutes Peanut Butter Obsidian Stout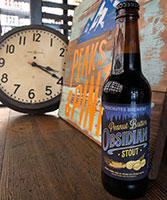 9% ABV, 40 IBU
This beer is inspired by peanut butter whiskey drinkers, where Deschutes Brewery has crafted a barrel-aged version of their classic Obsidian Stout brewed with peanut butter and milk sugar to give it the creamy Jiff flavor. But far beyond just adding the dessert stout element, they also blended in a whiskey barrel-aged stout to add complexity, strength, vanilla tannings, and spiciness. Peanut butter and whiskey are pretty much classic Americana products at this point, so what better delivery mechanism then a traditional American stout.
LINK: Peaks & Pints cooler inventory
---