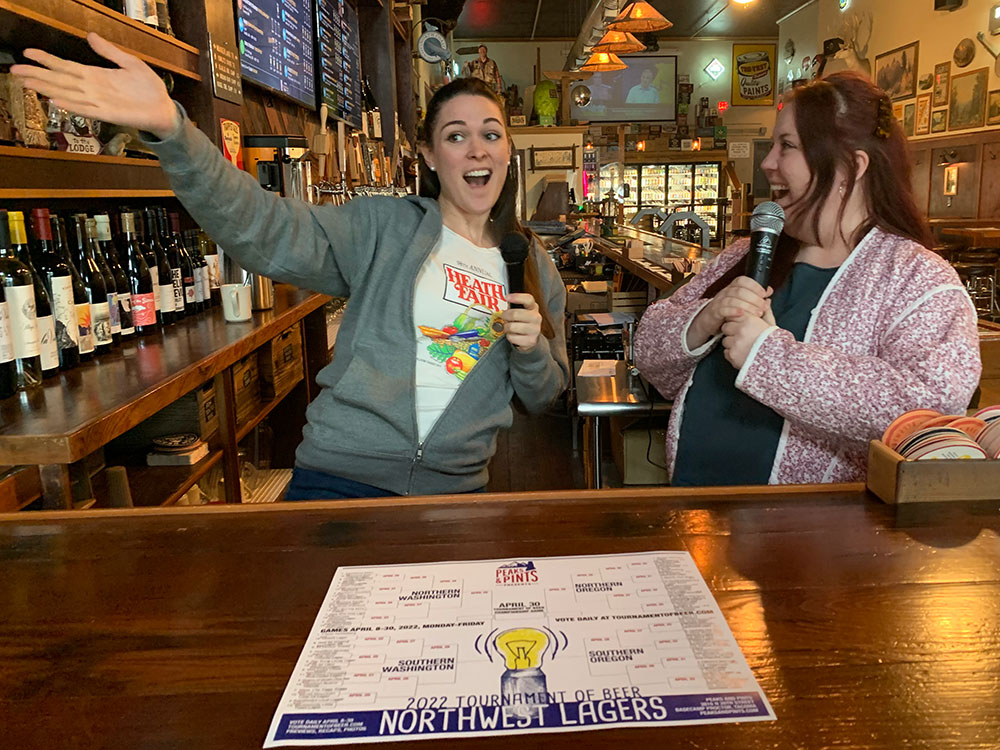 Peaks and Pints Tournament of Beer: Northwest Lagers April 15
ERIKA BROWN: Favorites or underdogs, pale or light, Mexican or Japanese, it's all the same. In the end, they all have one chance to fenagle bottom-fermenting yeast at cold temperatures to achieve a crisp, clean lager that can take the prize. Sixty-four Washington and Oregon brewed lagers were selected and seeded by the public last month for the Peaks and Pints Tournament of Beer: Northwest Lagers, which is now six days into the competition. Hello everyone, I'm Peaks bartender Erika Brown and apparently lagers were on the minds of Northwesterners yesterday as it was the second largest voting day for the Tournament of Lagers behind last Friday's opening bell. If you're antsy and want to vote now, click VOTE NOW.
CLAIRE BRINICH: Hi-ya beer drinkers! I'm Peaks bartender Claire Brinich. I did notice, Erika, a larger presence of breweries promoting their lagers yesterday, including several who worked the floor at Peaks.
BROWN: I saw that too! Without further ado, let's take a gander at yesterday's results followed by eight new lagers hitting the boards today.
Thursday, April 14, First Round Northwest Lagers Games Results
GAME 1, SOUTHERN WASHINGTON REGION
Heidelberg Premium Lager (#1 seed) vs. Loowit Brewing Loowit Lager (#16 seed)
BRINICH: If you were curious if the Heidelberg folks would bring it this year for the Tournament, check out @heidelberg_beer on Instagram, and the other social media outlets. Whether it was their promotions, the pre-Prohibition velvet tang, or the great grandfathers came out to play, Heidelberg Premium Lager put the hurt of the tasty Loowit Lager nabbing 69 percent of the vote and path to the Second Round.
BROWN: 7 Seas Brewing, who brews the beer, has an amazing Heidelberg museum in the front entrance to their taproom in Tacoma's Historic Brewery District.
GAME 2, SOUTHERN WASHINGTON REGION
Well 80 Brewhouse Original Lager Year '64 (#8 seed) vs. E9 Brewing Detour Ahead (#9 seed)
BRINICH: This game was fun to watch, even though E9 Brewing's Detour Ahead maintained a lead all day. Peaks & Pints guests stood before our Big Board and discussed local beer history. In addition to the previous game winner Heidelberg and its long history, folks chatted up the importance of Well 80's Original Lager Year '64 and how it parallels Olympia Brewing's recipe with artisan water and how former Olympia Brewing brewmaster Paul Knight helped brew it. E9 Brewing also had its history batted around, including its fame as Tacoma's first modern day brewery.
BROWN: Tacoma has a long beer history. E9 Brewing has a date with Heidelberg in the Second Round after grabbing 67 percent of the vote yesterday.
GAME 3, NORTHERN OREGON REGION
Little Beast Brewing Lager (#6 seed) vs. Culmination Freedom Lager (#11 seed)
BRINICH: Little Beast, which sits south of Portland's Hawthorne District, is a little over two miles from Culmination in the Kerns District. I imagine the roads between the two breweries were jammed packed with double-decker bikes and unicycles yesterday — of course after they finished their shifts at the coffeehouses.
BROWN: Yes, indeed. The voting was furious, mostly at night after the pickling vegetables pop-ups closed, with Little Beast Lager finally securing 58 percent of the votes.
GAME 4, NORTHERN OREGON REGION
Fort George Brewery 1811 Lager (#3 seed) vs. Double Mountain Brewery Jiro Lager (#14 seed)
BRINICH: Fort George's 1811 Lager and Double Mountain Jiro Lager battled back and forth all day, changing leads several times. It's our guess that Fort George's Instagram post yesterday asking, "When was the last time someone REALLY listened to you pontificate about the virtues of the Lager?" might have made the difference as the Astoria brewery ended up edging out the Hood River Japanese lager with 51.55 percent of the votes.
BROWN: Let's wade through the chilled wort. The following are advancing to the Second Round:
>>> Heidelberg Premium Lager
>>> E9 Detour Ahead
>>> Little Beast Lager
>>> Fort George 1811 Lager
BRINICH: It's time for today's lager battles. Please join in the singing of our national anthem.
BRINICH: Thank you Brandy! OK, let's get to voting!
Friday, April 15, First Round Northwest Lagers Games
GAME 1, NORTHERN WASHINGTON
Player: Holy Light (#7 seed)
Team: Holy Mountain Brewing, Seattle
Stats: 4.6% ABV
BRINICH: Holy Mountain's premium light American lager is brewed with a slightly under modified Moravian Pilsner Malt, as well as corn and rice to help lighten the body and lend a crisp and refreshing finish. It's lightly hopped with Willamette throughout and fermented with one of their favorite lager strains. Lastly, it goes through a long, cold conditioning for a super light, slightly sweet and refreshing beer.
BROWN: On a different note, did you read Paste Magazine's review yesterday on Holy Mountains Hand of Glory Bourbon Barrel-aged Barleywine? When is the Tournament of Beer: Northwest Bourbon Barrel-aged Barleywines?
Player: mEXICAN LAGER (#10 seed)
Team: Lowercase Brewing, Seattle
Stats: 4.5% ABV, 20 IBU
BRINICH: Lowercase Brewing sits in Seattle's South Park neighborhood, which is as diverse and the number of beers brewed by Lowercase, so their mEXICAN LAGER resonates. I'm not sure how this Vienna lager snuck into the Tournament, but traditional German yeast is used in the darkest beer in the Tournament. Most of the Mexican lagers nominated into the Tournament lean more on the pale lager side.
BROWN: Whatever … it's freakin' delicious.
SCROLL DOWN TO VOTE >>>>>>>>>>>>>>>>>>>>>>>>>>>>>>>>>>>>>>>>>>>>>>>>>>>>>>>>>>>>>
GAME 2, NORTHERN WASHINGTON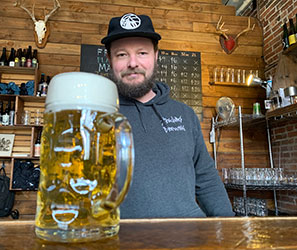 Player: Plainsman (#2 seed)
Team: Structures Brewing, Bellingham
Stats: 4.9% ABV
BRINICH: Structures' rustic American light lager is brewed with Skagit Valley heirloom corn and Saaz hops for crisp, crushable, bready lager with hints of grassy hops and a light amount of bitterness. It's currently the number 14 rated American Light Lager in the world on Untappd, yo.
BROWN: I hear Bryan Cardwell has joined Structures after a long stint as Chuckanut's head brewer and recently senior brewer at pFriem. Cardwell attended a six-month intensive course at the renown Versuchs-und Lehranstalt für Brauerei, or VLB, in Berlin, Germany, studying lagers with the best — in addition to everything he learned from Will Kemper, Josh Pfriem and now James Alexander. He knows his way around a lager, indeed.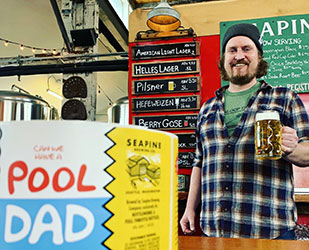 Player: Pool Dad (#15 seed)
Team: Seapine Brewing, Seattle
Stats: 4% ABV
BRINICH: Brewed exclusively for Bottleworks and Full Throttle Bottles craft beer bottle shops and taprooms, Seapine Brewing also taps this summer seasonal in their Seattle taproom, when available. It's a crisp, refreshing, and thirst-quenching American light lager with soft biscuit malt flavors, plus clean and mild hop accents. It's also cold conditioned with lemon zest.
BROWN: Fun fact: all Seapine brewers have graduated from the UC-Davis Brewing Program. It's one of the oldest and respected brewing schools in the world.
SCROLL DOWN TO VOTE >>>>>>>>>>>>>>>>>>>>>>>>>>>>>>>>>>>>>>>>>>>>>>>>>>>>>>>>>>>>>>
GAME 3, SOUTHERN OREGON
Player: SMB Mexican Lager (#5 seed)
Team: Silver Moon Brewing, Bend
Stats: 4.9% ABV, 10 IBU
BRINICH: The SMB series from Silver Moon is the Bend brewery's easy-drinking, lower-alcohol beer line with the tagline, "Beer for Doing Stuff." Bursting with bright lime character this Mexican lager is rounded out with soft corn a crisp, clean finish.
BROWN: For those headed to Bend this spring and summer, be sure to check out Silver Moon's outdoor beer and food garden. It's pretty awesome with three or four food trucks, beer bar, outdoor fireplaces, and tons of seating.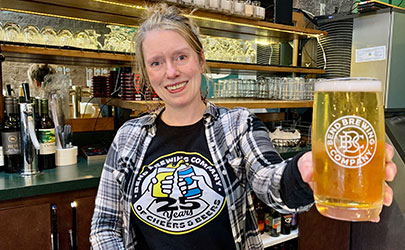 Player: Red Ribbon Lager (#12 seed)
Team: Bend Brewing, Bend
Stats: 4.4% ABV, 10 IBU
BRINICH: Bend Brewing currently doesn't have Red Ribbon available, but it was memorable enough for the public to vote it in the Tournament. It's a traditional American light lager brewed with 2-row and 6-row barley malt, and all-American flaked corn.
BROWN: If you haven't check out Bend Brewing's swankier taproom and huge patio at The Grove, the market hall in Northwest Crossing in northern Bend, you should. They have cocktails too!
SCROLL DOWN TO VOTE >>>>>>>>>>>>>>>>>>>>>>>>>>>>>>>>>>>>>>>>>>>>>>>>>>>>>>>>>>>>>>
GAME 4, SOUTHERN OREGON
Player: Premium American Lager (#4 seed)
Team: Claim 52 Brewing, Eugene
Stats: 5% ABV
BRINICH: Claim 52 brewed this American lager with Kings Brewing Company out of Rancho Cucamonga, California. It's brewed with pale 2-row and 6-row barley, flaked rice, and dextrin malt, then hopped gently with Cryo Crystal. It's a bit fancier than your normal, regular lager with just the right amount of malt and hop flavor.
BROWN: I tell you, the breweries in Eugene love the McKenzie River, with good reason. Joining Oakshire Brewing in raising money for the McKenzie River Trust, Claim 52 also knows the McKenzie provides clean water to the Eugene breweries. Earlier this year they released Groundswell, a Northwest pale ale where proceeds not only went to protect the McKenzie watershed, but also toward restoration efforts after the Holiday Farm Fire.
Player: Pelicano Extra! (#13 seed)
Team: Pelican Brewing, Pacific City
Stats: 5% ABV, 12 IBU
BRINICH: Inspired by the lagers of Latin America, this Mexican lager is brewed with 6-row malt with floral Tettnang hop aroma and a spicy hop finish. Pelican Brewing won our 2020 Tournament of Beers: West Coast Flagships with their Kiwanda Cream Ale.
BROWN: Pelican deserves all the awards, which they already have as you'll notice when you walk into their Pacific City taproom, for their Coastal Collaborations series. With obvious deep ties to their seaside homes, they created a collaboration series that showcased their love for the coast and their commitment to creating more equitable communities. This year's Coastal Collaborations series features collaborations with fellow Oregon Coast breweries Fort George, Beachcrest Brewing, Homegrown Public House Brewery, and Arch Rock Brewing. Nice!
VOTE BELOW (CLICK "DONE" AFTER YOU VOTE) >>>>>>>>>>>>>>>>>>>>>>>>>>>>>>>>>>>>>>>>>>>

Monday, April 18 Tournament of Northwest Lagers action …
Game 1: Headless Mumby Brewing Local 66 (#5 seed) vs. Trap Door Unlucky Lager (#12 seed)
Game 2: Top Rung Brewing Lacey Lager (#4 seed) vs. 54-40 Brewing Mexican Lager (#13 seed)
Game 3: Ex Novo Brewing The Most Interesting Lager In The World (#7 seed) vs. Full Sail Brewing Session Premium Lager (#10 seed)
Game 4: Wayfinder Beer Number 6 (#2 seed) vs. Threshold Brewing Sun Ripple (#15 seed)
LINK: Tournament of Beers: Northwest Lagers explained
LINK: Hot Damn! Yes, I want to subscribe to 6-Pack of Things To Do newsletter and be hip to local happenings!
LINK: Past Tournament of Beer competitions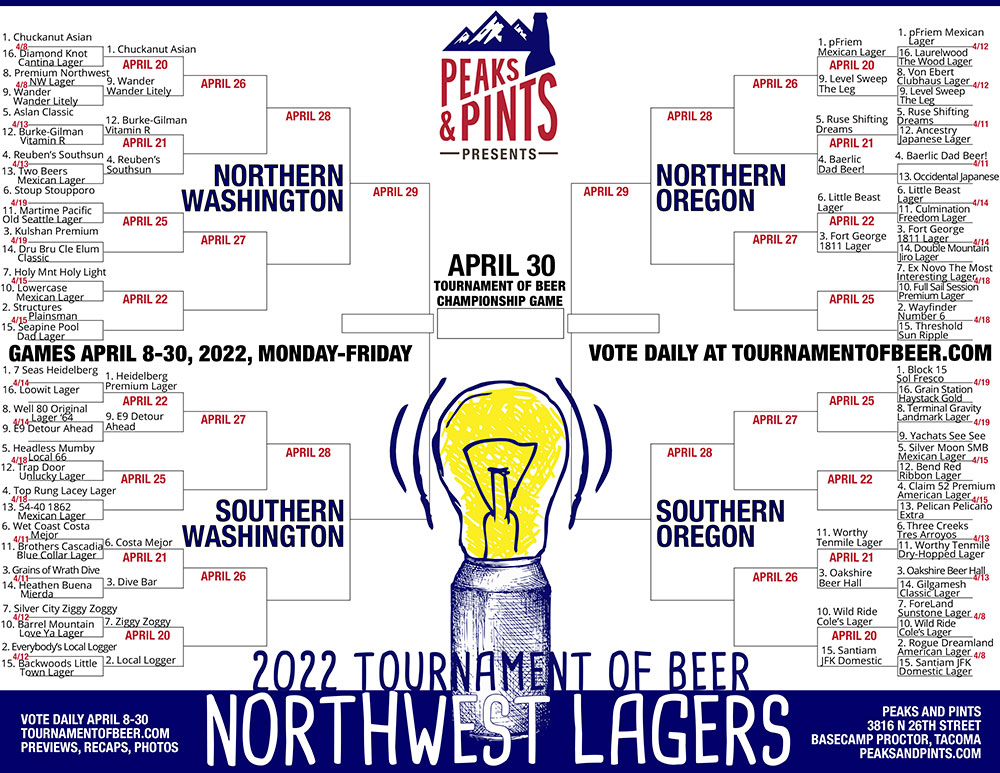 ---