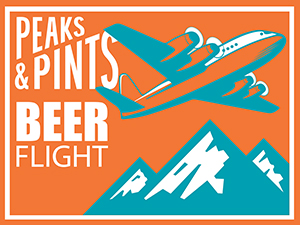 The family-run Urban Family Brewing hid in Seattle's Magnolia neighborhood for many years. Located close to Fishermen's Terminal, even GPS sometimes would mislead beer drinkers on Urban Family's exact location, which made them cry due to the world-class sours the brewery released on a every two-week basis. The 8-year-old brewery relocated to Seattle's Ballard neighborhood in early 2020. "The team at Urban Family is grateful to the Magnolia community for their support, and will miss being in the neighborhood," owner Andy Gundel said in a press release. "But the new facility provides unparalleled opportunities." The new location allowed for a 20-barrel brewhouse, a large walk-in space, an expanded taproom, and a larger outdoor area. With the new location, Urban Family expanded their expertise brewing more IPAs, specifically hazies, as well as lagers. Today, Peaks and Pints presents a to-go flight of Urban Family beer — a flight we call Peaks and Pints Pilot Program: Urban Family On the Fly.
Peaks and Pints Pilot Program: Urban Family On the Fly
Urban Family Island Crusher
6% ABV, can
Urban Family  brews some of the best small-batch sour beers in the Northwest. For example, their Island Crusher is a pineapple and passionfruit golden sour ale exploding with tropical notes of tropical fruits.
Urban Family Foeder Pilz
4.3% ABV
Urban Family's new pilsner is an oak fermented lager dry-hopped with Wakatu and Moutere from New Zealand and fermented with L17 from Imperial Yeast. After an initial fermentation in their oak foeder, they transferred to a stainless-steel tank to lager for an additional 6 weeks. The result is a crispy and limey pilsner.
Urban Family Guava Dawn
6% ABV
Brewed with an insane amount of real, California-grown pink guavas, Guava Dawn is even more delicious with Urban Family's house mixed-culture of Saccharomyces, Brettanomyces, and Lactobacillus. Every sip is a puckering party of balanced acidity and bright fruit character. Seattle Magazine named Urban Family "Best Sour Brewery" in 2019 for a reason.
Urban Family Passageway
6% ABV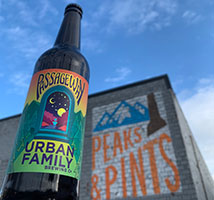 Passageway is a golden sour with a base of Pale 2-row and white wheat that's soured in stainless steel vessels using their house lactobacillus blend. Temperature is then dropped to fermentation levels, and a neutral ale yeast is pitched. At the tail end of fermentation, more than one pounder per gallon of blackberry and lemon are added to the beer for a rich berry front end with a kiss of lemon
Urban Family Absolute Virtue
6.5% ABV
Absolute Virtue is also a golden sour with a base of 2-row and white wheat malt that's soured in stainless steel vessels using their house lactobacillus blend then fermented with a neutral ale yeast. During fermentation, one pound of raspberries per gallon are added. Post fermentation, cold brew concentrate from Relevant Coffee our is added for a sour beer reminiscent of fruity chocolate, with a light coffee undertone.
Urban Family Best Times
4% ABV
Sisters and Brothers bar in Seattle is known for their Nashville hot chicken. Urban Family hooked up with Sisters and Brothers to brew a helles lager to pair with the spicy chicken. Best Times is made using a 4-step mash of Gambrinus Pilsner malt, Carahell, and a touch of acidulated malt. They then bitter in the kettle with Magnum, and the further hopped the wort with Tettnanger at 40 minutes, and 15 minutes. The beer is then fermented at 50 degrees with Harvest yeast from Imperial Organic, and then lagered for 5 weeks a hint of malty sweetness, lemon, and grain flavor and a crisp and resiny aftertaste.
Urban Family Always Make Waves
5.5% ABV
Urban Family played host to women brewers from Ballard breweries to make a Pink Boots Society hazy pale ale benefitting Pink Boots Seattle. Bad Jimmy, Fair Isle, Hales, Lagunitas, Lucky Envelope, Obec, Maritime Pacific, Reuben's Brews, Stoup, and Wheelie Pop added Yakima Chief's Pink Boots Hop Blend of HBC-630, Idaho Gem, Loral, Talus, and Triumph to a base of pale 2-row and pilsner malt, flaked and malted oats, and flaked and malted wheat. Fermented with Berkeley Yeast's "Tropics" thiolized yeast strain and dry hopped with 2.5 pounds per barrel of the Pink Boots hop blend on day one, the after-fermentation results yielded big grapefruit, underlying papaya, and slight pine notes rounded out by a gentle bitterness.
Urban Family Look Out! Fire Ants!
6.7% ABV
"Inspired by our fears of horrifically ruined picnics, we present Look Out! Fire Ants! IPA," states Urban Family hype. Brewed with 2-row, flaked and golden naked oats, flaked and malted white wheat, this hazy IPA is hopped in the whirlpool with Nelson Sauvin, and then fermented with Cosmic Punch from Omega Yeast. It's then dry hopped on day one of fermentation with Nelson Sauvin, Strata, and Talus for pink grapefruit, and white wine with piney undertones.
LINK: Peaks & Pints cooler inventory
---