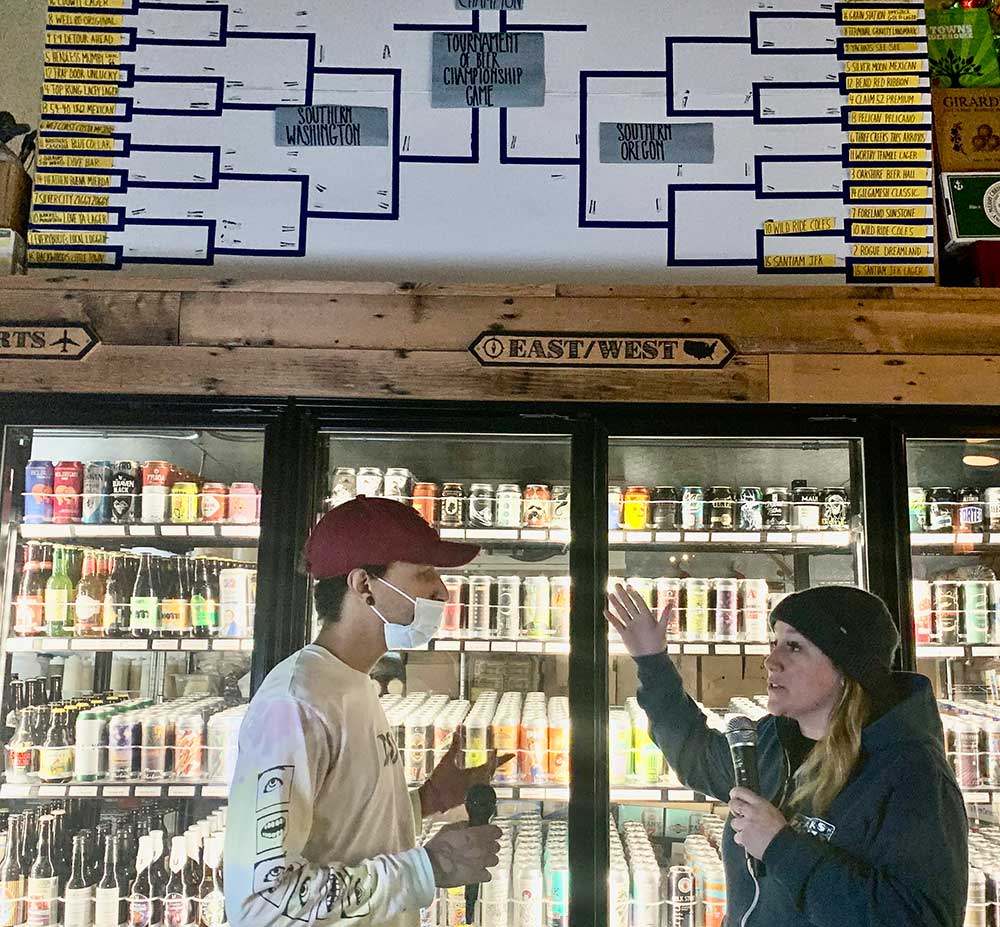 Peaks and Pints Tournament of Beer: Northwest Lagers April 11
(voting closed)
During the month of March, we asked our Peaks and Pints patrons and the public to vote for their favorite lagers brewed in Washington and Oregon. Through an online nomination system, beer enthusiasts listed 86 lagers with the top 64 seeding the Tournament of Beer: Northwest Lagers' knockout bracket, which kicked off Friday when the first eight lagers met on our wooden floor. This scenario continues Monday through Friday, until the tournament's final game, April 30.
AMY KIRK: Hello everyone! I'm Peaks bartender Amy Kirk and welcome to day three of the Peaks and Pints Tournament of Beer: Northwest Lagers. Let's dive into today's First Round action featuring four lager battles. Please vote for one beer per game. Voting for today's lagers battles ends at 11:45 p.m. Peaks bartenders Trish and Amber will announce the winners tomorrow morning around 10 a.m., as well as the next round of four beer battles.
AARON BROOKS: Hello hello ladies and gentlemen. It's me, Peaks cook Aaron Brooks.  Please join in the singing of our national anthem.
BROOKS: Thank you Jack White! OK OK, let's get to voting!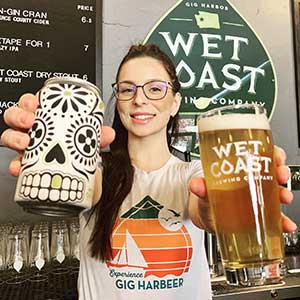 Monday, April 11, First Round Northwest Lagers Games
GAME 1, SOUTHERN WASHINGTON
Player: Costa Mejor Mexican Golden Lager (#6 seed)
Team: Wet Coast Brewing, Gig Harbor
Stats: 4.9% ABV, 20 IBU
KIRK: There are many Mexican lagers in this tournament, including Wet Coast Costa Mejor Mexican Golden Lager where Pilsner and Vienna malts unite with flaked maize and a slightly spicy bouquet of hops. It's freaking refreshing.
BROOKS: The Mexican lager proves that comfort beer is a thing. Their entire reason for existence is to lull the drinker into a 20-minute vacation. Or to soothe a cedar-torn throat after an afternoon embodying the most fearless grass manicurist on God's green earth.
Player: Blue Collar Lager (#11 seed)
Team: Brothers Cascadia Brewing, Vancouver
Stats: 5.1% ABV
KIRK: The American lager is a very pale, highly carbonated, light-bodied, well-attenuated adjunct lager with a very neutral grainy flavor profile and low bitterness, paired with a crisp and dry finish, which describes Brothers Cascadia's Blue Collar Lager — an American lager brewed with 54-40 Brewing in Washougal.
BROOKS: I'm a blue-collar guy living in a blue-collar world. This game is too tough to call.
VOTING CLOSED >>>>>>>>>>>>>>>>>>>>>>>>>>>>>>>>>>>>>>>>>>>>>>>>>>>>>>>>>>>>>>>>>>>>>>>>>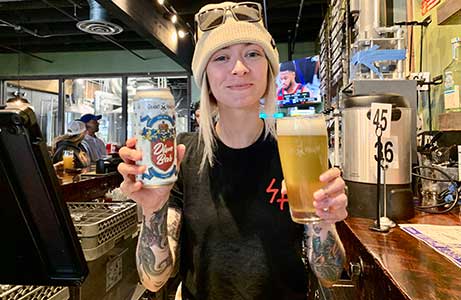 GAME 2, SOUTHERN WASHINGTON
Player: Dive Bar Lager (#3 seed)
Team: Grains of Wrath, Camas
Stats: 4% ABV
KIRK: Dive Bar Lager is a classic lager with corn flair in the nose followed by all the malt and a touch of biscuit. It's appropriately high level of carbonation lends a crisper finish.
BROOKS: This lager would have been perfect for the former The Friendly Duck's Decoy Room dive bar on South Tacoma Way where you could listen to the South Tacoma street creatures play therapist on each other beneath the duck decoys. It included one lone female bartender, three guys trying to deliberately sit apart (yet still talking to each other), pull tabs, and a TV that everyone stares at but doesn't watch.
Player: Buena Mierda Mexican Lager (#14 seed)
Team: Heathen Brewing, Vancouver
Stats: 5.2% ABV
KIRK: Mexican lagers grew out of Vienna lagers, a crisp style featuring subtle hops and residual sweetness. Over time Mexican breweries began adding adjunct malt, namely flaked maize, to their mashes. The beers got lighter and, honestly, better suited to Mexico's arid climate. I feel Heathen's Buena Mierda Mexican Lager is a hybrid of an American lager and a Vienna lager.
BROOKS: Mexico's worst beers are the ones that have penetrated the deepest into the American market. Anyway, this battle will tear Southern Washington apart.
VOTING CLOSED >>>>>>>>>>>>>>>>>>>>>>>>>>>>>>>>>>>>>>>>>>>>>>>>>>>>>>>>>>>>>>>>>>>>>>>>>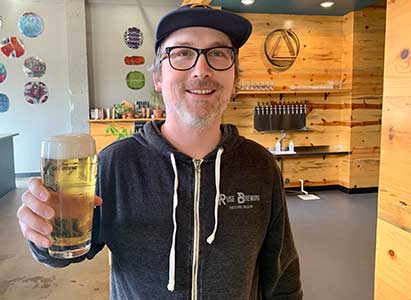 GAME 3, NORTHERN OREGON
Player: Shifting Dreams (#5 seed)
Team: Ruse Brewing, Portland
Stats: 5% ABV
KIRK: Japanese rice lagers are brewed to pair with sushi. They have just enough hops to clean up your palate, just enough grain to cool the wasabi and just enough bitterness to prickle those taste buds back to life. Ruse's Japanese-inspired rice lager has a Japanese rice nose and, frankly, tastes like a Japanese lager. It should be a muted partner in the shower to scrub the hard-to-reach places — like the inner core! Actually, screw the standard drinking rules inside the shower, loyal Tournament readers. Rinse your freakin' hair with it! No one cares!
BROOKS: It has nothing to do with their rice lager, but I must give big props to Ruse owners Shaun Kalis and Devin Benware for brewing the Native Land Hazy IPA as part of the Native Land Beer Campaign. Having just ended, the national collaboration acknowledged the contributions and history of Native American people, launched by Bow & Arrow, a Native Woman-owned brewery in Albuquerque. Kalis and Benware discovered their brewery rests on the ancestral lands of the Clackamas and Multnomah tribes — tribes that have now been included under the Grande Ronde tribe confederation — and another reason they brewed the Native Land Hazy IPA.
Player: Japanese Rice Lager (#12 seed)
Team: Ancestry Brewing, Tualatin
Stats: 4.9% ABV
KIRK: I take issue with the perception that low-ABV light lagers can't be flavorful. Once considered taboo because of its association with "big beer," craft brewers are celebrating the merits of rice as a replacement for their traditional grain bill. Step up to this sessionable, easy-drinking rice beer brewed with German barley and jasmine rice for a crisp and refreshing lager with a slight floral hop aroma.
BROOKS: Did you see the video of the Ancestry staff trying to guess what Ancestry beer they're tasting blind. Check it out below. …
VOTING CLOSED >>>>>>>>>>>>>>>>>>>>>>>>>>>>>>>>>>>>>>>>>>>>>>>>>>>>>>>>>>>>>>>>>>>>>>>>
GAME 4, NORTHERN OREGON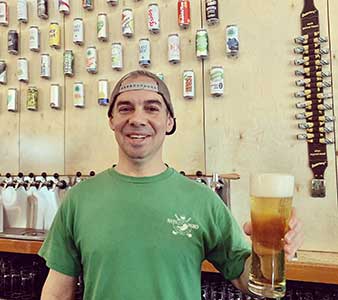 Player: Dad Beer! (#4 seed)
Team: Baerlic Brewing, Portland
Stats: 4.8% ABV
KIRK: I'm going to step aside and let the Baerlic hype machine describe this beer in their awesome way: "Brewed with flaked corn reminiscent of your great great grandpappy's favorite chuggin' beer from the 1880s but with notes of ripe fruit, fresh spring flowers and a touch of citrus in a beer made for drinkin'!"
BROOKS: What the hell is a baerlic?
KIRK: Say "bear-lick" … like a bear licking the foam off a pint of Dad Beer. Etymologically, it's an old-English adjective meaning "of barley."
BROOKS: You mean like, "My sister stole my pillow and now it's full bearlic!"
Player: Japanese-Style Dry Lager (#13 seed)
Team: Occidental Brewing, Portland
Stats: 5% ABV
KIRK: I Love Occidental. Their Japanese-Style Dry Lager is a little deviation from the German styles that put them on the map — including their Pilsner, which grabbed second place in our Tournament of Pilsner in 2019. That said, I do taste a European grain profile, but whatever. It's snappy and refreshing.
BROOKS: Occidental brewer Sam Carroll who brewed that winning Pilsner was let go during the pandemic but opened the pop-up Grasslands Barbecue, which is amazing!
VOTING CLOSED (CLICK "DONE" BUTTON WHEN FINISHED) >>>>>>>>>>>>>>>>>>>>>>>>>>>>>>>>>>>>>>>>>>>>>>>>

Tuesday, April 12 Tournament of Northwest Lagers action …
Game 1: Silver City Ziggy Zoggy Party Beer (#7 seed) vs. Barrel Mountain Love Ya Lager (#10 seed)
Game 2: Everybody's Local Logger (#2 seed) vs. Backwoods Little Town Lager (#15 seed)
Game 3: pFriem Mexican Lager (#1 seed) vs. Laurelwood The Wood Lager (#16 Seed)
Game 4: Von Ebert Clubhaus Lager (#8 seed) vs. Level Sweep The Leg (#9 Seed)
LINK: Tournament of Beers: Northwest Lagers explained
LINK: Hot Damn! Yes, I want to subscribe to 6-Pack of Things To Do newsletter and be hip to local happenings!
LINK: Past Tournament of Beer competitions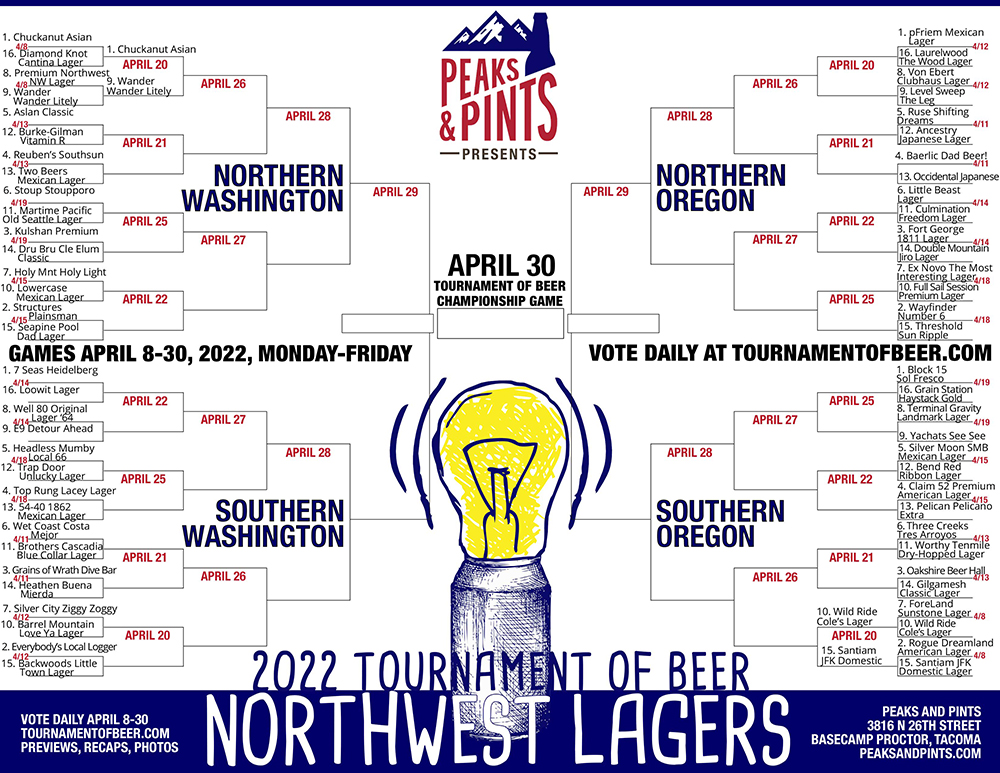 ---