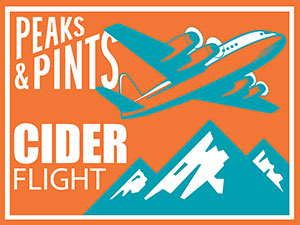 Apples were among some of the first crops grown in colonial America. Potted seedlings and bags of apple seeds were brought over on the Mayflower. The Bible-thumping Puritans were not teetotalers. Apple orchards in colonial America usually meant one thing: hard cider. Apples flourished in the fertile soil and friendly climate, and soon apples were a key part of most colonial farms and menus. A thirst for beer and the introduction of prohibition laws meant hard cider became an almost forgotten beverage, but it is currently undergoing a revival with small producers and large booze brands all getting in on the act. While boozy, apple-based beverages might seem like an all-American tradition, Spain, France, Germany, Canada, the United Kingdom, and beyond also have long traditions of cider production in unique regional styles. Today's Monday cider to-go flight is all about foreign ciders. Stop by our craft beer bar, bottle shop and restaurant for Peak and Pints Pilot Program: International Cider On The Fly.
Peak and Pints Pilot Program: International Cider On The Fly
Maley Cidre du Saint Bernard
3.5% ABV
The name "Maley" comes from both an old Valdostano name for apple (Malus in Latin) and one of the pre-20th century names for Mont Blanc (Mont Malais). Maley is Gianluca's revival of an old Valdostano tradition of cider-making that Mussolini quashed in the 1930s as part of his effort to eliminate anything not sufficiently "Italian" — cider being in the fascists' view a French affectation. Maley is the only cider producer in Italy making artisanal cider with heirloom apples. This cider has a touch of funk and touch of fruit.
Maeloc Sidra con Piña & Pera
4% ABV
Straight outta Galicia, Spain, Maeloc's New World take on traditional wild fermented Spanish style Sidra is an exotic option where the traditional cider apple joins the fresh and intense aroma of pineapple and with hints of pear. This cider has been made following traditional practices, without the addition of sugars and comes from fresh apple must and not from concentrate.
Pierre Huet Cidre Bouché Brut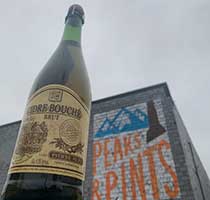 4.5% ABV
Pierre Huet's Manoir la Briere des Fontaine is a family-owned estate, located in Normandy, in the heart of the Pays d'Auge, which has its own Appellation d'Origine Contrôlée. They are renowned throughout the region for their Calvados, cider, and pommeau. Their Cidre Bouché Brut is a traditional, unpasteurized cider comes from the Calvados department in France. Bedan, Binet Rouge, Bisquet, Fréquin Rouge, Saint Martin, Rambault, Moulin à Vent, and Mettais, among others apple varieties, are used in its production. Time-honored cider methods, 100 percent pure apple juice fermented for four months, and bottle conditioning produces a dry, slightly bittersweet cider with flavors of green apple skin and ripe apples that's slightly tannic on the tongue with a hint of tanginess.
Kelterei Possmann Pure Cider Rose
5% ABV
The uncompromisingly perfect hard apple cider from Kelterei Possmann Frankfurt Germany. Created with 100% pleasure, 0% compromise, Possmann Pure Cider has a perfect balance of rich apple flavor mixed with black currant for a taste that's not too sweet and finishes dry. It pours light pink with a medium body, with an aroma of sweet berries. Apples are sourced from the Hessen region of Germany.
Cidrerie du Leguer Poire 2019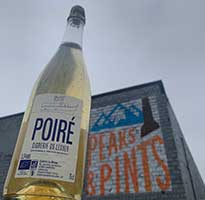 5.5% ABV
Cédric Le Bloas grew up in Brittany, though after college and travelling France and the world, he returned to his home and founded Cidrerie du Léguer in 2016. Cédric and his wife are working organically — when the apples and pears fall (and only then), do they put them in crates to further ripen. Then they make their ciders. Cédric uses the old-school process of keeving — a difficult, time-consuming, labor-intensive process that naturally settles the must and creates an off-dry cider — and all fermentations are natural. The ciders are bottled with no sulfur. Cédric's poiré is refreshing and bright off-dry perry cider full of energy with a rustic carbonation.
LINK: Peaks & Pints cooler inventory
---