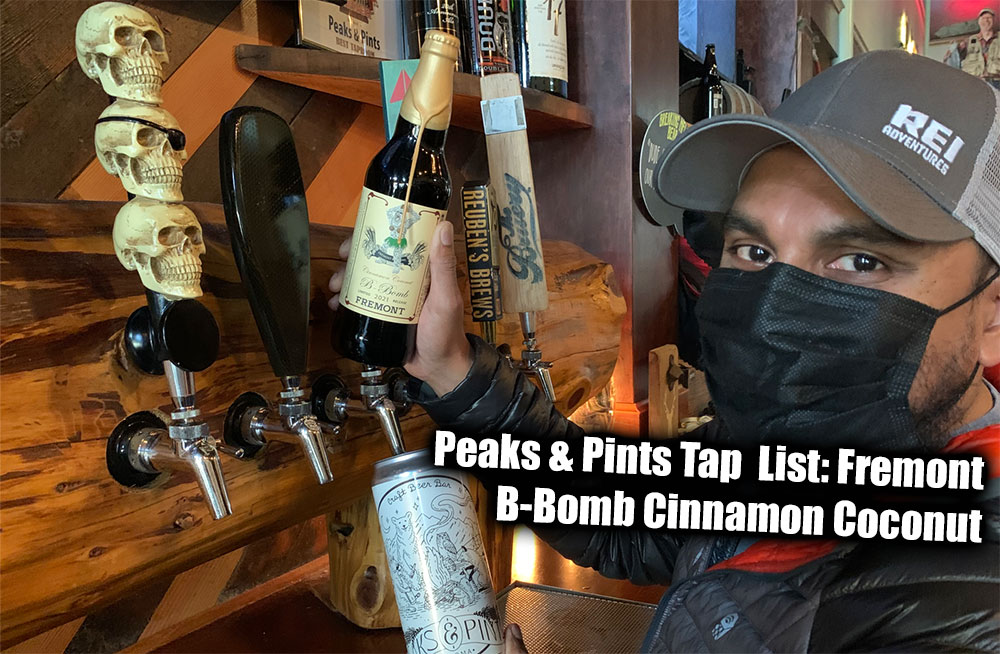 Peaks and Pints Tap List: Fremont B-Bomb Cinnamon Coconut
Peaks and Pints houses a mind-boggling array of suds: 800-plus bottled and canned in our cooler, with another 28 on tap for Campfire Crowler fills (until pints return). While craft beer remains our foundation, you don't have to be embarrassed for ordering artisan craft cider, wine, cold brewed coffee and kombucha as those delights are on tap too at Peaks and Pints. To follow our tap list live from your phone, click here for iPhone and here for Android. Peaks and Pints has tapped Fremont Brewing B-bomb Bourbon Barrel Aged Imperial Winter Ale with Cinnamon and Coconut (2021) for flavors of bourbon-soaked cinnamon rolls topped with roasted coconut, 13%. Guaranteed seating available on the Open Table app, fill our Campfire Crowler to go, or grab B-bomb bottles from our cooler. Cheers!
Safety Is Priority Number One
We've completed our safety preparations to add in-house hospitality to our fine-tuned take-out operation. So, you're officially welcome to enjoy a beer, cider or wine with our sandwiches and salads at an appropriately distance table next to a vintage forest artifact, most likely.
One of the most fulfilling aspects of our craft beer and cider bar, bottle shop and restaurant is being a gathering place for the community. It's a role we do not take for granted, and there are many responsibilities that come along with it — the health and safety of our guests and staff being at the top of the list. …
Face masks must be worn and social distancing maintained when not seated.
Each person needs to be seated at a table before consuming.
Each person must wear a mask when a Peaks & Pints staff member is at the table.
Seating has been spaced to distancing guidelines, so please do not move tables or chairs.
Limited seating is guaranteed via reservations on the Open Table app.
We're continuing with two people at a time in the cooler with the line forming up the back stairs.
Please don't form a line at the bathrooms.
We're open 11 a.m. to 9 p.m. weekdays, open to 10 p.m. on weekends for now, but we hope to return to "before times" hours as soon as possible.
Hope to see you soon.
1

Leese Fitch

Cabernet Sauvignon

California

Sonoma

13.5%

Just Tapped

2

Just Tapped

3

Proletariat

Pinot Gris

USA

Walla Walla, WA

13.8%

Just Tapped

4

Bale Breaker

YOXI Ranch Water

Lime Agave Hard Seltzer

Yakima, WA

4.5%

Just Tapped

5

Bluebeard Coffee Roasters

Nitro Cold Brew Coffee

Cold Brew Coffee

Tacoma, WA

Just Tapped

6

Rainier

Mountain Fresh Rainier Beer

Lager

Seattle, WA

4.73%

IBU

Just Tapped

7

Yonder

House of Yonder

Cider

Seattle, WA

6.7%

Just Tapped

8

Greenwood Cider

Pomelo & Pine

Cider

Seattle, WA

7.5%

Just Tapped

9

Bauman's

Orange Blossom

Hard Cider

Gervais, OR

6.2%

Just Tapped

10

Elysian

Sour Puss

Barrel-Aged Sour Strawberry, Blackberry

Seattle, WA

8.2%

IBU

Just Tapped

11

Block 15

Caves Saison

Saison

Corvallis, OR

5.8%

IBU

Just Tapped

12

Icicle

Premium Pilsner

Pilsner

Leavenworth, WA

4.9%

20 IBU

Just Tapped

13

Big Horn

Rammerschlagen

Munich Dunkel Lager

Tacoma, WA

5.1%

19 IBU

Just Tapped

14

Unibroue

Blanche De Chambly

Witbier

Chambly, Quebec

5%

10 IBU

Just Tapped

15

Double Mountain

Homestead Pale

Pale Ale

Hood River, OR

5.4%

50 IBU

Just Tapped

16

Fort George

Blue Mouse IPA

IPA

Astoria, OR

6.7%

IBU

Just Tapped

17

Block 15

Selection Series: Simcoe

American IPA

Corvallis, OR

7%

IBU

Just Tapped

18

Fieldwork

Becky the Duck

Hazy IPA

Berkeley, CA

6.9%

IBU

Just Tapped

19

Fieldwork

Nelson & Co.

IPA

Berkeley, CA

7%

IBU

Just Tapped

20

Pike

Stronger Bonds

Pink Boots Double IPA

Seattle, WA

8.2%

IBU

Just Tapped

21

Lucky Envelope

Parti Kyle Pub Ale

Mild Dark

Seattle, WA

3%

0 IBU

Just Tapped

22

Boundary Bay

Present Tense

ESB

Bellingham, WA

5.4%

35 IBU

Just Tapped

23

Ecliptic/Fort George

Black Cold IPA

Cold Black IPA

Portland, OR

7%

50 IBU

Just Tapped

24

Monkless

Four Devils

Belgian Golden Strong

Bend, OR

9%

30 IBU

Just Tapped

25

Alesong

Maestro

Barleywine - Barrel Aged (Whiskey/Rye/Red Wine)

Eugene, OR

13.2%

31 IBU

Just Tapped

26

Backwoods

Pecan Pie Porter

Porter w/ Pecans & Vanilla

Carson, WA

5.9%

20 IBU

Just Tapped

27

Lucky Envelope

Coffee Dreamer

Milk Stout

Seattle, WA

6.3%

IBU

Just Tapped

28

Fort George/Reuben's

Feed the Beast

Imp Stout Woodford Rye barrel aged

Astoria, OR

12%

IBU

Just Tapped
---