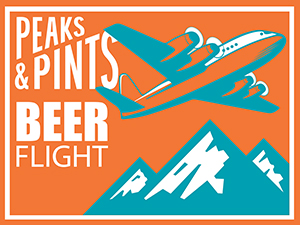 The metal movement has an outsider ethos and no-holds-barred authenticity that appeals to many brewers, including Grains of Wrath Brewery co-owner and Brewmaster Mike Hunsaker. The metal- and punk-loving 48-year-old cut his teeth as a homebrewer and by working for breweries in Chicago and Cleveland, before relocating to Portland in 2014 to become the head brewer at Fat Head's Brewery, where he became known for original West Coast IPA recipes such as SemperFiPA, GABF gold medal-winning Blitzkrieg Bock and GABF bronze medalist Vienna Lager. Fat Head's closed, which lead to Hunsaker opening his new punk and metal inspired brewery Grains of Wrath in Camas, Washington, with backers Brendan Greenen, Shawn Parker, and Brendan Ford. Today, Peaks and Pints presents a to-go flight of GoW that we call Peaks and Pints Pilot Program: Grains of Wrath On The Fly.
Peaks and Pints Pilot Program: Grains of Wrath On The Fly
Grains of Wrath Sickle and Scythe
5% ABV
The hefeweizen has been around a long time. Some beer historians say it was brewed as far back as the 11th century. Bavarian-style hefeweizens are characterized by German base ingredients and an unfiltered, cloudy appearance. They can have a variety of flavors — including clove, vanilla, apple, banana, even bubblegum — and low amounts of hoppiness. Grains of Wrath's traditional Bavarian-style hefeweizen, Sickle and Scythe, leaves the bubble gum under the table and grabs soft flavors and aromas of bread, banana and clove.
Grains of Wrath Dystopia
6.8% ABV
Assertive West Coast India Pale Ales still have their place, despite the growing popularity of the juicy tropical New England-style IPAs. India Pale Ales are medium-bodied, golden- to copper-colored beers that emphasize hops. Depending on the intent of the brewer and the variety of hops used, these beers can have herbal, piney, citrus or other tropical fruit accents, or some combination thereof. The American West Coast IPA tends to focus on grapefruit/citrus and pine/resin bitterness that falls between 50-70 IBUs (International Bitterness Units) with a strength of 6.3-7.5 percent ABV, the style Grains of Wrath Dystopia embraces. Simcoe, Citra and Mosaic hops combine for a sweet citrus nose, followed by solid citrus/tropical and pine, but it's not over the top in bitterness. We appreciate its assertiveness — yet it's not palate-wrecking.
Grains of Wrath Built For Speed
6.7% ABV
Built For Speed is founder and brewmaster Mike Hunsaker's West Coast IPA recipe that he's had in his pocket for a while. This light-bodied IPA hist the nose with orange, mango, melon, grapefruit, and pine. The palate opens bright and bitter with dank pine resin, grapefruit, and orange peel bitterness followed by bright melon, mango, and floral notes. This crisp, creamy IPA finishes dry with fruit and mild dankness.
Grains of Wrath Crypt Keeper
6.6% ABV, 60 IBU
You should probably use the Crypt Keeper voice as you read and drink this Citra-based West Coast IPA. Sweet orange, tangerine, and melon hit the nose before slight herbal bitterness, big citrus, berry, subtle melon, and perfect carbonation washes over the tongue. Frights, camera, action!
LINK: Peaks & Pints beer flights archives
---