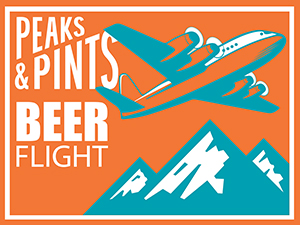 Today is National Banana Bread Day so let's go bananas with a banana to-go beer flight! Yes, of course, hefeweizens have their say in this beer flight as the top-fermenting Bavarian yeast Torulaspora delbrueckii, which German brewers refers to as the "proper" hefeweizen yeast, produces phenols and esters that impart banana flavors. WLP300 yeast is also used in the production of traditional, authentic hefeweizen. It produces a high level of isoamyl acetate, giving the resulting beer notes of banana. We also threw in a stout, Belgian strong golden ale, winter warmer, and, duh, Banana Bread Beer. Let the peelings slip where they may, and enjoy Peaks and Pints Pilot Program: Bananas On the Fly.
Peaks and Pints Pilot Program: Bananas On the Fly
Occidental Hefeweizen
4.7% ABV, 4 IBU
The German Beer Purity Law — Reinheitsgebot — is two years past its quincentennial: 500 years of absolutely nothing but barley (or wheat), hops, water and yeast. Not so much as a spruce tip or cacao nib may defile anything called "beer." Occidental Brewing's brewmaster Dan Engler mostly brews beers in the spirit (if not the letter) of the Reinheitsgebot. Opening in 2011 in Portland's St. Johns neighborhood, Occidental makes some of the best German-style beers in the Northwest, including their authentic Bavarian Hefeweizen. It's hefeweizen makes one want to throw on a pair of lederhosen over your flannel. If you like wheat beer — heck, even if you hate it — you must try this sweet, banana- and clove-scented hefeweizen.
Ayinger Urweisse
5.8% ABV, 13 IBU
"The union of wheaty freshness and dark malt often produces a fullness of taste and complexity," explains the world-famous English beer commentator Michael Jackson about German-style dunkelweizen, which is a cross between a German-style dunkel and a hefeweizen, such as Ayinger Urweisse. This amber-colored dunkelweizen hits the nose with clove and ripe banana notes plus a touch of alcohol. At the front of the taste, modest caramel malts reminiscent of artisan bread crust tease the tongue before deepening into clove spice and sweet banana tango.
Eagle Banana Bread Beer
5.2% ABV, 18 IBU
First things first: Wells & Young's Brewery (Wells & Young's Brewing Company) was formed in October 2006 from the merger of the brewing operations of Charles Wells Ltd and Young's Brewery. In 2011, Charles Wells took full control when it bought Youngs 40 percent stake. Charles Wells built and brewed his Banana Bread Beer at the Eagle brewery. Marston's recently bought the Eagle brewery from Wells and most of the beer brands in the Wells portfolio. Marston's has rebranded the beers under the existing name of the brewery they now own — Eagle. So Wells Banana Bread Beer is now Eagle Banana Bread Beer. Whatever brewery is brewing this beer it still smells like bananas. Seriously. In fact, Banana Bread Beer not only smells like bananas, but tastes like bananas, too, and not the artificial banana of bubble gum. The flavor is nicely balanced with the hops, the banana component more a whisper than a shout. The whole thing was a little sweet, but not in a disagreeable way.
Delirium Tremens
8.5% ABV, 26 IBU
Delirium Tremens debuted Dec. 26, 1988, more than 80 years after Huyghe Brewery's founding. Although it wasn't Huyghe Brewery's first beer, Delirium Tremens remains its flagship. According to legend, a tax collector felt himself gradually slipping into a state of unexpected drunkenness when he came up with the name, "Delirium." Whether he saw pink elephants remains unknown. Delirium Tremens Belgian strong golden ale is one of the most popular Belgian beers, and for good reason. Its signature pink elephant logo and ceramic bottles have helped it become incredibly recognizable. The medium-bodied Belgian golden ale exhibits apple and pear aromas at the nose, and features banana, fruit, spice, and wheat flavors.
Samuel Smith Winter Welcome Ale
6% ABV, 32 IBU
The Old Brewery at Tadcaster was founded in 1758 and is Yorkshire's oldest brewery. Samuel Smith Brewery is one of the few remaining independent breweries in England, and further is the last to utilize the classic Yorkshire Square system of fermentation solely in stone squares. The rich Samuel Smith strain of yeast at The Old Brewery dates from the early 1900s. Hops are hand-weighed by the master hop blender, and the brewing water is drawn from the original well, sunk over 250 years ago. Samuel Smith's Winter Welcome Ale is a limited edition sporting big, malty caramel drop with sweet toffee with just a touch of banana and cloves balanced against whole-dried Fuggle and Golding hops leading to a dry, bitter finish.
Hoof Hearted World's Baldest Conga Line
13.5% ABV
Funnier than saying "Hoof Hearted" Brewing are the Ohio brewery's can art. The cans' artist, Thom Lessner, offers a fever dream crossed with a Heinz Edelmann animation on this can. Trevor Williams and Jarrod Bichon opened Hoof Hearted in 2011 in a barn just northeast of Columbus, Ohio, in Marengo — the middle of nowhere — then a second location in Columbus, which screams Danish art gallery. Their World's Baldest Conga Line imperial stout is brewed with banana, strawberry, pineapple, cacao, coffee, vanilla, and peanut butter, with pineapple taking a backseat in taste.
LINK: Peaks & Pints beer flights archives
---