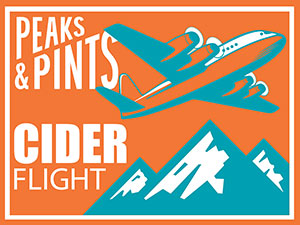 Beginning approximately 15,000 years ago, ice dams on massive Lake Missoula in Montana began to break, sending torrents of deep water rushing through Idaho, Washington and Oregon. The process continued for thousands of years with up to 40 major floods eventually forming what is now the Columbia River Gorge. It's a gorgeous area filled with waterfalls, hiking trails, outdoor recreation galore and craft breweries and ciders in a 40-mile stretch west to east — from Multnomah Falls to The Dalles, with Hood River somewhat in the middle. The ancient floods left Hood River with rich mineral soil. While Hood River's fruit output is huge, most of the farms are small and independent. Today, Peaks and Pints presents a cider to-go flight of cider made with apples grown in Hood River — a flight we call Peaks and Pints Monday Cider Flight: Hood River
Peaks and Pints Monday Cider Flight: Hood River
Alpenfire Calypso
6.9% ABV, bottle

At age 19, Nancy and Steve "Bear" Bishop would go on dates to Canada. They fell in love with cider. After making cider as hobbyists for many years, in 2001 they took a trip to the cider making regions of Spain, France, and England to observe commercial operations. When they returned home, Steve and Nancy took a class at WSU from an English cider master, and ordered 900 French and English cider trees, which started their journey into commercial cider making and the founding of Alpenfire Cider (previously named Wildfire Cider) in Port Townsend. Sometimes, Alpenfire veers from their estate apples. Their Calypso is made with pippin apples grown in Hood River co-fermented with fresh blackberries in stainless, then aged in Bull Run Distilling rum barrels for notes of tart apple reminiscent of granny smith, complex berry, and a hint of oak.
Alpenfire Northern Spy
6.1% ABV, bottle
The original name for Northern Spy apples was Northern Pie because of its prominent use in the baked dessert. This variety has long been used to make cider because of its high level of juice and its ability to give a strong apple flavor without being overly sweet. The apples for this single varietal Northern Spy cider were grown organically in Hood River, Oregon, at Heirloom Orchards. The apples are fermented to a crisp refreshing dryness with a medium level of acidity. The lack of commercial yeast added a bit of complexity to the fermentation and increased the complexity of the final cider adding some woody aromas.
Double Mountain Dry Cider
6.7% ABV, bottle

Double Mountain had long toyed with releasing their own hard cider, occasionally featuring housemade cider on at the taproom made from owner Matt Swihart's own apples. The brewery finally releases its own Dry Cider in December 2017, blending freshly harvested heirloom apples from Double Mountain Orchards and Hood River Newtowns, Braeburns, and Hanners for old world complexity. Double Mountain gave it plenty of time to dry out and develop the aromas of juicy pear, lychee, green fruit, and chamomile.  It finishes tart, crisp, dry and quenching.
Double Mountain Estate Heirloom Cider
6.7% ABV, Campfire Crowler
Double Mountain Brewery's Estate Heirloom Cider is made with apples from the company's own orchard in Hood River. Multiple varieties of apples including Golden Russet, Dabinet, Foxwhelp, Kingston Black, Brown Snout, Braeburns, Ashmead Kernel and more bring the complexity of heritage cider apples forefront on this estate cider. It is this artistic blend of bittersharp, sharp, and bittersweet varieties that develop the richness.
---