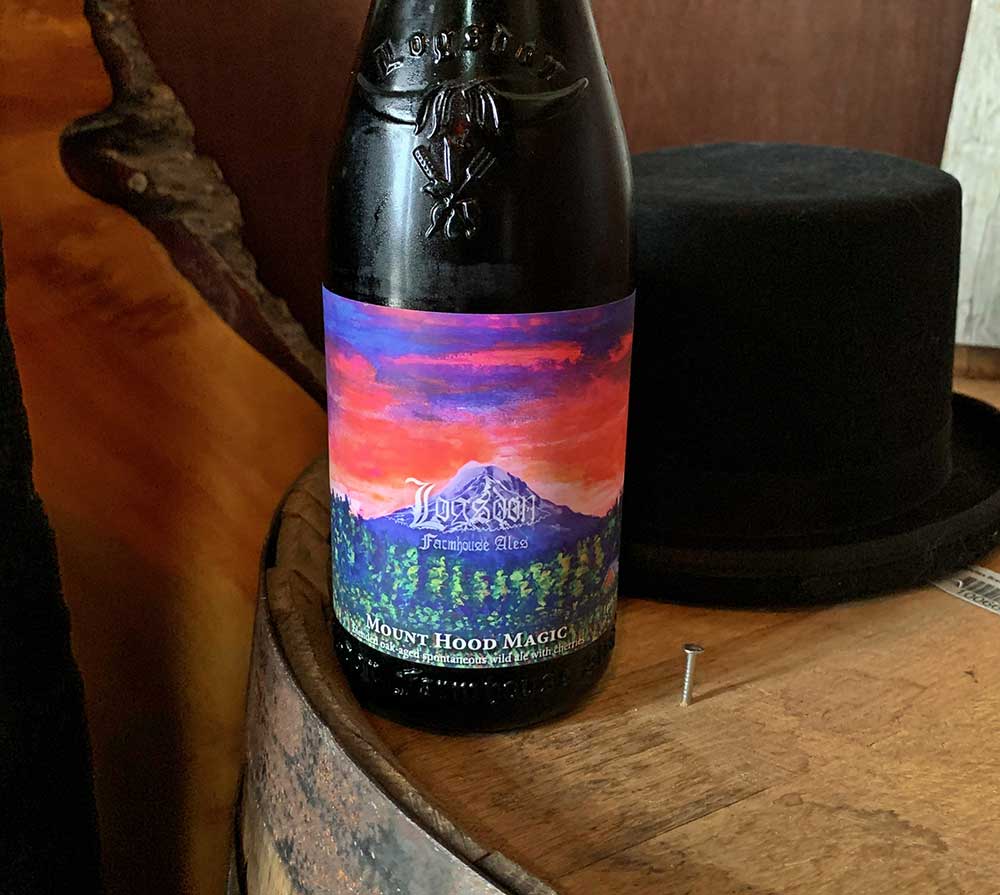 Fancy Pants Sunday: Logsdon Mount Hood Magic
Logsdon Farmhouse Ales was started by Full Sail founding brewer and yeast master Dave Logsdon who had a special affinity for traditional Belgian-style farmhouse ales. When he and experienced brewer Charles Porter launched the 10-barrel Hood River, Oregon, farmhouse brewery, they planted an orchard on the property with Belgium-imported Schaerbeekse trees. These trees grow the sour cherries necessary to craft authentic kriek beers. By 2011, co-owners John Plutshack, Jodie Ayura, Judith Bams-Logsdon, and Seaberg Einarsson joined ther team to help with a variety of tasks and the short-lived Barrel House in downtown Hood River. The awards started pouring in: People's Choice awards at local Oregon festivals and various medals from World Beer Cup and Great American Beer Festival, as well as Peaks & Pints creating Fancy Pants Sunday: Logsdon Mount Hood Magic, but more on this news later.
In 2015, the Craft Brewers Conference was held in Portland where Peaks & Pints joined a Hood River excursion and met Dave Logsdon. A few months later, Logsdon announced his retirement from full-time day-to-day operations (was it something we said?). John Plutshack and his wife, Jodie Ayura, took over brewery operations. The same year Porter left Logsdon to open Little Beast Brewing two years later. Logsdon Farmhouse Ales restructured bring in A.J. Shepard, Chris Shepard, and Stuart Faris as business partners with Dave Logsdon keeping his founding brewmaster status and on-call expertise.
In 2017, Shilpi Halemane (Widmer) became the Logsdon head brewer with Mark Pearson (de Garde Brewing) as an assistant. A year later, a second 15-barrel brewhouse opened at west end of the Columbia River Gorge in Washougal, Washington. The downtown Washougal facility began pumping out contemporary and classic ales and lagers in styles from around the world, as well as farmhouse-style ales year-round. In 2019, operations in Hood River ceased.
That's all fine and dandy, but this is Peaks & Pints Fancy Pants Sunday, a weekly look at complex, high-end beers and cider, and Logsdon Mount Hood Magic fit the bill. Brewed recently with former Logsdon brewer Charlie Van Meter (then of Allegory Brewing) at the old Logsdon farmhouse brewery in Hood River, Mount Hood Magic (7.5%) is brewed with a simple wort of Pilsner malt, spelt, raw wheat, and oats, boiled at length with aged Goldings hops and inoculated in their coolship overnight. The kriek lambic then spent 1.5 years maturing in French oak casks, before aging with 200 pounds of tart Jubileum cherries from Hood River for an additional 10 months. The beer was then blended with mature saison using their house blend of saison yeast strains to bring some depth and house character to the beer.
Expect tart cherries and funky-earthy Brettanomyces to dominate the nose, displaying the terroir from which the microbes and fruit flourish. The saison blended in compliment the flavors of ripe cherries, with medium acidity, and the familiar profile of their house saison strains. Overall, it's a sippable wild ale.
You fancy, Mount Hood Magic!
---