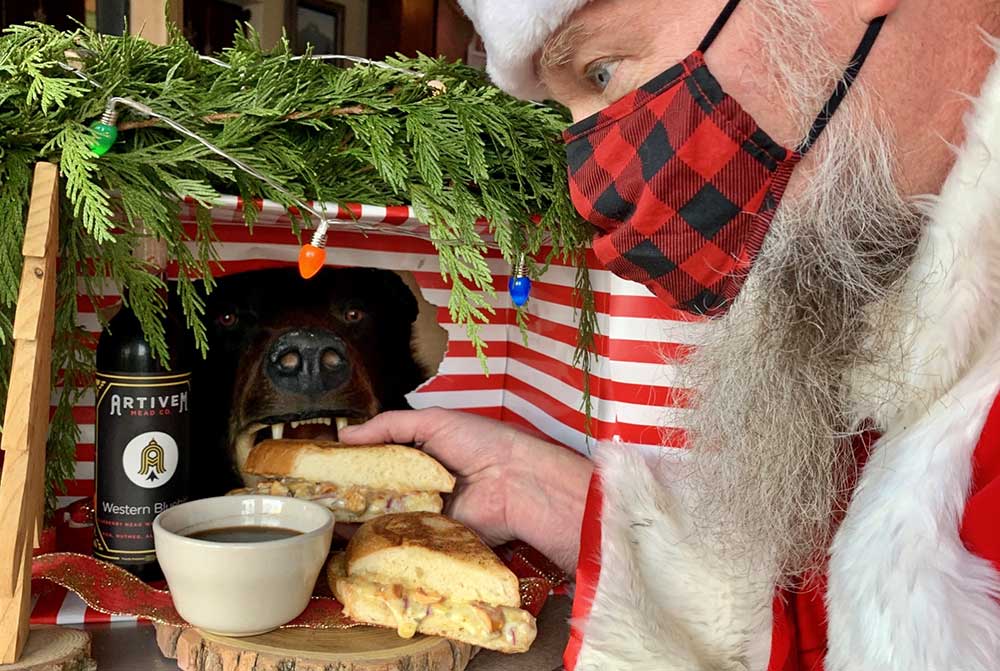 Peaks and Pints presents Adventwiches Beeralendar Day 24: Jingle Bear
This Chrismahanukwanzakah, give a treat to your taste buds and liver. Choose the drink of Olympians! Gods, that is. Santa opened the Day 24 Peaks and Pints Adventwiches Beeralendar candy cane striped door to reveal the Jingle Bear sandwich special paired with Artivem Western Blue Bird Mead. Western Blue Bird mead is blueberry pie in a bottle. This smooth, balanced mead is made with organic Marmeleiro Blossom honey then aged on whole Madagascar vanilla beans and pie spices. Apparently, the Peaks & Pints Breaking News Bear has become the story sniffing out the honey and berries.
Kitchen Kylee's Jingle Bear is a take on the French Dip made with without meat, but rather Chanterelle mushrooms, rosemary aioli, Beecher's Cheddar, Gouda, and red onion with a side of au jus. The Breaking News Bear's report says it's amazing.
Order the sandwich special ahead at 253.328.5621, and we'll have it ready for you when you grab the Western Blue Bird Mead, or any of our 800-plus other craft beers, cider and wine.
Holiday and Winter Beers in the Peaks & Pints Cooler
Ayinger Celebrator
Backwoods King size
Brasserie d'Achouffe N'Ice Chouffe
Brasserie Dieu du Ciel! Solstice d'Hiver
Dupont Avec Les Bons Voeux
Hair of the Dog Doggie Claws Barleywine
Herb's Hopped-Cranberry Cider
Kulshan Kitten Mittens
Kulshan Bbl Kitten Mittens
Maritime Pacific Jolly Roger Christmas Ale
Narrows Griswold Hazy IPA
Old Schoolhouse Snow Cause For Alarm
Rogue Yellow Snow
Samuel Smith Winter Welcome
Shmaltz Hanukkah Beer
Stone Enjoy By 01.01.21 IIPA
---