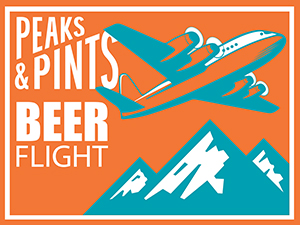 Every December — while the bartenders close down our Proctor District craft beer bar, bottle shop and restaurant for the night — Peaks & Pints co-owner Pappi Swarner grabs three holiday beers, heads upstairs to his office, cranks his computer speaks to an 11 and watches holiday Youtube videos. Obviously, he can't perform his holiday tradition this year … at Peaks & Pints. No, his holiday glee now takes place inside his home, much to the chagrin of his wife and daughter. In the spirit of giving, we offer you the chance to share his joy. Today, he pairs the three seasonal beers below with a "Linus & Lucy" Christmas rave. Pappi found a Youtube 10-hour video of the famous Christmas Dance scene in A Charlie Brown Christmas, the 1965 Peanuts tale of a manic-depressive kid with an unusually large noggin and rapidly receding hairline who laments the rampant materialism of Christmas. After careful study of all the dance moves, it's Snoopy's two-string guitar work that perplexes. The song doesn't have guitar licks. Why does band leader Schroeder allow such tomfoolery? Is the band and all the dancers on 3,4-Methyl​enedioxy​methamphetamine? Check it out while enjoying Peaks and Pints To-Go Christmas Beer Flight: Snoopy Fake Guitar.
Peaks and Pints To-Go Christmas Beer Flight: Snoopy Fake Guitar
Rogue Yellow Snow Pilsner
5.5% ABV, 19 IBU
Peaks & Pints doesn't care what the older guys at the playground tell you, eating yellow snow will not give you super powers or a beard, but it might prompt air guitar. Take our word on it. Do drink Yellow Snow! Rogue Ales brewed Yellow Snow IPA for 15 years, but in 2019 the Oregon brewery decided to make a beer reminiscent of our Pacific Northwest winters. They turned Yellow Snow into a crisp pilsner made with spruce tips from their own backyard. It has a sweet toffee and berry flavor with herbal notes, bubblegum and a smooth, fruity finish.
Kulshan Barrel-Aged Kitten Mittens
11% ABV, 32 IBU
Kulshan Brewing just release their barrel-aged version of their popular Kitten Mittens winter ale. The original Kitten cuddles with a nice mix of easy malty notes and medium sweet chocolate balanced by earthy hop notes finishing with a touch of chocolate liquor. After time in Stein Distillery barrels it's the cat's meow with a rich, medium body that rubs against the tongue with chocolate, dates and figs. Balanced bitterness and playful hop aroma fit like a mitten; the boozy kitten could mess with dogs.
Hair of the Dog Doggie Claws
11.5% ABV, 70 IBU
Hair of the Dog's holiday-themed barleywine Doggie Claws is brewed with Simcoe and Amarillo hops along with Organic Pilsner malt, British crystal and dark wildflower honey collected on Mt. Hood. It smells of thick, decadent caramel coupled with notes of raisins, molasses and dark fruits. First sip brings a sweet caramel-raisin infused maltiness that carries hints of dark fruits, cherry and sourdough. This is followed by a nice wave of piney, citric, herbal hop bitterness causing a nice interplay between the sweet and bitter aspects of the craft beer. Maybe Snoopy drank several Doggie Claws?
---