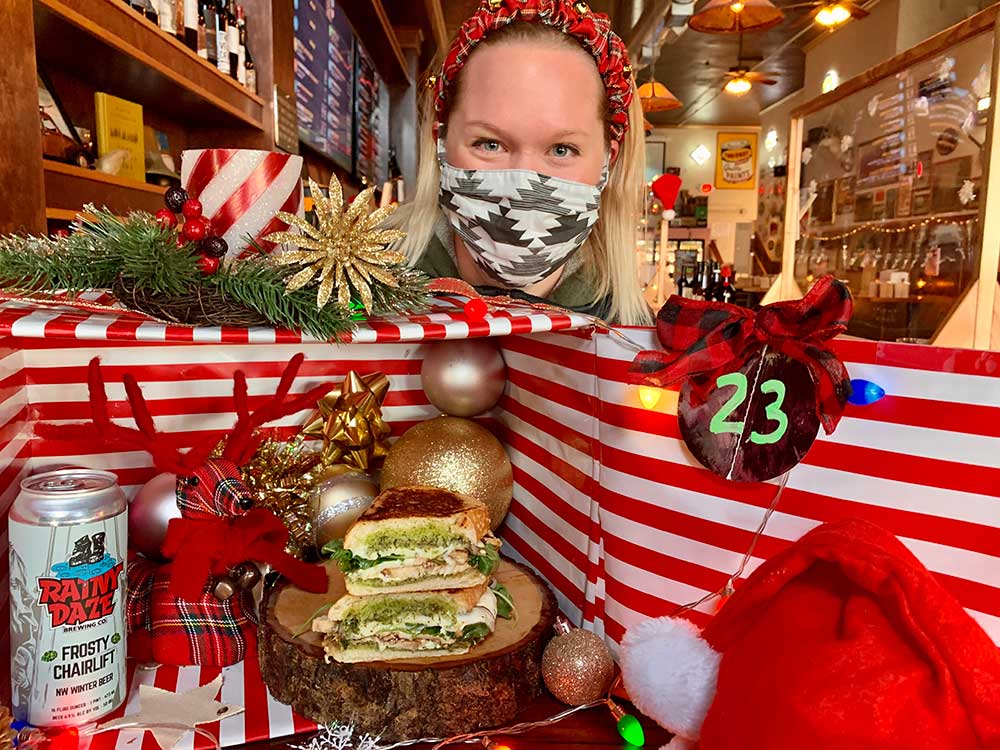 Peaks and Pints presents Adventwiches Beeralendar Day 23: Christmas in Genoa
Holiday traditions bind family and friends within 6 feet in times of celebration, bringing to all of us muffled laughter, joy, and reminders of what is truly important in our lives: pesto. Peaks and Pints Adventwiches Beeralendar — a daily holiday sandwich special and a winter beer behind a candy cane striped door. Today, bartender Bethany opens the Day 23 door to reveal Christmas in Genoa sandwich special paired with Rainy Daze Frosty Chairlift NW Winter Beer.
Kitchen Kylee's Christmas in Genoa is chicken, pesto, goat cheese, mozzarella, onions, arugula, and balsamic glaze on sourdough. It's paired with Rainy Daze Brewing's Frosty Chairlift NW Winter Beer delivering hoppy, piney, brown sugar and cedar notes to your mouth.
Order the sandwich special ahead at 253.328.5621, and we'll have it ready for you when you grab the Frosty Chairlift, or any of our 800-plus other craft beers, cider and wine.
Holiday and Winter Beers in the Peaks & Pints Cooler
Anchor Christmas Ale
Aslan King Moonracer Winter Ale
Ayinger Celebrator
Backwoods King size
Brasserie d'Achouffe N'Ice Chouffe
Brasserie Dieu du Ciel! Solstice d'Hiver
Cordendonk Christmas Ale
Dupont Avec Les Bons Voeux
E9 Fuzzy Claus Christmas Blend
Fremont 2020 B-Bomb
Hair of the Dog Doggie Claws Barleywine
Herb's Hopped-Cranberry Cider
Kulshan Kitten Mittens
Kulshan Bbl Kitten Mittens
Maritime Pacific Jolly Roger Christmas Ale
Narrows Griswold Hazy IPA
Old Schoolhouse Snow Cause For Alarm
Port Brewing Santa's Little Helper
Rainy Daze Frosty Chairlift
Rogue Yellow Snow
Samuel Smith Winter Welcome
Shmaltz Hanukkah Beer
Stone Enjoy By 01.01.21 IIPA
---