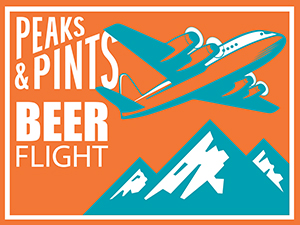 The news had scarcely gotten out that Peaks & Pints has wolves when the phone started ringing at state wildlife offices. "Surely you heard there's a craft beer bar, bottle shop and restaurant in the Proctor District with wolves in their cooler!" screamed a Rainier drinker over the phone. "That's ridiculous, and stop calling me Shirley," quipped the ranger. State wildlife offices haven't confirmed yet whether a pack of wolves has taken up residence at Peaks & Pints, although the prospect has created a stir in the Proctor District that hasn't seen a regular wolf population in 200 years. "Frankly, this is ludicrous," said Peaks & Pints co-owner Pappi Swarner on the phone with the wildlife department. "Yes, we figured, and stop calling me Frank Lee," replied the female ranger. "We're going to wait for the science, especially given the political nature of wolves in today's world," she continued. People! The wolves are wolf-themed beers. You don't study them; you drink them! We formed a pack of them for proof. It's safe to venture inside Peaks & Pints to grab the to-go beer flight: Peaks and Pints Pilot Program: Wolves On the Fly.
Peaks and Pints Pilot Program: Wolves On the Fly
Structures Frost
5.9% ABV
With a wolf, skull and snake donning the can — designed by Jen Borror, an illustration artist and graphic designer working out of York, Pennsylvania, Hoot Design Studio — Structures Brewing's Frost is essentially a Simcoe and Chinook hoppy, papaya and Valencia orange smelling American pale ale with a really nice mouth feel.
Breakside Wanderlust IPA
6.7% ABV, 50 IBU
Why brew a second year-round IPA? Breakside Brewery's original, awarding-winning IPA sold so well in Oregon the Portland brewery couldn't expand its brewery's sales to remote places like, oh, Tacoma. So, it decided to make another IPA intended for export to lands near and far, Wanderlust. Made with Mosaic, Summit, Simcoe, Cascade, and Amarillo hops, it is bright golden in color and has intense tropical, dank, and grapefruit notes. By keeping the malt profile as light as possible, the interplay of hop flavors shine. The wolf on the can is designed by Chilean artist Alvaro Tapia Hidalgo.
Old Schoolhouse Little Wolf
7% ABV
Old Schoolhouse Brewery owners Nathan and Jacob Young and Troy Anderson all enjoy the outdoors, which is almost mandatory since the riverside brewery and gastropub is in Winthrop, which sits east of Mazama and north of Twisp in Okanogan County. The pandemic forced Old Schoolhouse to can, and Tacoma has enjoyed a steady stream of delicious Old Schoolhouse beer, including Little Wolf Unfiltered West Coast IPA. This full-bodied IPA is bursting with flavors and aromas of tropical and citrus fruits thanks to a large addition of New Zealand hops.
Fremont Disco Wolf DIPA
8% ABV
Disco isn't dead and never has been — not even the mass psychosis evinced during the grotesque spectacle known as "Disco Demolition Night," held in Chicago's Comiskey Park in the summer of 1979, could snuff the music out. Fremont Brewing certainly doesn't believe disco is dead. The Seattle brewery just added a disco hazy double IPA to its year-round offerings, Disco Wolf DIPA. This fruit-forward IPA is brewed with malted oats, white wheat and dextrose with Strata, Idaho 7 cryo and Citra cryo hops for tropical fruit flavors strutting down the street to the percussion of "Wild Wolf Disco."
Varietal WeedWolf: Gloomtrance
8.2% ABV
Chris Baum, John Cope, Chad Roberts, David Paulson, and Karl Vanevenhoven opened Varietal Beer Co. in April 2018 in the Port of Sunnyside between Yakima and the Tri-Cities in Eastern Washington. Their latest entry in Varietal's WeedWolf series of experimental double IPAs, Gloomtrance is brewed with Amarillo, Cascade, and Chinook in the whirlpool, then dry-hopped heavily with Huell Melon, Mosaic, Chinook, and Amarillo hops. Expect big, ripe pineapple with notes of light melon for a soft, tropical cocktail.
---