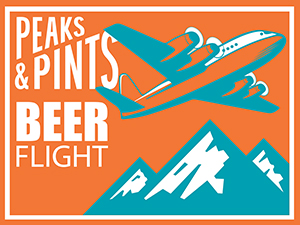 There's a whole lot of happiness at Wander Brewing. The Bellingham brewery medaled again at the Great American Beer Festival, this year grabbing gold for their Wander Litely American lager. Although we offered a to-go flight of Wander back in March, their award-winning lager and new Idaho 7 single hop IPA inspired us to wander back in for another round. If you visit their Awards section of their website, you might ask why we don't feature them every week — they list 32 award winners. It's an impressive number since opening in their warehouse brewery space in Bellingham in October 2013. No doubt owners Colleen and Chad Kuehl will need to add another Awards web page the way their mixed fermentations, blending, and barrel aging program is progressing. Today, our Wander to-go flight centers around their traditional beer styles. Stop by and grab Peaks and Pints Pilot Program: Wander Brewing On the Fly.
Peaks and Pints Pilot Program: Wander Brewing On the Fly
Wander Wander Litely
4.2% ABV
Memorial Day 2019, Wander released this American lager, which, as we mentioned above, grabbed gold in the Light Lager category at the 2020 GABF Awards. Comprised of American 6-row, corn, and flaked barley, Wander Litely is light and dry with a slight graininess balanced by a whisper of Yakima grown hops.
Wander Correspondent Foreign Extra Stout
6.4% ABV, 40 IBU
The Foreign Extra Stout style is brewed for the export market today, but with a history stretching back to the 18th and 19th centuries when they were more heavily-hopped versions of stronger export stouts. Wander scored a gold at the 2017 and 2019 Great American Beer Festival for its Correspondent Foreign Extra Stout. Typical for the foreign extra stout style, Wander hits a higher gravity, but blow imperial numbers, for sweet, darkly-toasted caramel and some milk chocolate from the malts, but mostly toasty grain, followed by a nice sweet pine note and long mildly sweet finish. A creamy, medium body with lively carbonation goes for the gold.
Wander Idaho 7 EyePA
6.4% ABV
In Idaho's Treasure Valley sits the city of Caldwell, home of Jackson Hop Farm, birthplace of the Idaho 7 hop. In 2015, The Jackson Hop Farm folks set aside 5 acres to grow the experimental hop. The hop's pungent tropical fruit and citrus notes of apricot, orange, red grapefruit and papaya, plus flavors of resiny pine and black tear and high alpha acids for bittering quickly became a favorite of brewers for single-hop beers, including Wander's hazy and smooth single hop Idaho 7 EyePA. It smells like a dessert platter overflowing with pink Jolly Rancher candies, watermelon, and piles of pineapple.
Wander Range Life
6.5% ABV
"Range Life, like all our beers, pairs well with longing sighs and single-tear vacant gazes out your front window," states Wander. "Someday soon we will see each other out there wandering about again and boy, are we excited for that. Someday soon we might even hug or high five when we see each other. Maybe even share a beer, get crazy." Wander celebrated its sixth anniversary this past May marking the occasion with a special West Coast IPA, Range Life. The latest release is a juicy fruity cocktail of Citra, Mosaic, El Dorado, and Sabro hops. Crisp barley malt and chewy spelt lure you to journey into the vastness of an exotic, but welcoming Range.
Wander Shoe Toss Rye IPA
6.8% ABV, 100 IBU
Duck! Wander's Shoe Toss Rye IPA hits with 100 IBUs. More than 50 pounds of hops go into each batch of this golden orange colored rye IPA creating a big citrus, pepper fit. When we sniff the Shoe we get dark berry fruits, rye bread, spicy and pepper. The addition of rye adds complexity to the flavor including a crisp spiciness on the palate. Hops include Washington grown Citra, Centennial, Summit and a healthy late kettle addition and dry hop of whole cone Ahtanum.
---