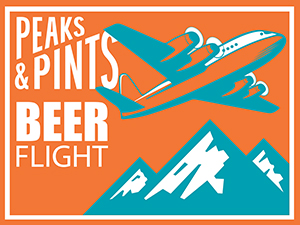 Terpenes are naturally occurring hydrocarbon chains found in all organisms. These hydrocarbons are made up of building blocks of five carbon chains known as isoprenes (isoterpenes, C5H8). Terpenes are important in brewing for their role in hops, specifically, but not isolated to, its presence in hop essential oils. Throughout the brewing process many of the natural terpenes that come from the grain, hops, and spices are lost. Terpenes are sensitive compounds and when exposed to high temperatures (such as those that occur when boiling wort) the more volatile ones such as myrcene and beta-caryophyllene are damaged and lost. The loss of terpenes can lead to a change in flavor and less aromatic beer. Brewing with terpenes — typically through dry hopping — can bring back and enhance flavors and aromas in craft beer. In particular, terpenes can emphasize dank and fruit flavors in a way that's bright, balanced, fresh and rounded. Peaks & Pints has two craft beer tagged with terpene names in our cooler. Stop by our craft beer bar, bottle shop and restaurant and terp out on Peaks and Pints Pilot Program: Terpenes On The Fly.
Peaks and Pints Pilot Program: Terpenes On The Fly
Hellbent Terpene Soup Hazy IPA
6% ABV, 42 IBU
Extracting hop oils and other aroma components from hop cones is the driving force behind dry hopping beers. The exact number of different hop oils found in the lupulin glands of hops has been found to be nearly 500 unique forms. Those hundreds of hop oils can be split into three major classification groups: Hydrocarbons, oxygenated hydrocarbons, and sulfur containing compounds. The hydrocarbon group, or terpenes, makes up well over half of the hop oils by weight in a hop cone. Hellbent Brewing extracted a ton of hop flavor and aroma by dry hopping twice their Terpene Soup with a truckload of Mosaic, Sabro, El Dorado, and Citra hops. The result is a creamy, hazy IPA loaded with fruit, balanced by firm but subtle bitterness.
American Solera Terpy Enigma
8% ABV
Hops and marijuana both contain terpenoids, compounds that give the plants similar characteristics. In fact, both fall into the taxonomic family Cannabaceae, so it follows that you could create a fairly stinky beer with the right treatment of the right hops. Hops don't get you high, but in smell, taste and appearance, they often feel just about as … dank. Based in Tulsa, Oklahoma, American Solera is a blend of unique beers created by brewer Chase Healey, who is the guy that started Prairie Ales. The double IPA, Terpy Enigma, gets its name from terpenes — basically the essential oils found in hops — and Enigma, a new offering from the Hop Products Australia breeding program. Enigma is a high alpha variety that's said to impart unique characteristics of redcurrants, raspberries, stone fruit, and Pinot Gris to beer. Enigma has gained a reputation for being a "chameleon" in that different aspects of this enigmatic variety are accentuated depending on things such as wort composition, yeast choice, and other hops its paired with. Terpy Enigma is balanced and easy to drink with tangerine and tropical fruit peel spice.
LINK: Peaks & Pints cooler inventory
---