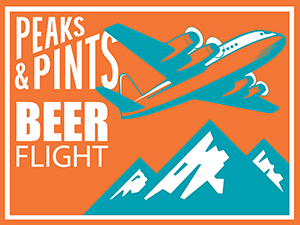 Let's drink Structures Brewing beer while we wait for their new Bellingham location to open, which Structures says will open soon on their Instagram. A little over a year ago, Structures bought Chuckanut Brewery's former location in Bellingham's Old Town — a hop, skip and run from Structures' current State Street location. For 14 years, Chuckanut called its Bellingham "North Nut" brewery and restaurant on Holly Street home. Chuckanut is doubling its "South Nut" brewery and taproom in Burlington and going strong at its recently opened "P. Nut" location in Portland, Oregon. Anyway, a large black-and-white Structures Brewing sign now sits outside the old Bellingham Chuckanut location, and remodeling work is almost complete on site. In the meantime, Peaks & Pints suggests you take home Structures with our to-go flight, Peaks and Pints Pilot Program: Structures Beer Flight.
Peaks and Pints Pilot Program: Structures Beer Flight
Structures Forest King
5.3% ABV
A good brown ale plays backup to the meat, seasonings, and spice of red beans & rice without overpowering it. English Brown ales are copper to dark brown, medium-bodied beers. They offer mild maltiness with caramel, biscuity and sometimes toasted qualities and commonly range from 4.2 to 6 percent ABV. Style aficionados distinguish between the northern English brown with its light nutty accents and the southern English version that's a little darker and sweeter. Structures' traditional English pub style brown ale falls more into the southern style with a dry and ashy nose. Flavor follows the same lead as the aroma but offers more depth and complexity with a rounder nutty undercurrent and some dry bitter bakers chocolate. The Forest Kings won't overshadow the dish, and the nuttiness and bready texture of a brown ale pairs with the similar flavor and consistency of the beans.
Structures Frost
5.9% ABV
With a wolf, skull and snake donning the can — designed by Jen Borror, an illustration artist and graphic designer working out of York, Pennsylvania, Hoot Design Studio — Structure's Frost is essentially a Simcoe and Chinook hoppy, papaya and Valencia orange smelling American pale ale with a lovely mouth feel.
Structures Fuzz
6.2% ABV
Structures Brewing had fun meshing old recipes together and came up with their flagship IPA Fuzz in December 2016. Originally brewed with oats and hopped intensely with Amarillo, El Dorado, and Cashmere hops, this version substitutes … wait, this is the OG version! Brewed with their favorite blend of malts and oats, dry hopped with Amarillo, El Dorado and Cashmere, this original Fuzz hazy IPA has aromas of dank sticky tropical fruits, bursting with bright fresh berry notes and overripe melon and grapefruit with an earthy dose of pine, a soft body, creamy mouthfeel, and balanced bitterness on the finish.
Structures West Coast IPA
6.8% ABV
Structures flagship West Coast IPA is back with aromas of grapefruit citrus, a firm bitterness and a soft, yet bright full-bodied mouthfeel that leaves a familiar West Coast dry hopped profile from Citra and Chinook asserting a hop forward balanced dry finish.  Structures says, "This is our favorite batch to date!!!!"
Structures Flatlands IPA
7% ABV
Brewed with Structures' favorite Pilsner malts and rolled oats, then heavily dry hopped with Columbus, Mosaic and Comet, Flatlands IPA has aromas of pineapple and passionfruit with a pillowy soft body, a firm yet subdued bitterness on the finish with some lingering citrus and danky dank resinous-pine notes.
LINK: Peaks & Pints cooler inventory
---