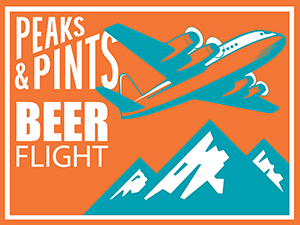 Hops are one of Washington's most prominent crops, their farmers powering the global brewing industry by growing almost 75 percent of the world's hop acreage in the state, almost all of which is in the Yakima Valley. A handful of craft breweries sit close to said hops, including Single Hill Brewing. In August 2016, Ty Paxton and Zach Turner opened Single Hill in an old JC Penney Tire Center in downtown Yakima. The two first met at a cider pressing party that a mutual friend was hosting in 2013. Three years later, over pints at Bale Breaking Brewing, the two hatch the idea for a community-based brewery in a town dear to their hearts. Today, Peaks & Pints presents a to-go flight of Single Hill beer — a flight we call Peaks & Pints Pilot Program: Single Hill Flight.
Peaks and Pints Pilot Program: Single Hill Flight
Single Hill Chill Phase
6% ABV
Led by co-founder and head brewer Zach Turner, the Single Hill team leans into vibrantly hopped IPAs all year long, including their latest hazy IPA, Chill Phase. The beer features soft bitterness, juicy aromas and flavors, and a massive dry hop of tropical hops.
Single Hill Polymorph: Gorilla Edition
6.8% ABV
Polymorph: Gorilla Edition tastes of layers of cherry and apricot, with a hint of rosemary, on top a of soft, pillowy base of pilsner malt. The Gorilla features YQH 1320, a new experimental hop from Yakima Quality Hops, alongside Nelson Sauvin, a New Zealand hop known for wine-grape character.
Single Hill Whiplash
6.9% ABV
In a nutshell, a cold IPA is an IPA fermented at lower temperatures than what is normally used to ferment an ale. Whiplash, Single Hill's West Coast style cold IPA, follows the same formula. It's fermented cold with lager yeast for a clean and crisp profile, showcasing an unbridled modern West Coast flavor profile from healthy doses of Centennial, Simcoe, and Bravo hops.
Single Hill Snow Cone
7% ABV
Last September, Single Hill watched Yakima Chief Hops flash freeze a bunch of Simcoe and Citra fresh hops, then Single Hill waited until January to brew Snow Cone with said flash frozen hops. They topped it off with an HBC 586 and Talus dry hop to push the nose into pineapple, grapefruit, and peach territory. Taste is hop-forward with citrusy, palate-scouring bright hops.
Single Hill Well Armed
9% ABV
Well Armed is Single Hill's biggest and punchiest imperial IPA yet. It packs a punch of stone fruit and citrus flavors, showcasing Simcoe, Mosaic, Citra, and Columbus hops. This old-meets-new-school character is layered on top of a clean, blonde, modern malt profile for a maximum refreshment-to-intensity ratio.
Single Hill Dawn Awaits
11.8% ABV
Single Hill's Dawn Awaits (in a 12-ounce can) is a Westland American Single Malt Whiskey barrel-aged imperial stout blended with fresh stout and infused with Yakima Valley roasted coffee, toasted coconut, and Ghanaian cocoa nibs.
Single Hill Softly Falls
11.6% ABV
Westland American Single Malt Whiskey barrel-aged imperial stout with rich oak, vanilla, and molasses character with some peat and infused with graham cracker, Madagascan vanilla beans, and Dominican cocoa nibs.
Single Hill The Stillness
11.8% ABBV
Westland American Single Malt Whiskey barrel-aged imperial stout brimming with rich flavors from whole roasted hazelnuts, Madagascan vanilla, and Philippine cocoa nibs.
LINK: Peaks & Pints cooler inventory
---