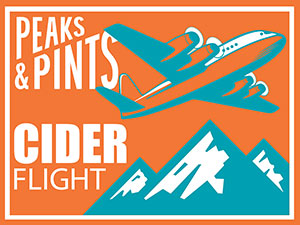 Taking inspiration from traditional matchbook designs from the 1940s & 1950s, Double Mountain Brewery & Cidery released a new design for their 2023 cider line-up. The vintage design aesthetic in the illustration style spoke to them and they used processing techniques to give the label an aged printed look. Some things you might notice are that the black appears to be printed offset, to replicate an old print plate being misaligned, as well as visible halftone dot patterns throughout the artwork, and an added worn paper effect. The focal point of each label is a black tree, which is a nod to Double Mountain's low-intervention approach to cider making. They take local apples and pears, press them themselves, and let the juice sit and ferment. They refrain from adding sugars or flavoring to any of their ciders to savor the honest taste of fruit in every sip. Today, Peaks & Pints offers a to-go cider flight from Double Mountain Brewery & Cidery — a flight we call Peaks and Pints Monday Cider Flight: Double Mountain 2023.
Peaks and Pints Monday Cider Flight: Double Mountain 2023
Double Mountain Red Fleshed Rosé
5.9% ABV
Matt Swihart, owner of Double Mountain Brewery & Cidery, stepped into the cider world in 2017 with his Dry Cider, made using Newtown apples he grows on his Odell area property: Double Mountain Ochards, which had its name before Swihart opened Double Mountain Brewery and Taproom 12 years ago in Hood River. He's killing it in the cider world, as they say. His latest, Red Fleshed Rosé, is made from red fleshed Mountain Rose and Pink Pearl apples, which bring the light rose color. Double Mountain's Red Fleshed Rosé is a lightly tart cider, with delicate aromas of citrus and raspberry. 
Double Mountain Dry Cider
6.7% ABV

Double Mountain had long toyed with releasing their own hard cider, occasionally featuring housemade cider on at the taproom made from owner Matt Swihart's own apples. The brewery finally releases their own Dry Cider in December 2017, blending freshly harvested heirloom apples from Double Mountain Orchards and Hood River Newtowns, Braeburns, and Hanners for Old World complexity. Double Mountain gave it plenty of time to dry out and develop the aromas of juicy pear, lychee, green fruit, and chamomile.  It finishes tart, crisp, dry, and quenching.
Double Mountain Little Martha
6.4% ABV
Little Martha features traditional English Perry pears grown in Parkdale, along the Mt. Hood Scenic Byway close to Mount Hood. The pears offer aromas of cherry blossom, wildflower, and fresh applewood. Dry citrus and Meyer lemon aromas round out this bright and clean pear cider. The bottle artwork is by the amazing Audrey Mae. Her work can be seen throughout the Columbia Gorge, such as on Double Mountain's Iris and Little Spy cider bottles, as well as a mural in Parkdale.
Double Mountain Kingston Black
6.9% ABV
Kingston Black is a bittersharp (high tannin and acid) variety thought to be named after the village of Kingston in Somerset in South West England. Contrary to the name it's not black at all, although a very dark rich red, on the sun facing side of the fruit. It also has an amazing balance of tannins, acid, and sugar. Grown in the Hood River Valley, this cider is tart and dry, with just a touch of "UK funk."
Double Mountain Little Spy
7.5% ABV
Double Mountain macerates the finest American heirloom cider apples from the Hood River Valley and allows their juice to rest on the skins and seeds before pressing, producing just a hint of additional tannic character. The pet nat-style cider is fermented slow and low to maximize the fruit's nuanced expression, highlighting notes of citron, Riesling grape, and ripe pear. Carbonation is the result of careful fermentation monitoring and racking accordingly.
LINK: Peaks & Pints cooler inventory
---