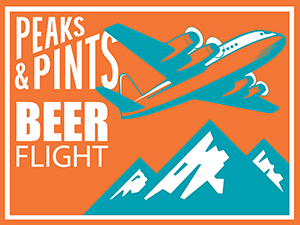 Even though Larry Bell grew up in Park Forest, a village south of Chicago in Cook County, Illinois, he started his brewery in 1985, selling beer he'd made in soup kettles out of his homebrew shop in Kalamazoo, Michigan. One of the oldest craft breweries east of Colorado, Bell's Brewery owes its success in part to Michigan's flexible distribution laws at the time: every account the brewery had during its first four years Bell's delivered to directly. His beer recipes, such as the burly Two Hearted Ale, the honey-hop bomb Hopslam, and popular summer seasonal Oberon Wheat Ale, also put Bell's on the map. In November 2021, Bell's sold to Lion, an Australian subsidiary of Japan-based Kirin. Under Lion, Bell's joined New Belgium, a fellow craft beer pioneer that sold to Lion/Kirin in 2019. The move coincided with the retirement of industry icon Larry Bell. Peaks & Pints is happy to report Bell's Brewery is now available at our craft beer lodge in Tacoma's Proctor District. Stop by for a pint of Two Hearted or Oberon, then take home five Bell's beers in a to-go flight we're calling Peaks and Pints Pilot Program: Bell's Brewery Flight.
Peaks and Pints Pilot Program: Bell's Brewery Flight
Bell's Oberon
5.8% ABV
Bell's Oberon is a wheat ale fermented with Bell's signature house ale yeast, mixing a spicy hop character with mildly fruity aromas. Brewed with wheat malt for a smooth mouthfeel, pours a hazy yellow, and smells earthy and grassy. It tastes sweet and citrusy with just a hint of spiciness from the hops. The finish is crisp and clean. A simple wheat beer on the surface, Oberon is spicy and hoppy and complex like few American wheat ales manage to be.
Bell's Change of Heart
6.8% ABV
Change of Heart, an experimental rotating release, is a cold IPA featuring "fruit-forward and piney notes with a clean, dry finish." Cold IPAs are made using lower fermentation temperatures than typical ales, creating a beer that's usually crisper and drier than the usual IPA. In the past, Bell's released a cold IPA version of Two Hearted, called Cold Hearted Ale. This cold IPA is different.
Bell's Hazy Hearted IPA
7.5% ABV
Calling it "the first hazy IPA worthy of the Hearted label," Bell's Brewery brewed Hazy Hearted IPA with American and Australian hops, including Strata, Citra, Mosaic, Galaxy, El Dorado, and other varieties, all of which are used at different points in the brewing process. Expect a tropical, fruit-forward flavor with moderate hoppy bitterness and a balanced, slightly sweet finish.
Bell's Two Hearted IPA
7% ABV
With the ownership change came a name change at Bell's Brewery. The 25-year-old Two Hearted Ale is now called Two Hearted IPA. But nothing has changed with the beer; it's still the same American IPA brewed with 100 percent Centennial hops from the Pacific Northwest, still named after the Two Hearted River in Michigan's Upper Peninsula, still with a 7% ABV, and the beer label style is unchanged outside of the name tweak. Two Hearted IPA bursts with hop aromas ranging from pine to grapefruit from massive hop additions in both the kettle and the fermenter.
Bell's Big Hearted IPA
9.5% ABV
Not to be confused with Bell's Double Two Hearted Ale, Big Hearted uses a blend of hops and a different grain bill, while Double Two Hearted (11%), released every August, is simply an amped-up version of Two Hearted, using more than double the Centennial hops during the brewing process. Big Hearted IPA, an imperial IPA, features citrus and berry hop aromas with slight bitterness.
LINK: Peaks & Pints cooler inventory
---