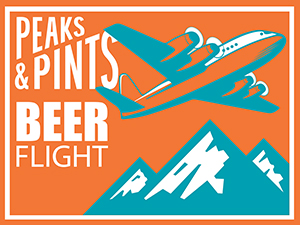 The public nominated 64 Northwest lagers for the Tournament of Beer: Northwest Lagers in early March. Beginning April 8, through online voting on this website, Washington and Oregon brewed pale and light lager drinkers are picking daily winners until the best lager in the Northwest is crowned April 30. It's just like March Madness, only with way more fermentable sugars. The crispy boi-to-crispy boi battle of the lagers grand champion will be announced at the Tournament of Beers Party April 30 at Peaks and Pints in Tacoma's Proctor District. The final two lagers will battle live pouring from Peaks and Pints' Western red cedar tap log with the champion brewery receiving a permanent handle at Peaks and Pints through the spring and summer. Today, in honor of E9 Brewing's Detour Ahead battling Headless Mumby Brewing's Local 66 Lager in the Tournament of Beer: Northwest Lagers Sweet Wort Sixteen, we're highlighting the other worthy Southern Washington lagers that were nominated for the Tournament but fell to the wayside along the way in a to-go flight we call Peaks and Pints Pilot Program: South Sound Lagers. Also, remember to vote on today's Tournament of Beer: Northwest Lagers Sweet Wort Sixteen games here.
Peaks and Pints Pilot Program: Southern Washington Lagers
Grains of Wrath Dive Bar Lager
4% ABV
The metal movement has an outsider ethos and no-holds-barred authenticity that appeals to many brewers, including Grains of Wrath Brewery co-owner and Brewmaster Mike Hunsaker. The metal- and punk-loving brewer cut his teeth as a homebrewer and by working for breweries in Chicago and Cleveland, before relocating to Portland in 2014 to become the head brewer at Fat Head's Brewery, where he became known for original West Coast IPA recipes such as SemperFiPA, GABF gold medal-winning Blitzkrieg Bock and GABF bronze medalist Vienna Lager. Fat Head's closed, which lead to Hunsaker opening his new punk and metal inspired brewery Grains of Wrath in Camas, Washington, with backers Brendan Greenen, Shawn Parker, and Brendan Ford. They recently opened a larger production facility and taproom in North Portland. Their Dive Bar Lager is clean, lightly sweet, and highly refreshing, but lost to Wet Coast Brewing's Costa Mejor Golden Mexican Lager in the Second Round of the Tournament of Beer: Northwest Lagers.
54-40 1862 Mexican Lager
4.3% ABV, 10 IBU
Mexican soldiers defeated French occupiers on May 5th of 1862. This battle was known as the Battle of Puebla and today celebrated in Mexico as El Día de la Batalla de Puebla, but in this country we simply celebrate it as Cinco de Mayo. That's the significance behind 54-40 Brewing's Mexican lager name, which is incredibly light bodied and drinks dry and crisp with a delicate touch of sweetness on the end. The 1862 Mexican Lager fell by the wayside in the First Round when it ran into a feisty Top Rung Brewing Lacey Lager.
Heidelberg Premium Lager
4% ABV, 18 IBU
In August 2016, Mike Runion and Travis Guterson open their 80,000-square-foot new 7 Seas brewery and taproom in a downtown Tacoma building where Heidelberg Brewery previously bottled and shipped its beer. Last month, the duo relaunched the Heidelberg brand canning their version premium lager similar and canning it like the original Heidelberg brewery — although not tin cans like the original brewery in 1936, three years after tin cans were invented. Brewed with mostly malted barley, with some rice and corn, and Old-World hops, Heidelberg Premium Lager is crisp, clean, and quaffable. Heidelberg was knocked out of the Tournament by E9 Brewing's Detour Ahead in the Second Round.
Top Rung Lacey Lager
4.5% ABV, 24 IBU
Top Rung Brewing opened in April 2014 with awarding-winning homebrew recipes and firefighting skills. Thurston County firefighters Casey Sobol and Jason Stoltz put Lacey on the craft beer map with solid craft beers back with solid business sense. Top Rung Brewing has moved higher and higher up the ladder: Its beers can now be found on draft and in bottles throughout Western Washington. Stoltz left Top Rung during the pandemic and his assistant brewer Tyler Mathias now lead the brewhouse. Besides having a great sense of humor, he's added new brewing techniques, he's tweaking the IPAs with hop oils, and he's finally feeling like this is his brewery. He also has brought his military days structure to the brewery, yet in a totally chill way. A 2017 Washington Beer Awards Bronze Medal winner, Lacey Lager is crisp and clean with a nice lager finish. It was knocked out of the Tournament in the Second Round by Headless Mumby Brewing's Local 66 Lager.
Wet Coast Costa Mejor Mexican Golden Lager
4.9% ABV, 20 IBU
The Mexican Lager style is controversial because it can refer to many different beers, but generally, the reference is to a clean lager with low bitterness and high clarity. The use of corn in the form of flaked maize is to enhance crispness and decrease the cost of the malt bill. Flaked maise is corn with proteins, oils and other components removed that can be added to a mash during the brewing process. Pilsner malt is typically the base malt with more of an amber color will commonly also use Vienna, Munich, Victory, and other similar malts to impart their respective characteristics. Wet Coast brews their Costa Mejor Mexican Golden Lager with Pilsner and Vienna malts and flaked maize plus a slightly spicy bouquet of hops. Wet Coast Costa Mejor lost to Everybody's Brewing's Local Logger last night in the Tournament of Beer: northwest Lagers Sweet Wort Sixteen.
Silver City Ziggy Zoggy Party Beer
5% ABV, 40 IBU
Restaurateurs and brothers Steve and Scott Houmes teamed up with Brewmaster "Big Daddy" Don Spencer to open Silver City Brewery in September 1996. In May of 2010, the brothers moved their brewery operations to a much larger production facility and taproom in Bremerton where they eventually brewed Ziggy Zoggy in the Bavarian tradition of kellerbier or zwickelbier. Silver City recently revamped the recipe, added "Party Beer" to the name, but kept one brewer boot in its German lager heritage and one Sketcher in a lighter-bodied, crisper, and refreshing party atmosphere. Silver City's Ziggy Zoggy lost to Everybody's Local Logger in the Second round.
LINK: Peaks & Pints cooler inventory
---