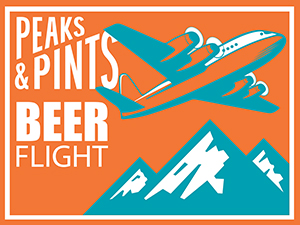 Without sounding too hyperbolic, COVID-19 was the largest disruption to the brewing industry since Prohibition: government-mandated stay-at-home orders, no on-premise consumption, no crowding of any kind and certainly not under a roof. The lion's share of South Sound breweries rely on taproom and over-the-counter sales, but for a solid 14 months, they had to pivot their entire business plan to packaging, to-go orders and distribution, a channel already clogged by big beer, regional breweries and limited shelf space. Since 2010, the Saturday after Thanksgiving has been dedicated to shopping local to show support for small businesses during the holiday season. Since today is Small Business Saturday, our small business celebrates other local small business by offering a to-go flight of South Sound craft beer, which we call Peaks and Pints Pilot Program: Small Business Suds On the Fly. Stop by Peaks & Pints craft beer bar, bottle shop and restaurant and grab local beers to enjoy today. Cheers!
Peaks and Pints Pilot Program: Small Business Suds On the Fly
7 Seas Heidelberg Premium Lager
4% ABV, 18 IBU
TACOMA HISTORICAL BREWERY DISTRICT: In August 2016, Mike Runion and Travis Guterson open their 80,000-square-foot new 7 Seas brewery and taproom in a downtown Tacoma building where Heidelberg Brewery previously bottled and shipped its beer. Last month, the duo relaunched the Heidelberg brand canning their version premium lager similar and canning it like the original Heidelberg brewery — although not tin cans like the original brewery in 1936, three years after tin cans were invented. Brewed with mostly malted barley, with some rice and corn, and Old World hops, Heidelberg Premium Lager is crisp, clean, and quaffable.
Headless Mumby Smoked Rye Lager
5% ABV
WEST OLYMPIA: In November 2018, Alex Maffeo and Keith Ciani opened Headless Mumby Brewing in West Olympia, specializing in lagers. Headless is a salute to the song "Roland the Headless Thompson Gunner" by Warren Zevon. Ciani is a rabid fan. Mumby is a reference to a defunct logging and shingle mill from the early 1900s, which operated in the area where Maffeo now lives. This past June, Headless Mumby grabbed gold for its flagship Smoked Rye Lager and Very Small Brewery of the Year at the 2019 Washington Beer Awards. Smoked Rye Lager is brewed with hefty doses of Munich and rye malts, subtle noble hops with a moderate smoked malt presence.
Matchless Thurston County
11.8% ABV, 50 IBU
TUMWATER: Thurston County, Washington, was created out of Lewis County by the government of Oregon Territory on Jan. 12, 1852. The county seat and largest city is Olympia, the state capital, Due south of Olympia lies the city of Tumwater, home of Matchless Brewing. This year's Matchless Thurston County is a culmination of four different stouts, including a Russian imperial stout and oatmeal imperial stout, aged in various bourbon and whiskey barrels including Heaven Hill Bourbon and Westward Whiskey. While this one might not be coming straight from Bourbon County, folks still get thirsty for annual bourbon barrel-aged imperial stouts in Thurston County, and this is the Thurston County brewery's solution.
Sig Almond Joy Division
12.8% ABV
TACOMA HISTORICAL BREWERY DISTRICT: Utilizing almonds, coconut, and liquid chocolate Sig Brewing has recreated their favorite candy bar in beer form. After being boiled for nearly 24 hours to create a body that is thicker than almost any motor oil, Sig conditioned this behemoth on all of their known pleasures: coconut, almonds and chocolate. Starting sweet but ending with a robust dark chocolate cloy, the coconut doesn't overpower this imperial pastry stout.
E9 SJ² Project
6.7% ABV
TACOMA NORTH SLOPE: Parkway Tavern General Manager Sean Jackson helped E9 Brewing Head Brewer Shane Johns brew beers in the original E9 brewery attached to the Engine House No. 9 restaurant and bar at Sixth and Pine. Jackson left E9 and he took over the Parkway job after the former manager John O'Gara passed away in March 2014. Jackson's first E9 collaboration, SJ Project, was a sour blonde. SJ² Project is an extremely approachable Belgian-style blonde ale with classic fruity esters on the nose, followed by clear crisp blonde sweetness with little hoppiness. E9 Sales Executive Katie Johnson (@ktjstudio) drew Jackson's portrait for SJ² Project's can art.
Top Rung Brewing Shift Trade IPA
6.2% ABV, 50 IBU
LACEY: After college, Jason Stoltz became a full-time firefighter with the McLane/Black Lake Fire Department, joining Capt. Casey Sobol, who would eventually be his homebrewing buddy then business partner at Top Rung Brewing Co. The career firefighters — 24 years for Sobol and 11 for Stoltz — took their hobby to pro after the duo's Hosechaser Blonde grabbed the Dick's Brewing "Beer for a Cure" home-brewing contest top prize in 2012 — and they began to shadow Dick's brewer Parker Penley. In April 2014, the duo opened Top Rung in Lacey, Washington. A year later, they brewed Shift Trade IPA, a 6.2 percent ABV shot of tropical fruits thanks to a hefty dose of Mosaic and Cascade hops. Stoltz has moved on leaving the head brewer job to his former assistant, Tyler Mathis whom continues to the easy drinking Shift Trade with mango, apricot, and pineapple notes and a solid, slightly toasty malt core.
Wet Coast Scofflaw CDA
7.1% ABV, 65 IBU
GIG HARBOR: No American craft beer style has ever generated more contentious debate than black IPA, when it comes to nomenclature. From the moment that people began calling this style anything, there's never been consensus on what exactly they should be called. Basically, it's a hoppy IPA with mild to moderate roastiness that is sometimes derived via debittered black malts such as Carafa and dark wheat malt, lending a crisper edge and the type of dry, coffee-like flavor you find in the German black lager style, schwarzbier. Wet Coast Brewing's Scofflaw CDA is absolutely an IPA — more so than many black IPAs. Columbus, Falconers Flight, Amarillo, and Simcoe hops provide a hit of citrus, resin and smooth bitterness. While dark wheat malt gives the beer its black color and just a hint of roast character, the beer leaves the palate slightly dry, accentuating its hop character.
Triceratops Mrs. Voorhees Peanut Butter Milk Stout
8.1% ABV, 65 IBU
TUMWATER: On a fateful day in 1957, Jason Voorhees, infuriated by the constant teasing and harassment from other children, snuck out of his summer camp cabin late at night to prove that he could swim. The counselors were not watching him, as they were at a party and fooling around in one of the adult cabins. Jason was never recovered from the lake and was presumably drowned. Mrs. Voorhees blamed the counselors for his death because she was working as the camp cook the day that it happened. In Friday the 13th (1980), Mrs. Voorhees blamed camp personnel for perceived wrongs, sometimes having a conversation with herself using two different voices, becoming rageful, and of course, killing. She went nuts and began killing camp counselors. Triceratops Brewing pays homage, or something, to Mrs. V with a chocolate milk stout brewed with Skagit Valley Malt, 25 pounds of peanut butter richness, combined with honey malt and milk sugar that provides a mild sweetness and a roasty backbone.
Narrows OCTO IPA
7.2% ABV, 72 IBU
WEST TACOMA: Enteroctopus dofleini lives under the Narrows Bridge. You might know it better as the giant Pacific octopus. It is the largest species of octopus found in the world. It has an arm span of up to 20 feet, it can jam into small cracks and holes because its beak is the only hard part of its body, and it changes color depending on its mood. Some can grow to a whopping 100 pounds over a relatively short lifespan of three to four years. The most famous giant Pacific octopus is, of course, OCTO, which graces the can of this West Coast IPA. The Narrows Brewing brewhouse team of Head Brewer Parker Rush, longtime brewer Zach Dowling and assistant brewer Cyd McFarland can see the Narrows Bridge from their brewhouse as they add Centennial, Chinook, and Columbus hops to a 2-row foundation to OCTO IPA for dank, piney bitterness from the deep.
LINK: Peaks & Pints cooler inventory
LINK: Peaks and Pints Pilot Program: Small Business Suds On the Fly archives
---
Category:
Beer Line Blog
,
Craft Beer
,
Critical Drinking
,
Events and Festivals
,
Houses of Craft
,
In The Cooler
,
News and Updates
,
Peaks and Pints Pilot Program
,
Shop
,
South Sound
,
Specials
,
Tacoma Strong