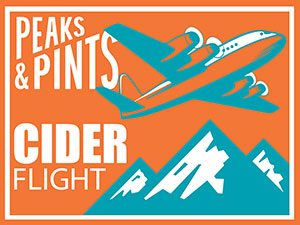 Normandy, located east of Brittany and north of the Loire Valley, is a picturesque and pastoral region of France, dotted with small towns and hamlets, each clustered around a magnificent church, whose spires sharply jut above the verdant waves of hill and field.  Farms and orchards abound. The production of poiré (pear) in the region reflects the region's abundance of pear trees, some of which are centuries old. The apple tree, as described by Emmanuel Camut of the renowned Adrien Camut Calvados Pays d'Auge estate, ages much like a man, whereas the pear tree, although it may bear fruit by its 16th year, may be 100 years old before it reaches true maturity.  The pear trees are better suited to the stonier soils of the Domfrontais, and poiré is a major component in the region's style of Calvados.  Peaks & Pints suggests a to-go flight of French-style pear cider — a flight we call Peaks and Pints Monday Cider Flight: Poire.
Peaks and Pints Monday Cider Flight: Poire
Cidrerie du Leguer Poire 2019
5.5% ABV
Cédric Le Bloas grew up in Brittany, though after college and travelling France and the world, he returned to his home and founded Cidrerie du Léguer in 2016. Cédric and his wife are working organically — when the apples and pears fall (and only then), do they put them in crates to further ripen. Then they make their ciders. Cédric uses the old-school process of keeving — a difficult, time-consuming, labor-intensive process that naturally settles the must and creates an off-dry cider — and all fermentations are natural. The ciders are bottled with no sulfur. Cédric's poiré is refreshing and bright off-dry perry cider full of energy with a rustic carbonation.
Dwinell Robin – Poire
6.3% ABV
French ciders are extraordinary — off-dry, wonderfully aromatic, slightly pétillant or bubbly with a complexity and finish that some Champagnes could envy. In the Pacific Northwest, it's difficult to get the same sort of intensity with the varieties of pears we have. The solution is to blend in other fruits with more acidity and tannin to make a balanced cider, which is what Dwinell Country Ales does with their Robin pear cider. The French-style cider is wild fermented from a blend of Comice, Pakham, and Taylor's Gold pears, together with Champagne Reinette apples, from E.Z. Orchards in the Willamette Valley.
LINK: Peaks & Pints cooler inventory
---