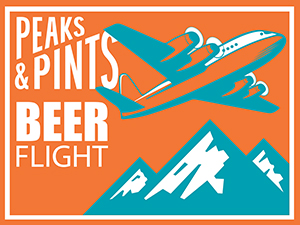 It's another Friday the 13th, and you need something perfectly thematic to do. But not unlucky, please, because there's enough disappointment circling the country. A few other things you shouldn't do today: Don't have sex in a remote cabin in the woods, don't skinny dip by yourself after midnight, and don't investigate strange noises. Do drink beers brewed by breweries with scary names in Peaks & Pints to-go beer flight today. Heathens, Evil Twins, Headless Mumbys, Black Ravens, Beer Zombies, and Boneyards. Oh, my! Today's beer flight promises round of devilish pomp, bourbon barrels and spicy fun. Grab these three bottles — the triple muse of power, mystery, and ritual — and crank the full spectrum of darkwave music. Welcome to Peaks and Pints Pilot Program: Scary Brewery Names On The Fly. Also, stop by Peaks & Pints tonight and enjoy Friday the Firkinteenth.
Peaks and Pints Pilot Program: Scary Brewery Names On The Fly
Heathen Tribal Jam: Mai Mai Mai
7.1% ABV
Sunny Parsons founded Heathen Brewing in 2012 in a converted barn near his home in outer Vancouver. With "Progressive Ales for the Promiscuous Palate" as the mission statement, Parsons and co-owner and head brewer Rodney Stryker made small batches with local ingredients basically in the backwoods before opening their Feral Public House, a 2,000-square-foot restaurant and taproom in downtown Vancouver in 2015. Smoothie sour beers are the evolution of the fruited kettle soured beers when brewers add non-traditional ingredients to traditional styles to recreate baked goods and desserts in liquid form. At their essence, when talking about smoothie sours, the common denominator is always extremely large amounts of unfermented fruit puree, which is the case with Tribal Jam: Mai Mai Mai, a Mai Tai inspired smoothie sour with cara cara orange, sweet cherry, lime, almond, vanilla, and sea salt.
Evil Twin I'd Like A Triple Grandiose, Extra Sweet, Cookies N' Cream, Caramel Macchiato Cappuccino Please
12% ABV
Jeppe Jarnit-Bjergsø, the founder and man behind Evil Twin Brewing, was a physics and English teacher in his native Denmark before starting Copenhagen's Ølbutikken, a highly regarded beer store. He's also an evil twin himself. His brother, Mikkel Borg Bergsø, brews under the Mikkeller label. Jarnit-Bjergsø, however, has done his best to outshine the good twin. He founded Evil Twin Brewing in 2010 as a nomadic brewery. Like his brother Mikkel, Jarnit-Bjergsø would concocts a recipe for his beer and hand it to another brewery with some extra capacity. This contracted brewing partner brewed, bottled, priced, and sold the beer, then cut Jarnit-Bjergsø a check. Evil Twin beers were brewed everywhere from South Carolina and Scotland to Holland and Denmark. In 2012, Jeppe Jarnit-Bjergsø moved it to Brooklyn and relocated there with his family, opening the beer bar TØRST the same year. His I'd Like A Triple Grandiose, Extra Sweet, Cookies N' Cream, Caramel Macchiato Cappuccino Please is an imperial stout brewed with cacao nibs, coffee, cookies, caramel, and milk sugar.
Headless Mumby Local 66 Lager
5% ABV
In November 2018, Alex Maffeo and Keith Ciani opened Headless Mumby brewery and taproom in west Olympia, specializing in lagers. Headless is a salute to the song "Roland the Headless Thompson Gunner" by Warren Zevon. Ciani is a rabid fan. Mumby is a reference to a defunct logging and shingle mill from the early 1900s, which operated in the area where Maffeo now lives. Put the two names together and it sounds scary. Headless Mumby Brewing calls their Local 66 Lager an "American-style Premium Lager" brewed with Pilsner malt and flaked rice, which is a light yet flavorful lager that is crushable. Local 66 Lager is named after the Olympia chapter of the Sheet Metal Workers Local Union. In addition to being a tasty beverage, Local 66 Lager's mission is to bring renewed awareness to the value of organized labor. You can taste the collective bargaining.
Black Raven Origin – Seattle Beer Week 2022
6% ABV
In 2000, Mississippi homebrewer Robert "Beaux" Bowman moved to Washington and landed at Mac and Jack's Brewing in Redmond. Next, he worked at Far West Ireland Brewing (now closed), The Ram, and Lazy Boy Brewing, and anywhere else that needed his services. In April 2009, Beaux and Kat Gillespie opened Black Raven Brewing Company close to downtown Redmond and the Sammamish River Trail. Because of its black plumage, croaking call, and diet of carrion, the raven is often associated with loss and ill omen, but that didn't stop Beaux and crew from killing it — beer wise. The official beer of the 2022 Seattle Beer Week, Origin is a modern take on the West Coast IPA: a 50-50 split between Pilsner and Pale malt provides a clean and crisp pedestal to showcase the trio of hops — Nectaron, Galaxy, and Mandarina Bavaria. Intense tropical fruit notes, bordered by citrus and with a balancing hint of the traditional pine and resinous notes that marks a typical West Coast IPA.
Beer Zombies End To End Burners
8% ABV
A self-described beer geek, Chris Jacobs grew up near Chico, California, home to the craft brewing pioneer Sierra Nevada. After moving to Las Vegas in 1995 and overseeing various craft beer programs, he shifted gears to go all in on creating Beer Zombies — his own brand that now encompasses a contract brew, craft beer bottle shops in Las Vegas and Salt Lake City, a future brewery in the works, and the annual Beer Zombies Festival. The monthly Beer Zombies releases are contract brewed by California-based Mason Ale Works, but in 2022 Jacobs plans to open his own 15-bbl brewery. Beer Zombies and The Answer Brewpub descended on The Mason Jar Lager Company to brew this super dank, incredibly juicy hazy IPA brewed with Citra cryo and Galaxy hops for a big sticky blast of grapefruit, melon, lime, gooseberry, passionfruit, lychee, and mango.
Boneyard Hop Venom
9% ABV, 60 IBU
In 2010, Boneyard Beer was launched in an old auto shop tucked away in the backstreets of Bend, Oregon's historical district. Without any outside investors or major bank loans, Boneyard's inception was unconventional to say the least. After decades in the brewing industry, owner Tony Lawrence built up a "boneyard" of old equipment he collected from 13 different breweries around the country. Alongside co-founders Clay and Melodee Storey, this second-hand brewing equipment was pieced together to brew the first batch of Boneyard Beer in May 2010. With 4.5 pounds of hops per barrel Boneyard's West Coast double IPA will strike your nervous system with a venomous mix of Centennial, Simcoe, Chinook, and CTZ. Hop Venom's delicate malt profile allows the double dry-hopped aroma of tangerine and pine to dominate. The smooth, creamy bodied Hop Venom is well balanced with super fresh hop character, pine, and tangerine flavors but well balanced that hides the alcohol. It's known as a dangerous IPA for a reason.
LINK: Peaks & Pints cooler inventory
---