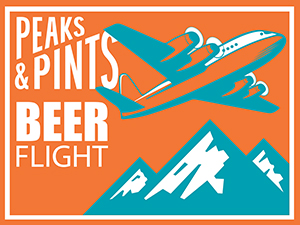 Gabe Fletcher, the head honcho at Anchorage Brewing, started his career at Midnight Sun, another Alaskan brewing company. After 13 years of helping cultivate an image of creating adventurous beers, Fletcher decided to part ways with Midnight Sun and strike out on his own. In 2011, Fletcher released his first Anchorage beer. Turns out Fletcher's meticulous attention to detail and brewing expertise combined to make some amazing beer. The brewery took off, eventually moving to its own brick and mortar in 2014. Anchorage specializes in barrel fermentation with Brettanomyces and souring cultures, huge barrel-aged imperial stouts, and amazing hazy IPAs. Today, Peaks & Pints presents a to-go flight of Anchorage beers — a flight we're calling Peaks and Pints Pilot Program: Anchorage Brewing On the Fly.
Peaks and Pints Pilot Program: Anchorage Brewing On the Fly
Anchorage Interstellar Void
7% ABV
Space is an empty void. But one part is even emptier and more void-ish than the rest. Just southwest of Orion in the constellation Eridanus, astronomers have discovered a swath of space, one billion light years across, that isn't merely devoid of stars and planets and space dust, but dark matter, too. Anchorage Brewing's Interstellar Void is a fruited sour fermented and aged in Missouri oak with saison yeast, Brettanomyces and house mixed culture, dry hopped with Galaxy and Phantasm powder, and finished with passionfruit for an initial barn floor funk that turns into tart passionfruit and grassy citrus.
Anchorage Air Whale Hell
15% ABV
Anchorage Brewing is one of the most sought-after breweries when it comes to boozy dark beers. This imperial stout is fermented and aged in Missouri oak, then finished on Klatch Coffee, Tahitian vanilla beans and Thai bananas. Expect bitter roast coffee, a boatload of residual sugar, Bananas Fosters flavors, some coconut, palm sugar, and wood.
Anchorage Watching Over Me
6.4% ABV
Due to the competitive labor market in Alaska, Fletcher has always had to offer aggressive compensation — close to double the industry average, depending on the employee. As a result, turnover has been incredibly low, and there isn't a new to be constantly watching over the brewhouse. His Watching Over Me IPA is brewed with Citra Incognito and Mosaic cryo for a full, juicy lemon and pineapple hazy IPA.
Anchorage Knight Vision
6.4% ABV
The Anchorage crew loaded Knight Vision with all New Zealand sourced hops — Galaxy, Sabro, and Nelson Sauvin hops for orange and mango notes with a pithy, grapefruit finish.
Anchorage Better This Way
8.4% ABV
Double IPA juice bomb brewed with Galaxy, Strata, Motueka, and Melba hops for fresh mango juice with a spritz of sweet passionfruit and lemon Kush followed evergreen pine lingering on the finish, balancing the fruity flavors.
Anchorage IPA Games
8.4% ABV
The variety of IPAs is endless with the never-ending variety of hop product and techniques. Anchorage Brewing's IPA Games hazy double IPA is brewed with Citra Incognito and double dry hopped with New Zealand Cascade, Motueka, Vic Secret, and Waimea hops for citrusy sniffs, tropical hoppiness, sweet tangerine zestiness, and subtle bitterness.
LINK: Peaks & Pints cooler inventory
---