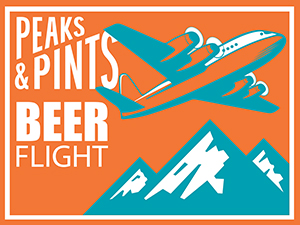 At first, Peaks & Pints must admit, it tasted faintly of lip gloss, a blast back to the eighth grade. But as we munched the slightly sweet and sour flavor of passionfruit grew on us. Passionfruit is one of the three amigos in P.O.G., a tropical juice drink created in 1971 by a food product consultant named Mary Soon who worked for Haleakala Dairy on Maui, Hawaii. It's a sweet blend of passionfruit, orange and guava juices, long a favorite of Hawaii residents. Today, Peaks & Pints presents a to-go beer flight from our giant cooler centered on the acronym. Stop by for Peaks and Pints Pilot Program: POG On the Fly and bring the islands home.
Peaks and Pints Pilot Program: POG On the Fly
Stone Notorious P.O.G. Berliner Weisse
4.7% ABV
If you've never been to Hawaii, you might not know the amazing flavor combination that is POG – passionfruit, orange, and guava juice. Stone Brewing's Notorious P.O.G. Berliner Weisse, inspired by actor Jonah Hill, who grew up in the Aloha State, has all the flavors, but the orange dominates for a refreshingly tart and tropical joy ride.
Reuben's Hazealicious P.O.G.
6% ABV, 50 IBU
Reuben's Brews tapped a single keg of it in their taproom. The crowd prayed to King Kamehameha. Then, the Seattle brewery scaled the recipe to a special growler-only release. The crowd did the hula. Today, Reuben's sent a full-size production batch for distribution, which landed at Peaks & Pints. Hazealicious P.O.G. is the latest release in Reuben's Unbound Series. They grabbed their award-winning year-round hazy IPA Hazealicious and doubled down on the tropical hop flavors by adding passionfruit, orange, and … wait for it … guava.
RiverBend Hawaiian Crunk IPA
7% ABV, 65 IBU
"Milkshake PA" was first coined by Swedish brewery Omnipollo, and Riverbend Brewing has fully committed to the sub-genre, producing four different varieties. There's something for almost every palate in the lineup, but Hawaiian Crunk brewed with passionfruit, orange, guava (POG) is a standout, offering a creamy, fruity package without the hop bitterness getting in the way. It has a creamy vanilla base with pineapple and guava leading the way. Taste is mildly bitter, moderately sweet, and very juicy with a dry finish.
---