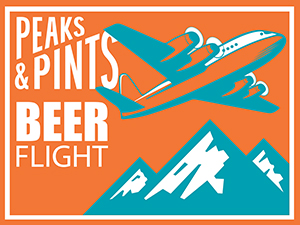 Normally condemned to rot in a mediocre ceramic bowl, the fruit cup has finally been given the respectable and stylish home it deserves — Peaks and Pints' to-go craft beer flight. That's right, this is not your mama's fruit cup. It's more like a fruit cup on … hops. Once considered a maligned novelty, fruit is now one of the arenas where brewers experiment most, uh, fruitfully. According to archeologists, the Mesopotamians were brewing with fruit thousands of years ago. In 1999, Fruitheads became a type a drinker after they gobbled up gallons of Dogfish Heads' Aprihop, a fruit beer made with pureed apricots. So, Fruitheads, we present Peaks and Pints Pilot Program: For Fruithead On the Fly. Come grab a to-go flight of fruit beer.
Peaks and Pints Pilot Program: Fruit Cup On the Fly
Sierra Nevada Wild Little Thing
5.5% ABV, 7 IBU
Sierra Nevada has reached out to younger and non-beer drinkers with this slightly tart and hazy ale with a bright pink pop of color. Wild Little Thing is a highly refreshing, slightly sour ale with just the right smack of tartness. Brewed with hibiscus, guava and strawberry, it hits the nose with cherry, strawberry, blueberry, and grape. Strawberry flavors are there, sure, but we also get cherry, blueberry, and apple. The finish is long with a surprisingly thick, coating mouthfeel.
Boulevard Big Blue Ox
8.5% ABV, 7 IBU
Boulevard Brewing team up with Jeremy Grinkey of Bruery Terreux to wrangle the Big Blue Ox. Fermented with both Belgian and wild yeasts, this saison is brewed with 8,000 pounds of whole blueberries. Pouring a rich shade of indigo, this bright, earthy possesses huge, rich aromas of blueberries and Brettanomyces funk. Expect low overall acidity, soft sweetness and a dry finish, plus flavor and aroma centered around Brett and blueberries. This wild saison yearns to be paired with tangy goat cheese blueberry cheesecake.
Pfriem Jammy Pale Ale
5.4% ABV, 32 IBU
Brewed with Rahr Pale malt, Thomas Fawcett malted oats, and flaked oats spread over Chinook, El Dorado, Citra, and Idaho 7 hops, pFriem Family Brewers' Jammy Pale Ale hits the nose with marionberries, strawberry preserves, candied pineapple, raspberries, nectarines, and peach. On the tongue, expect cantaloupe, starfruit, orange zest, blueberries, watermelon, gummy bears, and lemon balm. It finishes juicy, jammy, and fruity.
Stone Tangerine Express IPA
6.7% ABV, 75 IBU
Stone's Tangerine Express IPA blazes forward with whole tangerine and pineapple for big, bold and not for kids craft beer. It's really hoppy but at the same time has incredible fruit flavor, which was achieved by using high-quality, whole fruit. Stone's brewers use whole tangerine puree to capture the essence of the bright flavors of the fruit with the addition of whole pineapple for a subtle, yet lingering back note. Neither the hops nor the fruit dominate, yet together they create several complex fruit layers, which can only be achieved by brewing with the entire fruit. Eight different hops give this beer its marked dankness overtones and refreshing bitterness.
---