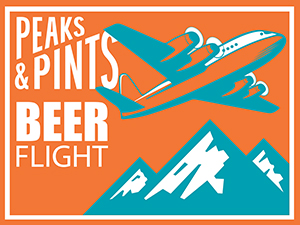 Simmer down now, people. It's summer, and Mother Nature lets us know it in no uncertain terms. Today is expected to be the first of many extremely hot days felt across the northwestern United States. An anomalous upper-level ridge is forecast to slowly meander over the region through this weekend. Coinciding with the longest days of the year and widespread severe drought conditions, high temperatures are forecast to soar well into record-breaking territory. The usual warnings apply: If you're old, frail, in bad health, have translucent skin, or just plain out of shape, take it easy — and drink cold, refreshing pineapple-forward craft beers. Stop by air-conditioned Peaks & Pints and grab our to-go flight, Peaks and Pints Pilot Program: Pineapple Beer On The Fly.
Peaks and Pints Pilot Program: Pineapple Beer On The Fly
Urban Family Island Crusher
6% ABV, can

The family-run Urban Family Brewing in Seattle's Ballard neighborhood brews some of the best small-batch sour beers in the Northwest. For example, their Island Crusher is a pineapple and passionfruit golden sour ale exploding with tropical notes of tropical fruits.
Matchless Thurnigia's Burning
5.4% ABV, draft
Reminiscent of a Grätzer, but more of a combination of a Berliner weiss and rauchbier, the Lichtenhainer is a sour smoked ale style from Lichtenhain, in the heartland of Germany. The brew reached the height of its popularity in the 19th century, before petering out to near extinction in recent times. Matchless Brewing found success brewing the 100 percent smoked malt barrel fermented sour wheat beer, and refermented their Thurnigia's Burning Lichtenhainer with pineapple and jalapeño peppers. It's delicious!
pFriem Las Piñas
6.6% ABV, 6 IBU
Barrel-aged with fresh, chopped Costa Rican pineapple, pFriem Family Brewers' new golden hued fruited sour is your liquid passport to the tropics. It hits the nose with pineapple, white grape and jasmine followed by flavors of lemon, guava, and pine before a bright, tart, spritzy finish.
Black Raven Tropical Trickster
6.9% ABV, 60 IBU
In mythology, the raven can play tricks or otherwise disobey normal rules, hence the name Trickster. Black Raven Brewing's well-balanced Trickster IPA has a light fruit, citrus and piney hop aroma with a full hop flavor. Tropical Trickster is the new springtime spin on their best-selling Trickster. They brewed it with slightly less bitterness to let the tropical flavors of pineapple and mango juice stay bright and sunny.
Matchless Hop Nectar
8.2% ABV
Vic Secret is an Australian hop known for its bright tropical character of pineapple, pine, and passionfruit. The hop is the star of Matchless Brewing's Hop Nectar double IPA. Sweet sticky hop nectar has fallen from above with notes of pineapple, honeydew, and orange citrus. Vic Secret along with Huell Melon, and Amarillo hops combine for one smooth hazy double IPA on a bed of Pilsner malt and flaked wheat. And it's all tied together with Juice yeast. Not to be confused with the other "nectar" in a can.
---