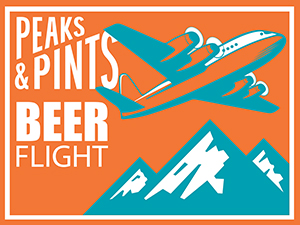 Remember when you knew how to relax? It was probably before you had an iPhone, before you had kids, before you had a job that demanded 70 hours a week — plus weekends. Relaxation, we're afraid, is a dying art. That's why we offer a five craft beer to-go flight of tropical IPA chill today. So, pawn the kids off on Grandma, put your phone down, and get ready to swallow one seriously giant chill pill. Step one: Deep breath, South Sound. Step two: Grab the Peaks and Pints Pilot Program: Tropical IPAs On The Fly. Step three: position a fan in from of you, crack them open, and chill.
Peaks and Pints Pilot Program: Tropical IPAs On The Fly
Reuben's Hazealicious P.O.G.
6% ABV, 50 IBU
Reuben's Brews tapped a single keg of it in their taproom. The crowd prayed to King Kamehameha. Then, the Seattle brewery scaled the recipe to a special growler-only release. The crowd did the hula. Today, Reuben's sent a full-size production batch for distribution, which landed at Peaks & Pints. Hazealicious P.O.G. is the latest release in Reuben's Unbound Series. They grabbed their award-winning year-round hazy IPA Hazealicious and doubled down on the tropical hop flavors by adding passionfruit, orange, and … wait for it … guava.
Boundary Bay Tropical Stallion
6.3% ABV, 29 IBU
Drifting to the palate with an exquisite hazy, orange-tinge, Boundary Bay Brewery's Tropical Stallion is hopped bounteously with Ahtanum, Ekuanot, HBC 472, Loral, and Simcoe. This hazy IPA's aromas of tropical fruit, light evergreen, and vibrant coconut gallop straight into a soft bitterness and even-keel, creamy finish.
Icicle Enchantments Stuart
6.7% ABV
Mount Stuart is the highest mountain in the Enchantment Range, overlooking the entire Alpine Lakes Wilderness. Stuart couples both the alpine rewards of high-profile peaks like Adams and Rainier with the solitude that most hikers only experience on weeklong trips. It rises more than 5,000 feet from the surrounding terrain, testing quads and lungs alike — but you won't need to rope up or pack crampons. Icicle Brewing sits on the edge of the Enchantments in the town of Leavenworth. It was only a matter of time before the brewery's Enchantments Hazy IPA series would tackle Stuart. It's brewed with Strata, Citra, and Mosaic for notes and aromas of rounded tropical and bright fresh fruit including orange, mango, and pineapple,
Baerlic Good Vibes Only
6.7% ABV
Baerlic Brewing keeps things positively righteous with Good Vibes Only hazy IPA. "Good Vibes Only is a beer built to replace that tropical vacation you probably had to cancel," says Baerlic co-owner Ben Parsons in a media release. "One of our favorite varieties, we utilize Centennial hops as the foundation of flavor and familiarity, then we layer on a huge dose of Cashmere hops for a tropical fruit, lime and very slightly coconut-y profile. Let this beer warm up for more coconut and demand Good Vibes Only from here on out!"
Equilibrium Fluctuation
8.1% ABV
Departures from equilibrium are known as fluctuations. Brewed with 100 percent Citra hops, Equilibrium Brewing's Fluctuation double IPA pours a very hazy tangerine color, releasing bright tropical notes of passion fruit, mango, pineapple, and lychee with an undercurrent of sorbet and cream. Fluctuation tastes highly resinous and tropical with an assertive yet soft bitterness. They consider this fluctuation to be perfectly unbalanced.
LINK: Peaks & Pints cooler inventory
---