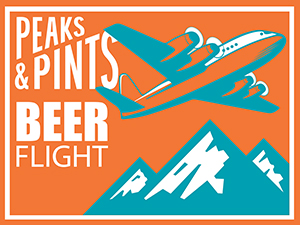 On this date in history, 1973: Louis Pasteur patented process of brewing beer and ale. Up until Pasteur's invention, the sugar-containing liquid (the "wort") was always boiled and then exposed to air for cooling, before the yeast was introduced to initiate alcoholic fermentation. According to the patent application Pasteur's invention "consists in expelling air from the boiled wort while confined in a closed vessel or closed vessels, and then cooling it by the application of sprays of water to the exterior of such vessel or vessels." This new method eliminated the exposure of wort, the boiled extract of malt, to atmospheric air. When the wort is exposed to air during the brewing process the quality and the quantity of the beer is impaired. Today, Peaks and Pints celebrates Pasteur's patent with a to-go beer flight that we call Peaks and Pints Pilot Program: Pasteur Patent On The Fly. Obviously, we're not including any wild fermentation beers.
Peaks and Pints Pilot Program: Pasteur Patent On The Fly
Fortside Fruity Cowboy
9% ABV
Fortside Brewing brewed this hazy double IPA for bright orange and lime notes blending with ripe mango in a whirlwind of juicy aromas, blowing across a contemplative plateau of gentle malt and creamy oats. Additional flavors of coconut and grapefruit zest gallop steadily along, disappearing into a burnt orange horizon — light in bitterness yet packed with sublime softness and satisfying vigor.
Wander Powderland IPA
6.4% ABV, 25 IBU
There's a whole lot of fresh powder falling on the mountains this winter. Can't make the trip? Now you can have fresh powder in your hand anywhere. Wander Brewing Powderland IPA is back and this year's version uses piles of flaked oats and unmalted wheat alongside a blend of Amarillo and Citra hops for citrus flavors and a dry finish.
Icicle Enchantments Hazy IPA: Talus
6.7% ABV, 34 IBU
Since the Talus Rock Trail is in the Issaquah Alps, Icicle Brewing's Talus must be named after talus deposits in The Enchantments. Talus consists of angular, irregular rock fragments. It doesn't matter. This hazy IPA is delicious. It's brewed with a generous amount of Hop Breeding Company's newest commercial release, Talus, as well as Citra, Mosaic and Simcoe hops. Expect intense notes and aromas of passion fruit with underlying ripe melon and citrus.
Georgetown Meowsa!
8.4% ABV, 60 IBU
Georgetown Brewing's brewery cat, Meowsa, brewed a double IPA and named it after his own name. If you force fed a watermelon a steady diet of mandarin oranges and pineapples and then dropped said watermelon into a woodchipper, the resulting aromas and flavors that came out of the business end of the wood chipper would be the best way to describe Meowsa! As much as Meowsa dislikes the term "juicy" this DIPA is very juicy and has very little bitterness for the style.
LINK: Peaks & Pints celebrates Louis Pasteur's birthday
---