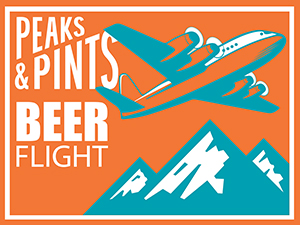 Triple IPA: It's a palate-smashing beast of an ale designed for those times when a hazy IPA simply won't cut it. yet, the style still isn't recognized — and debate rages among the pimpliest of beer nerds over whether it's a style at all. Peaks & Pints believes the triple IPA is a massively hoppy beer of 10 percent ABV with outrageous amounts of dry hops, hop flavor, malt flavor, alcohol and bitterness. The triple IPA may be similar to a double IPA in hop character, but is differentiated from the style by a thick, syrupy body accented by intense hop resins that make it a heavy sipping beer. Great triples harness an artful assortment of hops, and propping them up with a suitable quantity of the proper malts. Still not sold? Here are four examples that recently arrived to our cooler. Stop by and grab the to-go beer flight, Peaks and Pints Pilot Program: Triple IPA On The Fly.
Peaks and Pints Pilot Program: Triple IPA On The Fly
Nightmare Drawn And Quartered
10% ABV
With ravenous passion for horror flicks and death metal and a disdain for cookie-cutter IPAs, Billy Powell's Nightmare became real in December 2018. He founded the Long Island-based, but not based, Nightmare Brewing Company. Powell hit the road, literally, as a gypsy brewer, using other brewery's facilities to produce his torture-themed craft beer. He's often at Dorchester Brewing in Boston, sourcing expensive ingredients from around the world, which adds a few cents to his can retail prices. His Drawn And Quartered quadruple dry hopped imperial New England-style IPA is brewed with Nelson Sauvin, Galaxy, Enigma and Citra hops tossed into the mash tun, kettle, fermenter (four times) and brite for nectarine, mango, and underlying white wine aromatics, followed by tropical notes, mango, ripe pineapple, tangerine, and lychee flavors, finishing with a dank bite and alcohol warmth.
Reuben's Brews Gobsmacked!
10% ABV, 80 IBU
Brouwers Café is what all other Washington state craft beer bars are judged. The 16-year-old Belgian-inspired café in Fremont features more than 60 beers on tap and hundreds more in bottles — the best from near and far. First brewed for Brouwer's Café's 10th anniversary, Reuben's Brews Gobsmacked! triple IPA offers peach notes on the nose, with a cane sugar sweetness in support. Tangerine comes through in the mid palette, with grapefruit on the back end.
Hoof Hearted Key Bump XXXtra Powder
10.5% ABV
Is there a John Cusack movie from the '80s that you adore more than Better Off Dead? The dark comedy about a teen named Lane Meyer — who turns suicidal when his girlfriend breaks up with him — seems to be one of Hoof Hearted Brewing's favorite movie. Last week, Hoof's Who Wants To Hold My Clipboard? hazy IPA arrived to our cooler. This week, Key Bump XXXtra Powder triple IPA arrived at Peaks with Better Off Dead character Charles De Mar on the can. Brewed with 10 pounds of hops per barrel of El Dorado, Mosaic, Motueka, and Simcoe hops, Key Bump is a hazy, juicy and sweet triple IPA.
Evil Twin IPA is not a Problem to be Solved, but a Reality to be Experienced
10% ABV
Jeppe Jarnit-Bjergsø founded Evil Twin Brewing in 2010 as a nomadic brewery. He would concoct a recipe for his beer and hand it to another brewery with some extra capacity. In 2012, Jeppe Jarnit-Bjergsø found roots in Brooklyn. His IPA is not a Problem to be Solved, but a Reality to be Experienced is a triple IPA brewed with Waimea, Citra, and Wakatu hops for tropical and earthy flavors.
---