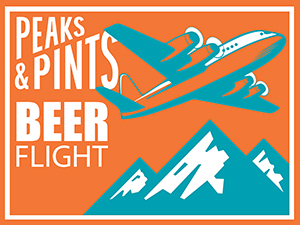 Consider the Oreo. In the 100 years since its invention, Oreo has become the representative cookie of modern American culture. Everyone loves Oreos. (Quiet down, contrarians. We said everyone loves Oreos.) Oreos are mixed into Dairy Queen Blizzards. They're used to make chocolate-y delicious pie crusts. Weird Al Yankovic wrote a song about Oreos called The White Stuff. And, they make delicious stouts. It's not like you didn't know there were stouts made to emulate Oreos. It's a pretty obvious and common adjunct flavor profile, chocolate and vanilla. Smoosh 'em together, and that's basically an Oreo. Today is National Oreo Cookie Day. In celebration, we're suggesting a to-go flight of chocolate meets vanilla meets marshmallow meets alcohol in our flight, Peaks and Pints Pilot Program: Oreo Day on The Fly.
Peaks and Pints Pilot Program: Oreo Day on The Fly
High Water Campfire Stout
6.5% ABV, 38 IBU
This pitch-black stout is impenetrably dark and tastes of liquid s'mores. That may sound ridiculous, but High Water Brewing didn't overdo the flavor of graham cracker, and the marshmallow is mostly in the nose. As for chocolate? Well, we'd be lying if we said there was no room for chocolate notes in beer. "Flavored" beers should be met with caution, and often they have a polarizing effect on their audience. But there's definite charm in a beer that has you reliving childhood memories of eating marshmallows until your fingers were forever glued together and unrolling that worn flannel sleeping bag so you could fall asleep under the stars.
Blank A Round On the House
8% ABV
In 1987, Steve Hindy and Tom Potter, ignoring all sane advice from friends, and threats from the mafia, quit their day jobs and paved the way for New York breweries by opening Brooklyn Brewery. They didn't find success until they started their own distribution company, now known as the Craft Brewers Guild, and hired former Manhattan Brewing assistant brewer, Garrett Oliver. Today, there are many craft breweries calling Brooklyn home, including ______ Brewing, or Blank Brewing. Flying under the radar, this Brooklyn-based nano brewery brews delicious beers with 12 Percent Beer Project in New Haven, Connecticut. Blank's A Round On the House is a Cocoa Krispies-inspired imperial milk stout brewed with lactose and cocoa nibs.
Off Color Dino S'mores
10.5% ABV, 40 IBU
John Laffler of Goose Island and Dave Bleitner of Two Brothers opened Off Color Brewing in March 2013. At the brewery's launch party, a local pastry chef cooked up a batch of dinosaur-shaped s'mores for munching; these treats provided the inspiration for an imperial stout Off Color would later brew in collaboration with Danish brewer Amager Bryghus and venerable Windy City bottle shop West Lakeview Liquors. The beer — flavored with marshmallow fluff, molasses, vanilla beans, graham flour and cocoa nibs — was named Dino S'mores and has been available since 2014. It's sweet and sugary, with a bouquet of blackstrap molasses, graham cracker and marshmallow fluff atop a layer of alcohol, vanilla, marshmallow and milk chocolate.
Avery Vanilla Bean Stout
10.8% ABV, 29 IBU
Now a year-round release, Avery Brewing's bourbon barrel-aged blend of an imperial stout and a regular American stout flexes its decadent vanilla addition from the get-go, offering a big nose of warm, sticky vanilla, toasted coconut and a flit of whiskey. Vanilla dominates the front of the sip but gives way to smooth milk chocolate, coconut, caramelized marshmallow and hints of roast coffee, followed by dark chocolate lingering at the end. The barrel takes a supporting role, allowing the oak to just dry out the full swallow, leaving pleasant warmth in the throat.
Skookum Vanilla Solitary Confinement
11% ABV
Skookum Brewery Vanilla Solitary Confinement is comprised of 66.6 percent imperial stout aged 16 months in Woodford reserve bourbon barrels and 33.3 percent aged for 11 months in Woodinville whiskey bourbon barrels. We they finished the blended beer on a heap of whole vanilla beans — twice as many as the previous batch for notes of toasted marshmallow, bourbon soaked lady fingers, oaky chocolate and roasty malt — in other words, a boozy Oreo.
Fort George Matryoshka 2021 Vanilla & Cocoa Nibs
12.8% ABV
For this vintage, the Fort George Brewery Matryoshka 2021 is aged for one year in a blend of Buffalo Trace Bourbon and Westward Whiskey barrels. This barrel aged Russian imperial stout is an exercise in balance and intensity, full of bold flavors such as vanilla, anise, chocolate, coffee, and charred oak, all integrating seamlessly. Then, they add vanilla beans and cocoa nibs for initial strong chocolate followed by a blast of vanilla frosting flavor.
LINK: Peaks & Pints cooler inventory
---