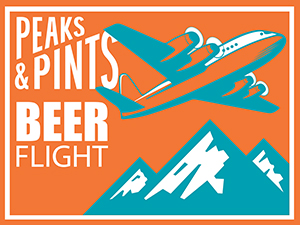 It is true that this New Year's Eve will look different than most, as the coronavirus pandemic continues to keep us from partying like a typical Tacoma rage machine. But, you want to celebrate a little at home. But, you don't want champagne, especially the cheap stuff that is going to give you one mean hangover, and chances are it could start before the night is through. You're looking for something different this year. Peaks & Pints suggests you toast 2021 with two classic European alternatives to champagne. The "Champagne of Belgium," otherwise known as lambic, is tangy and dry with bubbly effervescence. Or, take a note from the Germans and try Berliner weisse, a tart and refreshing style dubbed the "Champagne of the North" by Napoleon. Stop by and pick-up Peaks and Pints Pilot Program: New Year's Eve On the Fly.
Peaks and Pints Pilot Program: New Year's Eve On the Fly
1809 Berliner Weisse Style
5% ABV
Professor Fritz Briem, an expert in lactobacillus fermentation, is a former instructor at the famed Weihenstephan Institute where he earned his PhD. He has also taught at the Siebel Institute in Chicago. He now runs a small test-batch brewery at which he recreates historic styles for B. United International, such as 1809 Berliner Weisse Style. It's a very traditional interpretation of a Berliner weisse style with an intense blend of lactic tartness and complex fruitiness. This Berliner is champagne-like with its acidity, complexity, and carbonation.
3 Fonteinen Oude Geuze
6% ABV
Brouwerij 3 Fonteinen, or Drie Fonteinen, focuses on aging and blending lambics. It's a particularly Belgian concept that the creative process in producing a beer comes not when its ingredients are combined and fermented, but in how the resulting beer is aged and blended with other vintages to create a new transcendant concoction. In this case, 3 Fonteinen Oude Geuze is a blend of 1-, 2-, and 3-year-old lambic unfiltered and unpasteurized, then aged in the bottle for at least 6 months for its famous champagne-like spritziness.
De Cam Oude Lambiek
6.5% ABV
Geuzestekerij De Cam's Oude Lambiek is aged for a minimum of three years in oak casks and then bottled. It hits the nose with light apricot and lactic bite, with a touch of pineapple as it warms. Sweet-tart character comes through up front. Subtle Brett character brings in a pleasant bit of funk and horse blanket aroma. On the tongue, expect a moderately high acidity with a sharp Brett character. It's slightly sweet citrus up front with earthy hay notes. Bitter range peel lingers, along with sourness and a hint of sweet.
---