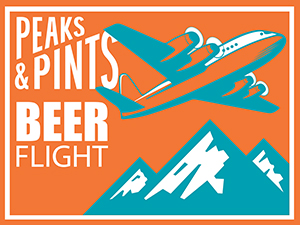 In the realm of desserts, pie is about as humble as it gets. There are no towers made of pie, like bakers craft out of macarons, none of those shocking flavor combinations — wasabi, curry — that come scooped on a cone. Peaks & Pints has coconut cream pie on the brain. It's filled with down-home goodness with a hand-crimped crust and a thick layer of custard amped up with shredded coconut for a more intense flavor. Peaks and Pints doesn't serve pie, but we do serve many coconut-flavored craft beers. We gathered a few for today's to-go beer flight, Peaks and Pints Pilot Program: Coconut On The Fly.
Peaks and Pints Pilot Program: Coconut On The Fly
Métier Black Stripe – Coconut Porter
5.5% ABV
A collaboration in brotherhood with Seattle's famous Jerk Shack Restaurant, Métier Brewing's Black Stripe took silver at the 2018 Washington Beer Awards. Brewed with Centennial and Willamette hops and infused with toasted coconut, this beer is silky smooth, rich and robust, with a touch of sweetness on the finish.
Icicle Brewing Dark Persuasion
6.5% ABV, 22 IBU
Icicle Brewing Co. sits in the Bavarian theme park known as the city of Leavenworth, which seems perhaps the most appropriate place for a brewery. Owner Oliver Brulotte, who has deep family roots in Washington's hop farming history, basically launch the Wenatchee Valley's craft-beer boom. The brewery draws their water from nearby Icicle Creek, a run-off from surrounded by numerous mountain ranges including the Stuart Range and Wenatchee Mountains. And, Icicle Brewing makes a liquid German chocolate cake, Dark Persuasion. Seriously, this stout tastes exactly like German chocolate brownie, with strong chocolate and coconut notes, a touch of vanilla and a smooth finish.
Caldera Toasted Coconut Chocolate Porter
6.2% ABV, 24 IBU
Caldera Brewing tosses in 300 pounds of hand-toasted organic coconut and lots of natural chocolate to create this dessert in a pint — smooth and velvety with a pronounced coconut-chocolate aroma and a waft of vanilla. The coconuts provide an oiliness to the soft body, causing the drizzles of chocolate syrup and wet coconut shavings that arrive at the swallow to linger long after each sip.
Maui Brewing Coconut Hiwa Porter
6% ABV, 30 IBU
Brewed with hand-toasted coconut and six varieties of malted barley, Maui Brewing's Coconut Hiwa Porter is a very dark, almost impenetrable, black coffee color. The aroma recalls baked coconut macaroons or, on the other end of the spectrum, coconut suntan lotion. The coconut flavor is present, but not overwhelming in the mouth, along with other roasted earthy lactose flavors.
Black Raven Coco Jones Coconut Porter
5.6% ABV, 38 IBU
This beer has a storied history at Black Raven. It was first brewed back in 2009 as a variant of the Redmond, Washington brewery's Tamerlane Brown Porter, infused with toasted coconut. When customers went cuckoo for Coco, Black Raven decided to enter it in the World Beer Cup where it won a gold medal (category: herb/spiced beer) in 2010, as well as the 2017 Washington Beer Awards in the same category. Tournament of Beers governing body wasn't a surprise when the public voted Coco Jones a number one seed in the Seattle/King County region. Coco Jones has raven sharp vision set on the trophy with a ton of coconut, cacao and molasses to back it up.
Oskar Blues Death By Coconut
6.5% ABV, 45 IBU
Oskar Blues Brewery's Death By Coconut is a standout Irish porter cold-infused with dried coconut. The coconut is steeped in the beer, tea-like, in large sacks as to get the aroma and creamy sweetness of the coconut into the beer. Death by Coconut's other essential ingredient is cholaca, a liquid chocolate made with cacao and coconut sugar. The cholaca doesn't just gel with the porter and coconut, but it accentuated both aspects well. It's a rich, full-bodied fudgy coconut porter with toasted marshmallow notes too.
The Bruery Bakery: Coconut Macaroons
12.2% ABV
Macaroons, those glorious little cookies that look like an OCD pastry chef's re-envisioning of the hamburger as tiny French patisserie experiment, have become trendy. And unlike the rise of the cupcake, the macaroon is something we greeted with great happiness. Peaks & Pints finds the same happiness when we sip on The Bruery's Bakery: Coconut Macaroons. It's a rich, imperial pastry stout drawn from the decadent flavors of coconut macaroons that's aged in bourbon barrels with coconut and vanilla to attain its pastry-like, amazing flavors.
---