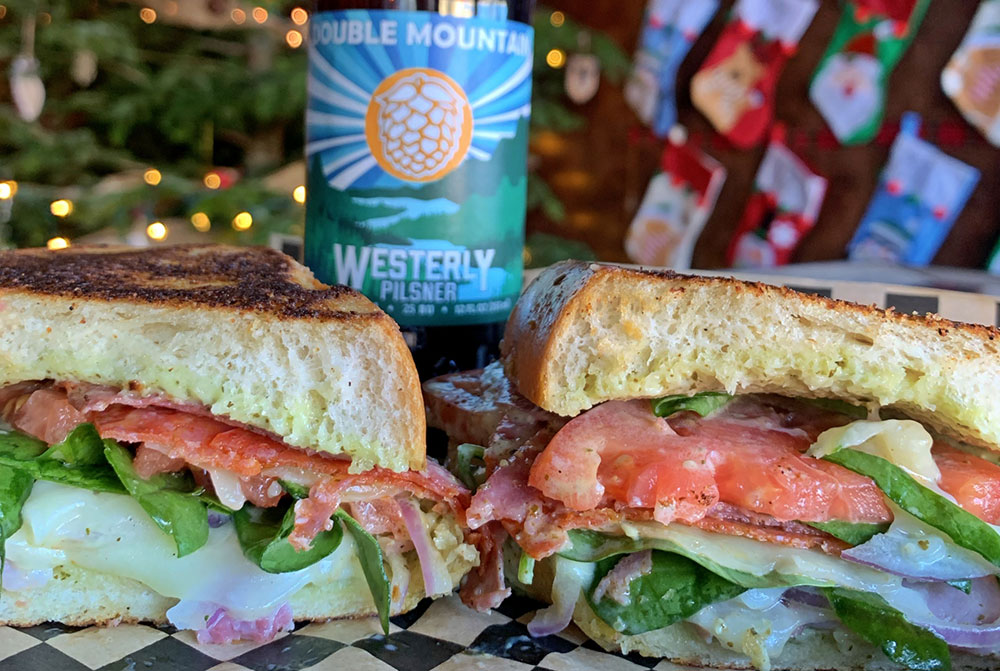 Tacoma Sandwich Special of the Day: Italian Lumberjack
MONDAY, DECEMBER 28 2020: Today's Peaks & Pints sandwich special is the Italian Lumberjack featuring salami, pepperoni, ham, creamy pesto, provolone, onion, tomato, and spinach on sourdough.
PAIRING: Double Mountain Westlerly, a Northwest inspired, crisp and dry Czech pilsner with a hint of spice from the addition of rye, and just bitter enough to remind you that you're not in Bohemia anymore. 
THING TO DO: Call ahead at (253) 328-5621 or order online on our homepage. Cheers!
Peaks & Pints craft beer bar, bottle sop and restaurant is open Tuesday-Sunday, 11 a.m. to 8 p.m., with the kitchen closing at 7:30 p.m.
As a neighborhood restaurant, we take pride in our commitment to providing a clean, safe, and vibrant environment. Please rest assured that Peaks & Pints has built upon these best practices to follow the COVID-19 protocol provided by the CDC (see below).
Thank you all for your support. We'll keep our Proctor neighborhood business going as long as you'll have us. Be well and stay well. Peace to you and yours.
LINK: Peaks & Pints full menu
LINK: Double Mountain Westlerly Pilsner is in the Peaks and Pints cooler
Safety Is Priority Number One
One of the most fulfilling aspects of our craft beer and cider bar, bottle shop and restaurant is being a gathering place for the community. It's a role we do not take for granted, and there are many responsibilities that come along with it — the health and safety of our guests and staff being at the top of the list. …
Face masks must be worn at all times.
Please maintain a social distance of 6 feet while waiting for take-out food and/or Campfire Crowler and growler fills,
We're continuing with two people at a time in the cooler with the line forming up the back stairs.
We're open 11 a.m. to 8 p.m. each day for now, but we hope to return to "before times" hours as soon as possible.
Hope to see you soon.
4

Culture Shock

Last Unicorn

Blueberry Ginger Kombucha

Seattle, WA

%

Just Tapped

5

Bluebeard Coffee Roasters

Nitro Cold Brew Coffee

Cold Brew Coffee

Tacoma, WA

Just Tapped

6

Rainier

Mountain Fresh Rainier Beer

Lager

Seattle, WA

4.73%

IBU

Just Tapped

7

Finnriver

Cranberry Rosehip

Cider

Chimacum, WA

6.5%

Just Tapped

8

Grit City Ciderworks

Mango Citra Hopped

Hopped Cider

Tacoma, Wash.

6.5%

Just Tapped

9

Little Beast

Ms. Marvelous

Sour Fruit Mango

Portland, OR

5.5%

IBU

Just Tapped

10

Sig

Imagine Dragon Fruit

Fruit Beer Dragon Fruit, Hibiscus

Tacoma, WA

6.2%

IBU

Just Tapped

11

Dwinell Country Ales

Guesswork

Saison Barrel-fermented peaches

Goldendale, WA

5%

IBU

Just Tapped

12

Chuckanut

Pilsner

Bohemian-Style Pilsner

Bellingham, WA

5%

36 IBU

Just Tapped

13

Wayfinder

Hell

Helles Lager

Portland, OR

4.7%

IBU

Just Tapped

14

Weihenstephan

Hefe Weissbier

Weissbier

Freising, Germany

5.4%

14 IBU

Just Tapped

15

Block 15

Joy

Pale Ale

Corvallis, OR

5.6%

IBU

Just Tapped

16

Everybody's

Pop-Up Park IPA

IPA

White Salmon, WA

6.9%

75 IBU

Just Tapped

17

Fort George

Magnetic Fields

Hazy IPA

Astoria, OR

7.2%

IBU

Just Tapped

18

Reuben's Brews

Bits & Bobs

IPA

Seattle, WA

7%

50 IBU

Just Tapped

19

Wayfinder

Chronokinetic

IPA

Portland, OR

6.2%

IBU

Just Tapped

20

Reuben's Brews

Grunge Crush

Hazy IPA

Seattle, WA

6%

47 IBU

Just Tapped

21

Western Red

Main Line

Red Ale

Poulsbo, WA

5.24%

IBU

Just Tapped

23

Structures

Forest King

English Brown

Bellingham, WA

5.2%

IBU

Just Tapped

24

E9

Holy Diver

Belgian Strong Dark Ale - Barrel Aged (Syrah)

Tacoma, Washington

9.9%

IBU

Just Tapped

25

Black Raven

Splinters

Bourbon Barrel Aged Strong Scotch Ale

Redmond, WA

10.8%

24 IBU

Just Tapped

26

Georgetown

18 Pound Hammer

Imperial Porter - Barrel Aged (Bourbon)

Seattle, WA

10%

28 IBU

Just Tapped

27

Double Mountain

Chocolate Stout

Stout

Hood River, OR

6.8%

IBU

Just Tapped

28

Founders

KBS Espresso

Bourbon Barrel Stout w/ Espresso & Chocolate

Grand Rapids, MI

12%

70 IBU

Just Tapped
---