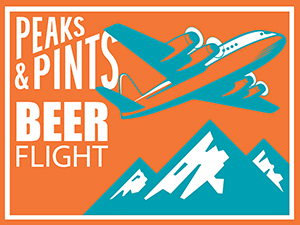 Some days require a pick-me-up, and a sweet treat can boost anyone's spirits. And when those treats also resemble craft beer, it's usually a bit easier to forget whatever is ailing you. It's National Truffle Day — the deliciously sweet treat with a chocolate ganache center coated in chocolate, icing, cocoa powder, and chopped nuts. As plentiful and familiar as it is, chocolate can be a very fussy ingredient to work with. If you've ever tried to melt down a pricey bar of dark chocolate to make your own candy you know it takes just one second for the perfect pool of melted decadence to burn. Brewers also know chocolate can be fussy. Real chocolate with high levels of fat can cause all kinds of problems for mouthfeel and head retention. Cocoa butter can have a negative effect on your head retention too. Chocolate extract can over carbonate beer and potentially cause bottle bombs. But when brewers dial chocolate in — Oh là là. And brewers dialed it in for our to-go flight today: Peaks and Pints Pilot Program: National Truffle Day On the Fly.
Peaks and Pints Pilot Program: National Truffle Day On the Fly
Samuel Smith's Organic Chocolate Stout
5% ABV, 28 IBU
Samuel Smith's Organic Chocolate Stout pours dark brown with a thin, khaki head. Light oatmeal and bready aromas lift to the nose, reminiscent of rising dough. On the tongue, this brew's complex and, with its oatmeal character, has a decidedly cookie quality to it: It's silky-smooth across the tongue, but also deep and grainy in the flavor. It's velvety and delicious, with creamy chocolate milk, chocolate syrup and cocoa powder dancing on the tongue. The brew sinks into the mouth and finishes sweet and full.
Alesong Mocha Rhino Suit
12.2% ABV, 31 IBU
The name Rhino Suit isn't something the Alesong Brewing & Blending owners wear to raise awareness and funds, but rather it's a term dropped by their winemaker friend while Doug Coombs, Brian Coombs and Matt Van Wyk listened to his business advice. The Sonoma winemaker said you must wear a rhino suit every day to battle through walls of negativity. After the meeting, the Alesong owners knew the name of their first beer. The Mocha version of their imperial stout is a blend of imperial stouts aged in Heaven Hill bourbon barrels and finished on hand-selected and freshly roasted Nicaraguan coffee and Honduran cocoa nibs from the local artisans at Coffee Plant Roasters and Chocolate Alchemy. Notes of vanilla and coconut marry with the flavors of dark cocoa and roasty coffee for a decadent treat.
Block 15 Super Nebula 2021
13.25% ABV
Each year Block 15 Brewing matures Super Nebula — an imperial version of their Nebula stout — in unique bourbon barrels, followed by conditioning on cocoa nibs selected to complement that year's blend. This year's Super Nebula is matured in Basil Hayden bourbon barrels and then conditioned on direct trade wild harvest heirloom cocoa nibs from Bolivia for a chocolate and bourbon nose that leads to the palate.
Revision Barrel-Aged Liquid Contrast
15.1% ABV, 30 IBU
Revision Brewing's Barrel-Aged Liquid Contrast is an imperial stout aged in American whiskey barrel for 16 months and conditioned on cacao and vanilla beans. It hits the nose with decadent notes of big chocolate, vanilla, rich bourbon brownie, and iced mocha. The chocolate, mocha, and vanilla continue in flavor with mild barrel char, caramel, and a strong roast character.
LINK: Peaks & Pints cooler inventory
---