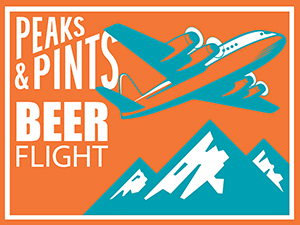 In the Beginning, there was Ninkasi, the Sumerian goddess of fertility and the mother of all creation including the growing of grain (barley being her emblem), brewing of beer, and the passion and seduction that may result from a beer-fueled Sumerian party. Centuries later, there was Kevin Davey, the American god of cold IPA. Ninkasi was also borne of "sparkling fresh water." She is the goddess made to "satisfy the desire" and "sate the heart." She would prepare the beverage daily. Wayfinder Beer Brewmaster Davey might not be borne of sparkling fresh water, but he brews with fresh water, (68–72 °F/20–22 °C) when he makes his cold IPAs, which are so delicious you want to drink them daily. Cold IPAs are the focus of our to-go beer flight today, Peaks and Pints Pilot Program: Cold IPAs On the Fly.
Davey, and now many brewers since, take the India pale lager, or IPL, style and in addition to brewing with a lager yeast strain and dry hopping, he ferments the lager yeast at warmer temperatures to avoid the excessive SO2 and bring out the hops without ale yeast aromas. He uses Pilsner malt, rice, or corn to dry it out, as well as adds dose of kräusen — fresh wort from a batch of helles or pilsner during dry hopping, which leads to the biotransformation of hops. The result is a crisp and sessionable IPA with hop aroma, assertive bitterness, and a bold, clean finish.
Today, Peaks and Pints presents a to-go flight of cold IPAs. While other cold IPA brewers might not use all of Davey's techniques, their cold IPAs are cold fermented with lager yeast for easy-drinking, hoppy beers.
Peaks and Pints Pilot Program: Cold IPA On the Fly
Wayfinder Chronokinetic Cold IPA
7.2% ABV
Wayfinder Brewmaster Kevin Davey cool ferments this pale yellow cold IPA to showcase its clean balance of New Yakima hops and tropical New Zealand varieties for juicy, tropical, citrus-lemon, mint and a bit of dank flavors.
Kulshan Patio Promenade
6.5% ABV, 50 IBU
Kulshan Brewing Head Brewer Wesley Finger's Patio Promenade IPA is cold fermented with lager yeast, resulting in an extremely crisp and refreshing malt profile that allows the malt to shine, plus zesty citrus notes and tropical fruit accents.
Wayfinder Relapse IPA
7% ABV, 55 IBU
The award-winning, prototypical Cold IPA based on a West Coast IPA but brewed to the new Cold IPA processes described above, it receives its extra-bright color and body courtesy of copious quantities of Bob's Red Mill rice flour. Relapse is kettle-and dry-hopped with fruit-forward varietals, including pineapple-y Chinooks from Michigan's Hop Head Farms. It's cold-conditioned, krausened and filtered for maximum crushability, incredible crispness, lights piney hop notes with good bitterness, and a CLEAN finish.
Top Rung HDR #14
8% ABV, 84 IBU
Top Rung Head Brewer Tyler Mathis brewed the 14th version of HDR — Hop, Drop and Roll (Fire Chief Casey Sobol owns the joint) — similar to an IPL but with the hop punch of a northwest IPA. It's crisp, clean and comes out rolling.
---