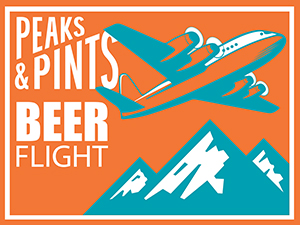 July 12, 2013, Scott Wagner, Gordon Rush, Matt Smith, Thair Jorgenson, and Chris Dewald opened the 15-barrel Narrows Brewing perched on pilings above the Narrows waterway. As guests gazed at the 700 feet of guest docking below and beyond to the Narrows bridge, Joe Walts, former quality control manager at Ale Asylum Brewing in Madison, Wisconsin, brewed in the back. After a couple years, Walts returned to Ale Asylum with former Harmon head brewer Mike Davis taking over the head brewing position. Davis eventually returned to his beloved Hawaiian Islands with Matt Rhodes — formerly with Stone Distributing and King Harbor Brewing out of Redondo Beach, California —letting his freak flag fly, injecting new recipes into the brewery, especially hazy IPAs and crazy delicious imperial stouts. Today, Peaks and Pints presents a to-go beer flights of Narrows beers that we call Peaks and Pints Pilot Program: Narrows On the Fly.
Peaks and Pints Pilot Program: Narrows On the Fly
Narrows All Together IPA
6.5% ABV, 12 IBU
Narrows joined the world in brewing All Together IPA, an open-ended beer collaboration created by Other Half Brewing to raise support for the industry we all love. At last count, 825 breweries across 53 countries are participating in this collaboration. Since everything necessary to brew and promote All Together has been made available for free distribution, Other Half asks in return that a portion of proceeds from the beer would be donated to hospitality professionals in their local community. Narrows is donating to Crisp Greens Tacoma's effort to feed local frontline workers. Narrows brewed with oats, providing a soft palette for the heavy Mosaic, Citra, Simcoe, and Cascade dry hopping.
Narrows Hibiscus IPA
5.9% ABV, 20 IBU
While hibiscus is relatively new to brewers, people around the world have long sipped hibiscus drinks. Northern Africans drink karkadé, a tea served hot or chilled; Jamaicans use the blooms in a punch called agua de Jamaica, often flavored with cinnamon, ginger and allspice, and served over ice. The delicate flowering plant seems an unlikely ingredient for an IPA, though brewers have already harnessed the tropical pink petals to add floral and fruity notes into their farmhouse ales. Narrows Brewing Hibiscus IPA works. It's brewed with 30 pounds of hibiscus and dry hopped singularly with Mosaic. This latest incarnation is fruity and floral, slightly tart and perfect for the summer.
Narrows I Assure You, We're Open
6% ABV, 50 IBU
In the movie Clerks, after the local savages put gum in the locks, Dante had to hang a sign in front of the store that read, "I assure you, we're open." Signs imitating this Kevin Smith original have been seen throughout the country ever since. The funny thing about this is that this was just a smart move by Smith to explain why the store was always dark because he had to mostly shoot at night. Narrows Brewing is also open for in-house consumption. To celebrate this long-awaited occasion they have released I Assure You, We're Open IPA, an old school-ish IPA hopped with Simcoe and Centennial. It drips with hop oil and flavor.
Narrows Proctor IPA
5.7% ABV, 55 IBU
A neighborhood is an area where people live and interact with one another. In Tacoma, a neighborhood is also a series of delicious craft beers brewed by Narrows Brewing. "Hey, Proctor District," Narrows head brewer Matt Rhodes, "won't you be my Neighbor?" Indeed. Rhodes brewed the hop-forward Proctor Pale featuring a double dry hopping of Citra and a pale malt base. Proctor Pale has been reformulated into the easy-drinking Proctor IPA. Still brewed with spelt and dry-hopped with loads of Citra, Proctor IPA is similar to what you remember, just a bit more bitter and a bit more vibrant.
Narrows Giant Pacific Octo IPA
7.2% ABV, 72 IBU
As mentioned in the introduction paragraph, Joe Walts lead the brew team out of the launch. One of the first beers he brewed as the Giant Pacific Octopus IPA with Magnum, Columbus, and Willamette hops for a fruity, melon, and grapefruit flavor profile. Recently, Matt Rhodes reworked the recipe, with 2-row as the base for a foundation of Centennial, Chinook and Columbus hops, and an ever-rotating modern dry-hopping, for a fruit-forward, soft West Coast IPA.
---