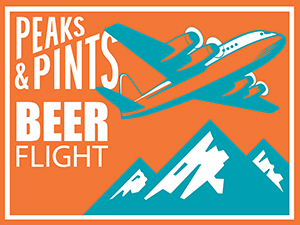 It's going to be cold at Peaks & Pints today. Really cold. It's true. The mercury will drop 15 degrees turning toes to ice, numbing faces, and ears will fall completely off, and with blue, chattering lips buried beneath nine layers of fleece, people will say this is the absolute coldest they have ever felt in their entire lives, despite the fact it will be 72 degrees inside Peaks & Pints tonight. You see Matchless Brewing and Kulshan Brewing have seen the light! And it's cold. The two Washington breweries brewed Cold Illumination, a cold IPA, and will release it at Peaks at 5 p.m. tonight. Don't worry. Matchless and Kulshan won't give you a cold shoulder. They'll be in the house with warm thoughts and slightly warmer beers from each of their breweries, although those beers will also be mighty cold. In conjunction, peaks & Pints presents a to-go flight from both breweries — a flight we're calling Peaks and Pints Pilot Program: Matchless and Kulshan Beer Flight.
Peaks and Pints Pilot Program: Matchless and Kulshan Beer Flight
Kulshan Plank Brothers
5.2% ABV
Kulshan Brewing's Pilsner won Peaks & Pints Tournament of Beer: Northwest Pilsners in the spring of 2019. Kulshan's Pilsner beat 63 other Northwest brewed pilsners to take home the championship trophy. The pilsner experts brewed another pilsner, this time with the help of The North Fork Brewery in Deming, Washington, east of Kulshan's Bellingham locations. Their Plank Brothers Pilsner offers crisp malt notes and a spicy, floral hop bouquet accentuated by citrus and red berry notes, thanks to Ariana, Saphir, Belma, and Lotus hops.
Kulshan Last Chair IPA
6.5% ABV
There is nothing else in the world you need when the snow is good, the lift is running, and you have your health. You ski or ride to the very last second taking the last chair up and head down quite often with the whole hill to yourself. Kulshan Brewing knows this feeling. The Bellingham brewery teamed up with the Mt. Baker Ski Area to brew Last Chair IPA, a West Coast IPA bursting with hop notes of citrus, berry, and tropical fruits.
Matchless Old Pine
6.8% ABV
This is Matchless Brewing's modern take on a "old school" West Coast IPA, harking back to the resinous hop bombs of yesteryear. Sweet pine resonates on the nose along with hints of fresh peeled citrus. It smacks with pine bitterness from the first sip, a partially unexpected front-end pop there, and it carries through the finish on the backs of a slightly fuller body from the grain and some of the essential oils that drips with from all the hops with additional notes of tangerines, grapefruit, and oranges to come through.
Kulshan Bull of the Woods
7.75% ABV
"Walking down endless rows of a green forest, the onslaught of hop aroma seduces one to a time, a place, a dream, a memory, an ideal," states Kulshan Bull of the Woods double IPA hype. "How can I put that in a pint and deliver it unto you? Never limiting, always pursuing, climbing to the top. Allow yourself to be enveloped by this blanket of hops, and dream a little dream, of a forest of green." Even if you don't find yourself in this scenario, you can expect a malty, dank, melon, resinous boozy IPA.
Kulshan Coffee Kitten Mittens
8% ABV
Kulshan Brewing adds four different malts — 2-row, Chocolate, roasted barley, and Munich — to Kitten Mittens Winter Ale giving it the rich, medium-bodied winter warmer we adore with a nose of milk chocolate and a touch of brown malt. The body strikes a nice mix of easy malty notes and medium sweet chocolate balanced by earthy hop notes, thanks to the Apollo, Willamette and Fuggle hops. Blended with cold brewed, Mexican roast coffee from Maniac Coffee Roasting, this version of Kitten Mittens boasts notes of raisin, cinnamon, and toasted nuts.
Matchless Cold Chocolate Peppermint Edition
8.8% ABV
There is snow in the mountains. There is a nip in the air. It's sweater weather. That means it's time to curl up by a roaring fire with a nice mug of Matchless Brewing Cold Chocolate, an imperial stout full of rich chocolate and creamy vanilla flavors. The Tumwater, Washington, brewery then spikes this imperial stout with an infusion of peppermint.
Matchless Treat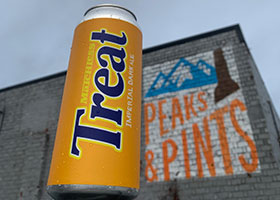 9.5% ABV
Matchless brewed an imperial brown ale with notes of chocolate and toffee and blended it with some fresh and some barrel-aged imperial stout. To top it all off they added peanut butter and chocolate for a "one-of-a-kind, crispety, crunchety, peanut-buttery Treat," says Matchless. Peaks & Pints says it tastes like unsweetened peanut butter with milder chocolate and caramel notes.
Matchless Thurston County
11.8% ABV, 50 IBU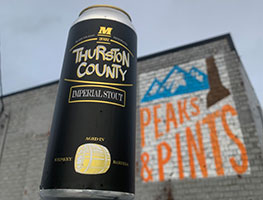 This year's Matchless Thurston County is a culmination of four different stouts, including a Russian imperial stout and oatmeal imperial stout, aged in various bourbon and whiskey barrels including Heaven Hill Bourbon and Westward Whiskey. While this one might not be coming straight from Bourbon County, folks still get thirsty for annual bourbon barrel-aged imperial stouts in Thurston County, and this is the Thurston County brewery's solution. Expect notes of chocolate bar, molasses, and caramel.
LINK: Peaks and Pints cooler inventory
---
Category:
Beer Flight
,
Beer Line Blog
,
Craft Beer
,
Critical Drinking
,
Events and Festivals
,
In The Cooler
,
Peaks and Pints Lodge Meetings
,
Peaks and Pints Pilot Program
,
Proctor District
,
Shop
,
South Sound
,
Specials
,
Tacoma events