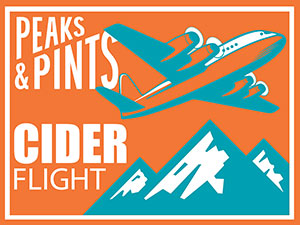 'Twas the fifth day before Christmas, and all through the city, everyone yearned for a cider and a Pesto Pastrami. The Monday French Dip Special were devoured, with nary a care, and boredom set in at every household lair. "Hey, it's Monday," they realized, "let's head to Peaks & Pints! This is the glorious day that they serve cider flights!" Peaks & Pints Monday Cider Flight 12.19.22: Holiday Cider is a thing. Five ciders in a to-go flight, all could be called cider bling. As the 10 p.m. closing time neared, folks grabbed their French Dip order, arm full of craft beer and cider were grabbed from the cooler. But we heard them exclaim as they ventured out of sight, "Happy holidays to all, and to all a good night!"
Peaks and Pints Monday Cider Flight 12.19.22: Holiday Cider
Finnriver Cranberry Rosehip
6.5% ABV
Cranberry sauce is an essential part of every holiday meal for one simple reason — it cuts through the heaviness of all the other dishes. It's light, it's bright, and it's pretty darn healthy. Finnriver Farm & Cidery's version is a small batch seasonal cider fermented to dry and then blended with the juice of transitional and organic cranberries from the Washington coast's Starvation Alley Farm. Head Cidermaker Andrew Byers then adds an infusion of wild rosehips gathered from woods and hedges around the Olympic Peninsula. Sweetened with unrefined organic cane sugar for added depth and balance, this holiday cider is lightly carbonated.
Fierce County Everything Nice
6.5% ABV
John and Tolena Thorburn adore craft beer. For 15 years they traveled the world drinking it. But an oversaturated market led them to cider. Learning and enjoying the varying styles and flavors unique to each brewer and set of ingredients, the Thorburns applied that experience to years of homebrewing and cidermaking. In 2017, Fierce County Cider launched its first commercial operating space in a 97-square foot ciderhouse in Puyallup. They've grown to include a taproom in South Hill Puyallup, but still use latest brewing technology and equipment to allow lead cidermaker Tolena to create "fiercely" ciders, including Everything Nice. The nano cidery's winter release is sugar, spice, and Everything Nice. Indeed. It's a blend of mulled spicy goodness, notes of cinnamon, nutmeg, and a hint of licorice.
One Tree Snow Globe
6.6% ABV
Who doesn't love glitter? It's nearly impossible to get out of your cleavage after a night on the town, but it's festive as hell. And now thanks to edible glitter, your digestive system can be as sparkly as your 1990s eye shadow palette. One Tree Hard Cider Snow Globe is a delicious, spiced cider with glitter. We recognize the clove and cinnamon, but the glitter seems like a handful rather than a full dance floor dump, which is perfect.
Yonder Cashmere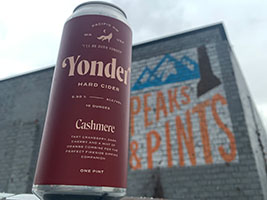 6.9% ABV
Founded in August 2020 by CEO Caitlin Braam, Yonder Cider makes savory, subtly sweet and high ABV ciders in Wenatchee with a taproom in Seattle's Ballard neighborhood, which is shared with Bale Breaker Brewing from the Yakima Valley. Crafted using a blend of bittersweet cider apples and juicy dessert apples, Yonder ciders are hardly simple, and never straightforward, but you can always count on them being interesting. Their winter seasonal Cashmere is inspired by one of Braam's favorite cocktails, the Negroni. Made with tart cranberry, ⁠dark cherry, and a hint of bitter orange, Cashmere hits the nose with orange peel and berry, pairing beautifully with notes from one of their favorite cider apples, Ashmead's Kernel. ⁠
Whitewood Cranberry Douglas Fir NW Winter Cider
6.9% ABV
Whitewood Cider out of Olympia renamed their annual holiday cider made with cider fermented from apples grown in Washington, blended with a seasonal punch of crisp cranberry, and a piney citrusy Douglas fir needle extraction to help you make your holiday spirit a little bit brighter.
LINK: Peaks & Pints cooler inventory
---