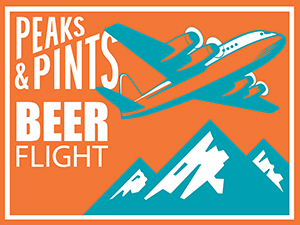 In 2008, Nick and Kristen Arzner opened Block 15 Brewing in the 1926 Gazette-Times newspaper building, just blocks away from Oregon State University and its prestigious Fermentation Science program. The Arzners took full advantage of Willamette Valley's agricultural abundance, which, of course, includes hops. Block 15 built a reputation for first-rate IPAs and other hop-forward ales, rock-solid renditions of classic recipes from around the world and a dazzling variety of Belgian-style brews, including cask-conditioned specialties featuring wild yeasts and exotic flavors. Today, Peaks and Pints presents a to-go flight of Block 15 craft beer that we call Peaks and Pints Pilot Program: Block 15 Brewing Flight.
Peaks and Pints Pilot Program: Block 15 Brewing Flight
Block 15 Cardinal Coalescence – Raspberry
6.1% ABV
Inspired by the classically tart and delightfully complex red ales from the Flemish region of Belgium, Block 15 Brewing Cardinal Coalescence – Raspberry blends fresh red ale with portions of mature brandy barrel-aged ale from their wild cellar. Extended conditioning in oak foeders with raspberries allows this blend to develop wonderfully balanced notes of raspberries, caramel, and dried fruit character alongside a complex acidity.
Block 15 Carpathians Czech Dark Lager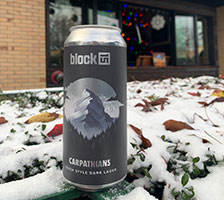 5.2% ABV
The Czech Republic has essentially two beer styles: dark and light. It's a spartan selection even in comparison to Germany and its Reinheitsgebot. There's the dark, chocolaty cerny (pronounced with a "ch" sound), and there's pilsner, the famous light-colored lager from the city of Plzen. Poured fresh, they're clear, bready, crisp, and delicious — and the reason Czechs drink more per capita than any country in the world. Inspired by the dark classic lager styles from Bohemia and crafted with Northwest pilsner and European dark specialty malts, Block 15's smooth Carpathians Czech Dark Lager sports a medium body with notes of dates, toffee, and roast.
Block 15 Dark Matter
5% ABV
Block 15's Dark Matter is a dry porter, a style that technically doesn't exist — at least according to Beer Judge Certification Program, although American Porter style is the closest as the flavor tends to have a dark malt dryness in the finish. The Corvallis brewery combines deep, roasty malt character with notes of cocoa and dark fruit from the addition of chocolate to the conditioning tank — a rich blend of flavors that is balanced by a dry finish and gentle malt acidity.
Block 15 Cheers To The Land
7% ABV
Lance Kagey and Rotator Creative design studio in downtown Tacoma did the design work for the Oregon Agricultural Trust, or OAT, and their Cheers To the Land, a campaign in which nine breweries across Oregon — including Block 15 — brewed new beers with Oregon-sourced ingredients and supporting the work of OAT to permanently protect Oregon's bountiful farm and ranch lands from development. Block 15's version is a West Coast IPA brewed with Gold Rush Malt, plus Comet and Zappa hops grown on estate at Crosby Hop Farm in Woodburn, Oregon.
Block 15 Sticky Hands Greatest Hits Vol. 2
8.1% ABV
Block 15 has brewed several versions of their popular Sticky Hands double IPA, which received enough public votes to be crowned the Peaks & Pints Tournament of Beer: NW Double IPAs Champion in April 2021. Their Sticky Hands Tropical Slam offers a tropical fruit explosion of mango, papaya, and pineapple with background pine and flora notes. Sticky Hands Brewer's Cut is brewed with Amarillo, Cashmere, Mosaic, Simcoe, Chinook, and Citra hops for citrusy flavors of Lemon Pez, spring blossom, peach, tangerine peel, and mango with a smooth bitterness and delicate pine aftertaste. Their Crosby Cut Sticky hands is brewed with Amarillo, Chinook and El Dorado from Cosby Hops bolstered by salmon-safe malts from Mainstem Malt and Skagit Valley Malting for waves of Seville orange and pineapple for a pungent, juicy, and resinous explosion. And their Fruit Cup version of Sticky Hands features a medley of hops presenting fruit flavors reminiscent of pineapple, tangerine, blueberry, and a squeeze of fresh lemon. Block 15 Sticky Hands Greatest Hits Vol. 2 hoppy compilation includes hits from all Sticky Hands Variants across 2022 — Tropical Slam, Brewer's Cut, Crosby Cut, and Fruit Cup all provide a unique contribution to this remastered hop experience.
Block 15 Hypnosis (2020)
12% ABV
Brewed with specialty English malt, Block 15's Hypnosis rustic barleywine is matured for 12 months in freshly emptied French cognac barrels, imparting an entrancing complexity that features notes of plum, caramel, Red Flame raisins, marzipan, orange marmalade, and a whisper of barrel character.
LINK: Peaks & Pints cooler inventory
---