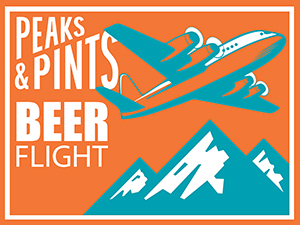 In the early 1700s, it was common for London pub patrons to ask for blends of the various available brews. Historical documents say the Brits called their mixed beer beverage "Three Threads" using a third of a pint each of ale, lager and a strong brew called "Twopenny." Eventually, bartenders told the Three Threadheads to take a flying leap off the London Bridge. Around 1730, a brewer named Harwood came up with a solution. He re-created the flavor of Three Threads into a single craft beer called Entire before it reached the pub. This beer came to be loved by porters and other physical laborers, and so earned its name, porter. Today, Peaks & Pints presents a to-go flight of new imperial porters. Imperial porter is an emerging American style that falls somewhere between the traditional brown and robust porters and the Baltic porter. Stop by our Proctor District craft beer lodge and grab Peaks and Pints Pilot Program: Imperial Porter On the Fly.
Peaks and Pints Pilot Program: Imperial Porter On the Fly
Narrows Frontier Justice Porter
7.8% ABV, 38 IBU
On July 12, 2013, the 15-barrel Narrows Brewing opened perched on pilings above the Narrows waterway. The taproom offers amazing views of the waterway and Narrows bridges while enjoying Head Brewer Matt Rhodes' crazy delicious hazy IPAs and imperial stouts, and this new imperial porter. Frontier Justice is a full bodied and complex porter, with notes of rich chocolate, roast, and slight dark fruit.
Pelican Bird-Day Volume 1
8.5% ABV, 40 IBU
Pelican Brewing's 25th birthday celebration begins with the release of Bird-Day Volume I, an imperial porter with passionfruit and cacao nibs that features a rich malt character offset by a bright streak of passionfruit tartness. This sultry imperial porter marries the creative minds of Pelican brewmaster Darron Welch and Pelican alumna Whitney Burnside to create a balanced, smooth and enveloping roasty finish ideal for any celebration. Burnside is head brewer of 10 Barrel Brewing in Portland.
Lucky Envelope 2021 Double Happiness Coffee Vanilla Whiskey Barrel Imperial Porter
11.2% ABV
Lucky Envelope Brewing brewed this decadent porter with Seattle's Coffeeholic House Dreamer Blend Vietnamese-origin coffee then aged it in Westland Whiskey and Copperworks Distillery whiskey barrels, with Madagascar vanilla beans, for bold cocoa and cane sugar notes, roasty caramel, milk chocolate, and warm toasted oak.
---