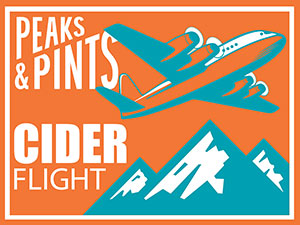 The five Shapira brothers didn't know anything about bourbon whiskey, and certainly didn't have any, when they founded Heaven Hill in 1934. Through a leap of faith, they wrote a check as a war was looming and opened shortly after Prohibition ended in Bardstown, Kentucky. Nevertheless, Heaven Hill made it through trying times and has remained in the hands of the family that started it since. Today, it's America's largest family-owned and operated distilled spirits producer and marketer. Their brands have grown beyond the company's traditional roots as a bourbon distiller to become the country's sixth largest overall distilled spirits producer and marketer with a portfolio of well-known, innovative and relevant products, and barrels brewers love to age their beer in. Today, Peaks & Pints presents a to-go flight of beers aged in Heaven Hill barrels — a flight we call Peaks and Pints Pilot Program: Heaven Hill On The Fly.
Peaks and Pints Pilot Program: Heaven Hill On The Fly
Triceratops Little Critics Sour Pennsyltucky on Cherries
4.8% ABV
Triceratops Brewing joins the rest of the American brewers rewriting the rules on sour beers. They use traditional sour styles as a jumping off point to experiment with techniques such as hops additions for bittering and aroma, racking sour beers into freshly used wine or spirit barrels, blending together batches, adding adjuncts, or, in the case of Triceratops, sour a lager on cherries then barrel age it. Little Critics is soured with Triceratop's house culture and conditioned on 30 pounds of Washington-grown cherries for a pleasing tartness, a restrained level of acidity, and an approachable 4.8 percent. Extended aging in Heaven Hill whiskey barrels further enhances the beer's complexity.
Logsdon Before The Dawn
9% ABV
Logsdon Farmhouse Ales' Before The Dawn is a blended imperial stout brewed with UK malts and aged in American oak bourbon barrels from Heaven Hill and Buffalo Trace. Generous amounts of Pale Chocolate malt provide chocolate flavor and deep black color. The higher ABV is masked by a deceptively smooth flavor with just a hint of residual sugar. A fittingly dark beer to kick off the dark season.
Ex Novo Kill the Sun Raspberry
11.8% ABV
Ex Novo Brewing Kill the Sun Raspberry imperial stout is a blend of Heaven Hill Distillery, 12 year Buffalo Trace Rye, and Westward Whiskey barrels that spends an average of 10 months in oak then conditioned on heaps and heaps of raspberries. The barrel character of the beer lends itself nicely to the sweet and tart flavors of the raspberry. Vanilla, roast, chocolate, toffee, and whiskey come together in a way that will have you asking if it is dessert or beer.
Matchless Brewing Matchless Bar 2021
12% ABV
In the movie Willy Wonka and the Chocolate Factory, Mr. Wonka, wearing a long velvet jacket and a top hat, leads Charlie on a tour of the colorful factory, which features a chocolate river, hot chocolate trees and a chocolate waterfall that flows down jagged rocks. Nowhere in Wonka's big, bright factory is there a mash tun. In Mr. Nick Crandall's Tumwater factory, there are several. Crandall and his Matchless factory have brewed the imperial stout version of a Wonka Bar — Matchless Bar. This decadent imperial chocolate stout is aged in Heaven Hill Bourbon barrels and blended with vanilla beans and cacao nibs. Unwrap this Bar and you'll discover what they imagine the chocolate river in Willy Wonka's chocolate factory would have tasted like … if it were beer.
---