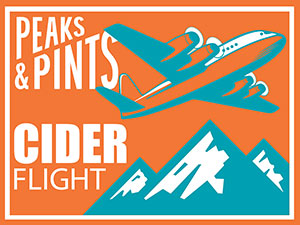 Barrel aging cider is a thing. Before industrialization, cidermakers in New England and Québec fermented, aged and transported cider inside wooden barrels. Brewers have long known that wood-aging can add flavor and depth to beer, especially if said barrel previously contained Kentucky bourbon, Jamaican rum or Washington state wine. Cider is a little trickier. Because cider is delicate, barrel-aged ciders are often either too light on cider flavor, or too light on added flavor. It's been said barrel-aged ciders can taste like a tulip glass of water-down booze or a glass of expensive cider. But, oak aging can be a useful technique to create balance in ciders made with more tart apples With oak, cider becomes micro-oxygenated from breathing and playing between the staves and outside air. It's this process that imparts the smooth and rounded-out qualities that are the hallmark of an aged cider. Today, Peaks & Pints presents a to-go flight of wood-aged cider, a flight we call Peaks and Pints Monday Cider Flight: Wood and Cider.
Peaks and Pints Monday Cider Flight: Wood and Cider
WildCraft Run of the Mill
6.8% ABV, can
WildCraft Cider Works Run of the Mill is made from a variety of apples in Lane County blended using the solera method, which is style of blending aged liquids year over year. Each year's harvest is fermented, and barrel aged in American oak barrels for 9 months before being added to the previous year's blend. This cider contains the aged fermentations of three consecutive harvest seasons.
Tieton Bourbon Barrel Peach
6.9% ABV, can
Tieton Cider Works blends American heritage, English and French cider varietals with dessert apples to capture the best of what each variety brings to the bottle: sweetness, acidity, tannin and aroma. Their popular Bourbon Barrel Peach cider was aged in previously used Dry Fly bourbon barrels. Aging in bourbon barrels gives the cider deep, rich notes of vanilla and spice.
Double Mountain Secret Crush
7.1% ABV, Campfire Crowler
Double Mountain Brewery & Cidery secretly fell in love with their first Brett cider, and needed to put a second round in oak barrels for five months. The result is delicious. The nose is oak and apple. Expect a gamut of mouth sensations: acid tingle, ton of oak, sourness, slight pineapple, mild funk, a little pear, then tartness fading to a dry finish.
Ole Swede Charred 5 Aged With Toasted Applewood
7.5% ABV, can

About a 1,000 people live in Tonasket, a city in Okanogan County, Washington. Lucky them to have Ole Swede Cider in their backyard. Tonasket native Casey Oberg launched Ole Swede on his family farm in 2014. His Charred 5 Aged with Toasted Applewood is made with Okanogan harvested Golden, Granny, Pink Lady, Honeycrisp and Manchurian Crab apples. Aged with toasted applewood from the same farms this off dry cider isn't too tart but rather sweet with applewood flavor.
Sea Cider Prohibition
12.5% ABV, bottle

Sea Cider Farm and Ciderhouse, overlooking the Haro Strait, an important orca whale habitat, is a farm-based cidery in Saanichton, near Victoria on Vancouver Island, British Columbia. Founded by sixth-generation farmer Kristen Needham, Sea Cider uses their own traditional English bittersweets and bittersharps, plus heritage apples from around Victoria. Their Prohibition cider is apple wine flavored and colored with molasses and aged in bourbon barrels for six months. The secret of Prohibition lies in the barrel. Rich, full-bodied and intriguing Newfoundland Screech barrels were the inspiration for Prohibition, which opens up to reveal notes of molasses, apples and sugar cane.
---