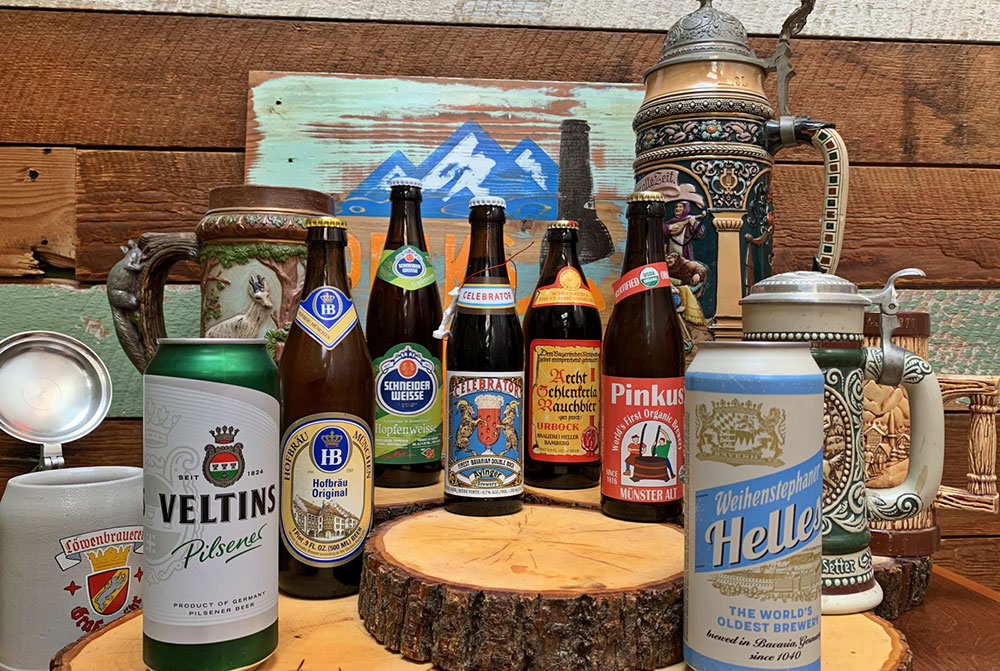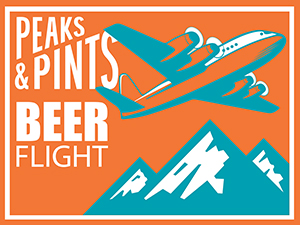 Today, the German Beer Purity Law — Reinheitsgebot — celebrates 506 years of absolutely nothing but barley (or wheat), hops, water, and yeast. Not so much as a spruce tip or cacao nib may defile anything called "beer." Across Germany, breweries, brewing museums, beer gardens, and micro-breweries will mark the purity law anniversary by opening their doors to allow a glimpse behind the scenes for visitors to experience the art of brewing as well as its long history. German brewing traditions are influenced by the highly controlled pragmatic Bavarian approach of the Reinheitsgebot coupled with the flamboyant, daring, and just plain weird ale-brewing approach that has brought the world altbier, gose, and Berliner weisse. Peaks and Pints celebrates German Beer Day with a special to-go flight, Peaks and Pints Pilot Program: German Beer Day On The Fly.
Peaks and Pints Pilot Program: German Beer Day On The Fly
Veltins Pilsnener
4.8% ABV, 30 IBU
In 1824, a small country brewery in Grevenstein, Germany, began brewing beer conforming to the German Purity Law. More than 180 years later it had evolved into one of the most modern private breweries in Europe: C. & A. VELTINS. The family run company, fifth generation, brewery still brews with malt, hops, yeast, and purest spring water – strictly in compliance with the Purity Law of 1516. The water from the mountain springs all around Grevenstein is unusually soft. Veltins Pilsener hits the nose with subtle malt and pleasant grassy character. The first sip bursts with carbonation and there is a balanced soft note of malt and gentle hops. The sweet malt slowly melds to a dry, clean, soft finish which leaves you begging for more.
Weihenstephan Helles
4.8% ABV
Weihenstephaner lays claim to being Germany's oldest continuous operating brewery, tracing its roots to an abbey brewery officially licensed in 1040, with evidence in the abbey's records that it was receiving hops (and therefore probably brewing) as early as 768. Today the brewery is owned by the State of Bavaria and is the "house" lab for a top brewing- and fermentation-sciences school. Their Helles is a mild quaffable lager with a subtle hop bouquet.
Hofbräu München Hofbräu Original
5.1% ABV
Wilhelm V, Duke of Bavaria wanted a wholesome brewery in Munich. The new brewery, Hofbräu München, lurched into action in 1592 in the city's old courts building with brewmaster of Geisenfeld Monastery, Heimeran Pongratz, to plan and supervise the construction of Hofbräuhaus (the "ducal brewery"), and to be its first master brewer. The only beer produced at that time at the company to be called Hofbräu was brown ale. While the brown ale was brewed with barley, the duke's successor to the dukedom, Maximilian I, preferred lighter wheat beers, and he promptly ordered the brewery to make them. By 1605, the facility was producing 38,000 gallons of beer per annum and couldn't keep up with the demand. By 1607, a new, larger building had been constructed to house the brewing operations. By 1614, the brewery began making a darker, stronger beer called maibock. For this pretzel pairing flight, Peaks & Pints selects Hofbräu Original, a helles lager with aromas of herbal and lightly floral hops, malt, and some wheaty aroma, followed by flavors of herbal hops, also a little bit earthy and floral, malt, wheat, some yeast, a pleasant bitterness midway through the finish.
Pinkus Müller Münster Alt
5.1% ABV, 22 IBU
Pinkus Müller is a German brewery based in the northern German town of Münster. The Pinkus-Müller brewery traces its origins to the arrival of Johannes Müller (1792–1870) in Münster from his hometown of Hildebrandshausen in 1816. After marrying Friederika Cramer they opened a bakery and a brewery. In 1866 the bakery was closed and a malthouse was opened instead. In the following hundred years the brewery and the pub were expanded. In 1993, a bottling plant was opened in the neighboring city of Laer.  It is the only brewery left in Münster from original 150 breweries. Made of organic country malt, top-fermenting yeast, natural hops and first-class brewing water in long-proven brewing procedure, strictly after the German purity requirement, Münster Alt hits the nose and tongue with flora, herbs, caramel, and malt.
Ayinger Celebrator Doppelbock
6.7% ABV, 24 IBU
About 25 kilometers from the Oktoberfest grounds in Munich, is a little town called Aying, home to the beloved Ayinger Brewery (Brauerei Aying). This 143-year-old brewery has a deep family history, and remained almost completely unchanged until a new, updated brewery was built in 1999 in order to keep up with the growing market. Again and again Ayinger has won awards for its beers, including the World Beer Cup, and the Deutschen Landwirtschafts Gesellschaft – DLG (German Agricultural Society) gold and silver medals. During Lent, as legend goes, German monks sustained themselves by sipping strong, dark lagers dubbed doppelbocks. This timeworn tale of liquid bread tends to overshadow an indisputable truth: Dopplebocks are fantastic feats of brewing engineering, no more so than Ayinger Celebrator. With accolades from the late Michael Jackson and a collection of gold medals from the World Beer Cup, this rich, toffee-rocked lager is dark, crisp, with a touch of chocolate and grape notes. While presenting a full body, it's not cloyingly sweet and features a wonderfully creamy body and enough alcohol to warm your palate.
Schneider Weisse Hopfenweisse (TAP5)
8.2% ABV, 40 IBU
Schneider Weisse has a history dating back to 1872, when the company G. Schneider & Sohn was founded in Munich by royal brewer Georg Schneider I and his son Georg Schneider II. When the King of Bavaria later decided to sell the rights to brew wheat beer, Schneider snapped it up, acquired the Weisses Bräuhaus in Munich (the oldest wheat beer brewery in the city), and became the first "common man" to brew wheat beer in Bavaria. According to the official website, the company expanded its operations to the nearby towns of Kelheim and Straubing in 1927, and subsequently, after the breweries in Munich were bombed and destroyed during World War II in 1944, they moved their entire production to Kelheim. Schneider Weisse's basic assortment of beers consists of seven "Taps", including Hopfenweisse (Tap 5), a strong wheat brewed with Brooklyn Brewery. Hopfenweisse is hoppy, but flowery, bitter and full-bodied, and still with a sweet malty aroma.
Aecht Schlenkerla Rauchbier – Urbock
6.5% ABV, 40 IBU
One day we hope to taste the perfect bacon beer but until then we have the hickory-charred resin-dried chocolate-smoked German-styled smoked bock beer Aecht Schlenkerla Rauchbier – Urbock, in which its barley malts are smoked over beech wood logs. Its higher smoke malt concentration and longer maturation in the 700-year-old cellars underneath Bramburg create a flavor profile of most intense smokiness beautifully balanced with deep malt sweetness. It tastes somewhat sweet dark malt with dark bread and a little treacle tone, dry toasty roast, moderately smoky notes of campfire and subtle smoked ham, oak, dry on the back end where the smoky, ashy notes overpower the malt. It has a light body with extremely low carbonation. It's a solid smoke beer.
LINK: Peaks & Pints cooler inventory
---