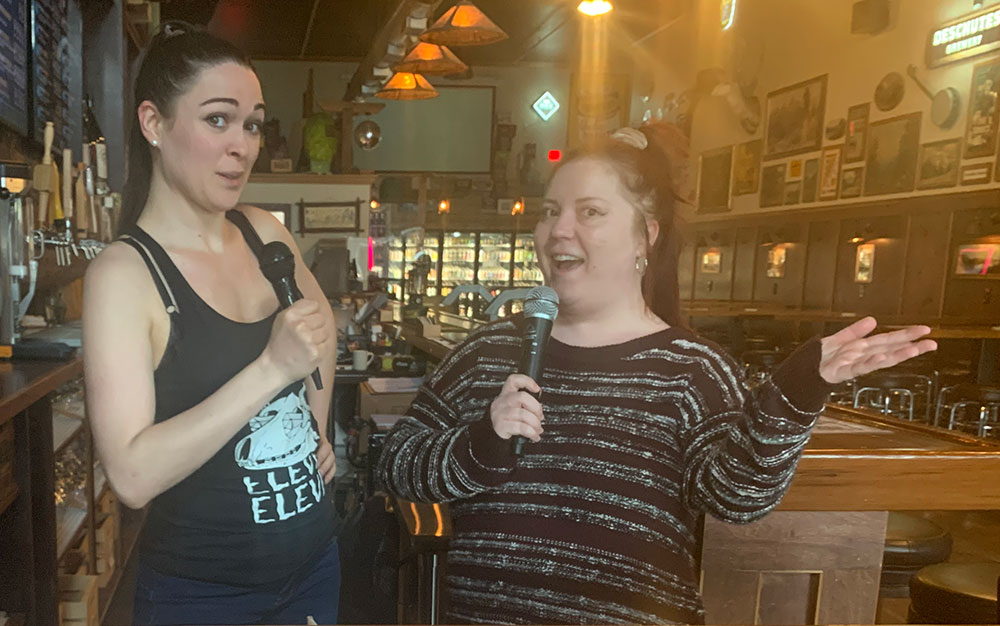 Peaks and Pints Tournament of Beer: Northwest Lagers April 22
CLAIRE BRINICH: Hello everyone! I'm Peaks & Pints bartender Claire Brinich. Beginning April 26, we'll cut the field of 64 Washington and Oregon brewed pale and light lagers down to the Sweet Wort Sixteen. April 28, it'll drop to the Ethanol Eight. On April 30, we'll announce the winner of the Peaks and Pints Tournament of Beer: Northwest Lagers – picked by you, of course – at Peaks in Tacoma's Proctor District. On that Saturday, we'll cut the online voting at 5 p.m. and take the vote live inside our craft beer lodge, handing out ballots while you pound lagers. If you's like to skip our witty banter and just vote today, click VOTE NOW.
ERIKA BROWN: That's all fine and dandy, but it's Friday and you don't have time for idle recaps. You need to vote so you can rock out with The Groove Colony, The Whole Bolivian Army, and Saint Hussy at The Valley. OK, OK, here are yesterday's results and today's lager matchups. Thanks for voting!
Thursday, April 21, Second Round Northwest Lagers Games Results
GAME 1, NORTHERN WASHINGTON REGION
Burke-Gilman Brewing Vitamin R Lager (#12 seed) vs. Reuben's Brews Southsun Mexican Style Lager (#4 seed)
BRINICH: In August 2012, Reuben's Brews opened in Seattle's Ballard District. Since then, the team has accrued an astounding number of accolades, including more World Beer Cup medals than you have fingers and toes. In fact, they're the most awarded brewery in the state. However, their Award Annex won't include the Tournament of Beer: Northwest Lagers trophy. The major award is still an option for Burke-Gilman Brewing and their Vitamin R Lager. The Seattle brewery next to the Burke-Gilman Trail won 65 percent of the vote. Vitamin R enters the Sweet Wort Sixteen!
BROWN: Nice job Vitamin R! side note: Reuben's is committed to reducing our carbon footprint and increasing our sustainable business practices. They'd like everyone to bring their plastic can carriers to their Seattle taprooms. Peaks & Pints will take them too!
GAME 2, SOUTHERN WASHINGTON REGION
Wet Coast Brewing Costa Mejor Golden Mexican Lager (#6 seed) vs. Grains of Wrath Dive Bar Lager (#3 seed)
BRINICH: In the 1932 presidential election, King, Pierce, and Spokane counties voted "wet," meaning those citizens voted for Democrat Franklin D. Roosevelt and his desire to bring back the drinkies, instead of Republican President Herbert Hoover's desire to keep "the noble experiment," Prohibition. Wet Coast Brewing has a love affair for the Prohibition days with their brewery name and many beers named after the darker side of Prohibition.
BROWN: According to the definition laid out by the Oxford English Dictionary, a "dive" is a "shabby or sleazy bar or similar establishment." Merriam-Webster says, "a shabby and disreputable establishment (as a bar or nightclub)." Shabby and/or sleazy according to whom? Your posh grandma who won't step foot outdoors without her pearls? Or the drunk who visits the dive? Either situation, the dive bar would be lucky to have Grains of Wrath's Dive Bar Lager on tap.
BRINICH: We bring these topics forward because we didn't think to play up the seedy, dark side of this game. In fact, it was our end-of-the-bar, lager drinking, good 'ol days lovin' regulars that pointed it out. They said Wet Coast would win because the Gig Harbor brewery is "all about drinkin' and gangsters and Grains of Wrath is about old dive bar people like us."
BROWN: Obviously, none of it true. No so many gangsters in Gig Harbor and Grains of Wrath is about drinkin', gastropub food, and metal music. Anyway, Costa Mejor roughed-up Dive Bar with 79 percent of the vote, so Grains of Wrath cranked "Prohibition (4th Amendment)" by Bongzilla and ate mixed nut from a small bowl.
GAME 3, NORTHERN OREGON REGION
Ruse Brewing Shifting Dreams Rice Lager (#5 seed) vs. Baerlic Brewing Dad Beer (#4 seed)
BRINICH: Ruse's Shifting Dreams Rice Lager grabbed the lead early in this game and never looked back, nabbing 60 percent of the votes when all was said and done. Some believe naming their lager after a mix between meditation, manifestation and lucid dreaming may have swung the vote in the Southeast Portland brewery's favor. Others think it's their awesome lager. Anyway, Shifting Dreams moves onto the Sweet Wort Sixteen.
GAME 4, SOUTHERN OREGON REGION
Worthy Brewing Tenmile Dry-Hopped Lager (#11 seed) vs. Oakshire Brewing Beer Hall Lager (#3 seed)
BROWN: Worthy Brewing and Oakshire Brewing have received accolades for their conservation efforts. Worthy's Operation Appleseed tree planting efforts began with an old clear-cut parcel on the Tenmile Creek, which was the inspiration behind the lager's name. Oakshire for Oregon I Am hazy pale ale to raise money for the McKenzie River Watershed and McKenzie River Trust. Both are successful breweries, but yesterday Worthy had that little extra something to edge out the Eugene brewery by grabbing 57 percent of the votes.
BRINICH: Let's wade through the chilled wort. The following are advancing to the Sweet Wort Sixteen:
>>> Burke-Gilman Vitamin R Lager
>>> Wet Coast Costa Mejor Golden Mexican Lager
>>> Ruse Shifting Dreams Rice Lager
>>> Worthy Tenmile Dry-Hopped Lager
BRINICH: It's time for more Second Round action! Please vote for one beer per game. Please only vote once. Voting for today's four games ends at 11:45 p.m. Please join in the singing of our national anthem.
BRINICH: Thank you Fergie! OK, let's get to voting!
Friday, April 22, Second Round Northwest Lagers Games
GAME 1, NORTHERN WASHINGTON REGION
Holy Mountain Brewing Holy Light (#7 seed) vs. Seapine Brewing Pool Dad Lager (#15 seed)
BRINICH: Maybe more surprising than Rogue's Dreamland American Lager being ousted by Santaim's JFK Domestic Lager in the First Round was Seapine Brewing's Pool Dad Lager drowning nationally ranked Structures Brewing Plainsman Lager. Holy Mountain Brewing must take that in consideration when their light lager takes on Seapine's swim trucks lager today.
BROWN: Holy Light versus Pool Dad. I guess we know what the conversations will be on Seattle's Great Wheel today.
SCROLL DOWN TO VOTE >>>>>>>>>>>>>>>>>>>>>>>>>>>>>>>>>>>>>>>>>>>>>>>>>>>>>>>>>>>>>>
GAME 2, SOUTHERN WASHINGTON REGION
Heidelberg Premium Lager (#1 seed) vs. E9 Brewing Detour Ahead
BRINICH: I mean, where to begin. … It's the oldest brand in the Tournament versus the newest brewed lager. Columbia Breweries in Tacoma thrived through WWII despite the war effort's restrictions on resources. In 1949 a reshuffling of management led to renaming the company Heidelberg Brewing Company. New equipment was brought in, and more storage was built, including where 7 Seas Brewing, the current brewer of Heidelberg Premium Lager, resides. E9 Brewing, Tacoma's oldest modern-day brewery, brewed Detour Ahead hoppy lager just weeks before the Tournament of Beer: Northwest Lagers launched. Today, the two lagers, brewed mere yards from each other, will battle for Tacoma's representation in the Tournament.
BROWN: Fun fact: In June of 1996 a fire ravaged the historic Heidelberg structure in Tacoma. An article from the News Tribune describes the effects: "It spread through two floors of the warehouse, damaging 10,000 square feet where bands rent space and practice. Several residents in the Heidelberg Building were evacuated." One of those residents became the wife of our boss Pappi Swarner, Kate.
SCROLL DOWN TO VOTE >>>>>>>>>>>>>>>>>>>>>>>>>>>>>>>>>>>>>>>>>>>>>>>>>>>>>>>>>>>>>>
GAME 3, NORTHERN OREGON REGION
Little Beast Brewing Lager (#6 seed) vs. Fort George Brewery 1811 Lager (#3 seed)
BRINICH: Both breweries' lagers are ranked high on Untappd, if not the exact same rating at the opening buzzer. Then how the hell are you going to choose between these two lagers? Little Beast's Lager is brewed with 100 percent German malts and hops. Fort George's 1811 when the corn route, like pre-Prohibition days.
BROWN: Let's get ready to LAGER!
SCROLL DOWN TO VOTE >>>>>>>>>>>>>>>>>>>>>>>>>>>>>>>>>>>>>>>>>>>>>>>>>>>>>>>>>>>>>>
GAME 4, SOUTHERN OREGON REGION
Silver Moon SMB Mexican Lager (#5 seed) vs. Pelican Pelicano Extra (#13 seed)
BRINICH: It's the battle of Oregon-brewed Mexican lagers! We haven't seen such a Mexican civil war since the Dirty War when an internal conflict between the Mexican PRI-ruled government and left-wing student and guerrilla groups in the 1960s and 1970s under the presidencies of Luis Echeverría and José López Portillo.
BROWN: I'm looking at it more like Central Oregon versus the Oregon Coast. It's going to be an exciting time in that state today.
VOTE BELOW (CLICK "DONE" AFTER VOTING) >>>>>>>>>>>>>>>>>>>>>>>>>>>>>>>>>>>>>>>>>>>>>

Monday, April 25 Peaks and Pints Tournament of Beer: Northwest Lagers
Game 1: Stoup Stoupporro Super Premium Japanese Style Lager (#6 seed) vs. Kulshan Brewing Premium Lager (#3 seed)
Game 2: Headless Mumby Brewing Local 66 Lager (#5 seed) vs. Top Rung Brewing Lacey Lager (#4 seed)
Game 3: Ex Novo Brewing The Most Interesting Lager In The World (#7 seed) vs. Wayfinder Beer Number 6 (#2 seed)
Game 4: Block 15 Brewing Sol Fresco vs. Terminal Gravity Brewing Landmark Lager (#8 seed)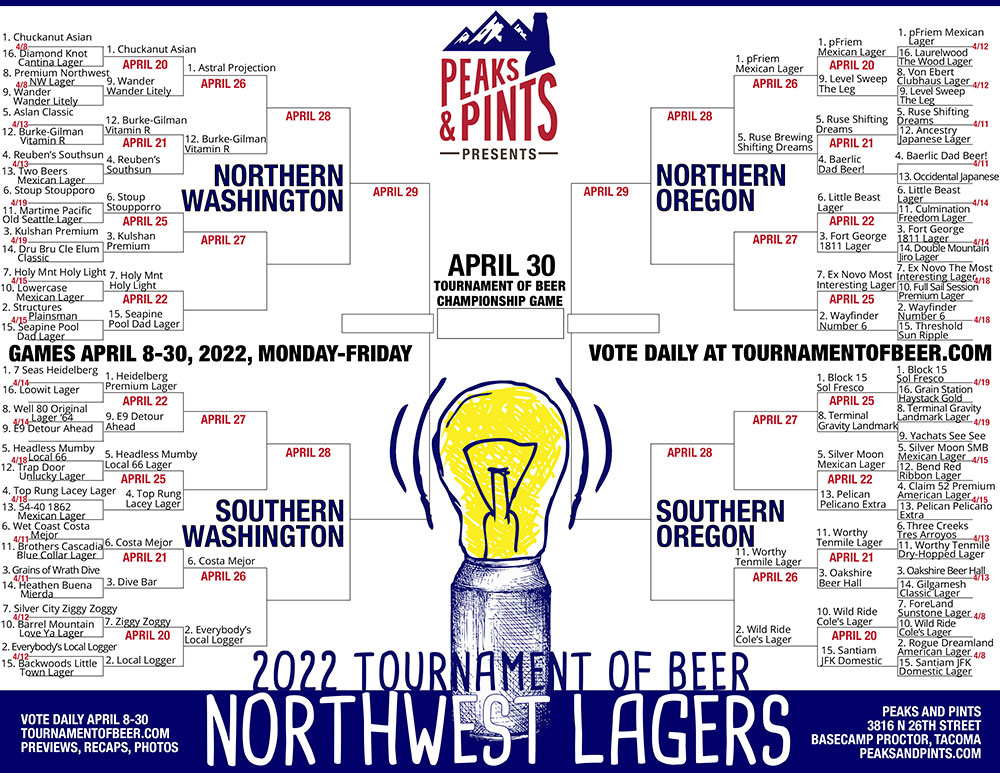 ---